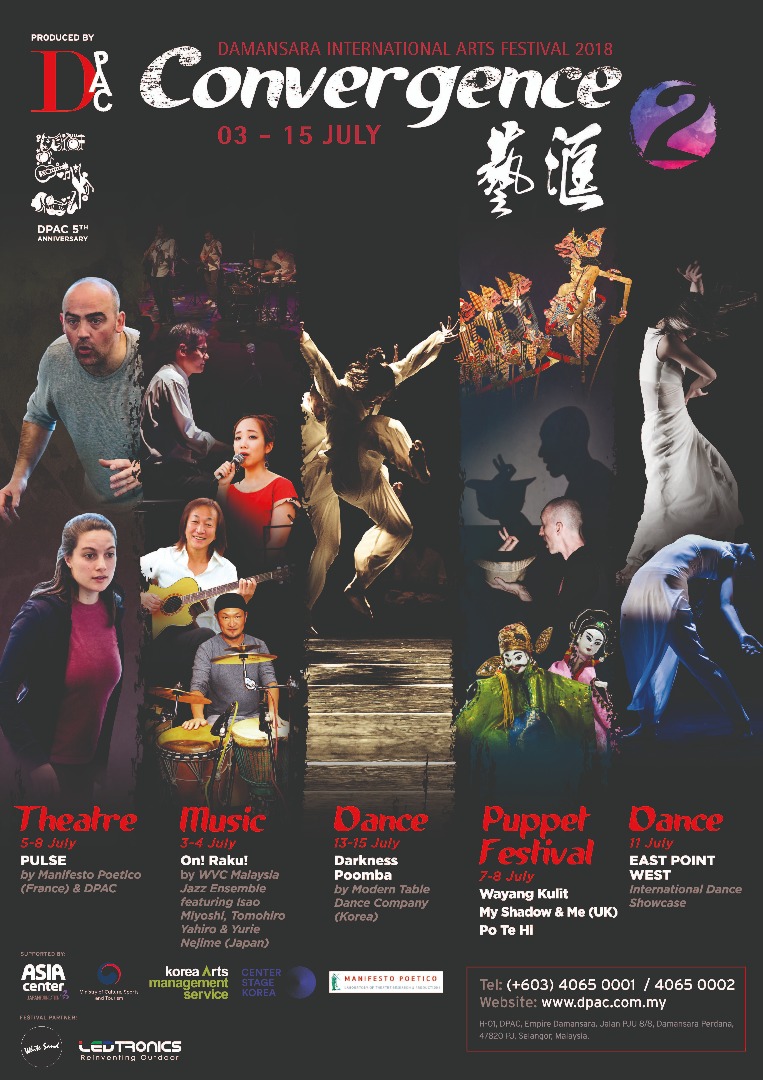 In conjuction with celebrating our 5th anniversary and to pursue our dream to make DPAC an art hub where artists and the public can converge to share their passion and joy, we launch the Damansara International Arts Festival 2018(DIAF2018) "Convergence 2".
The performance list is particularly exciting, bringing together artists from France, Japan, the United Kingdom, South Korea, Greece, China, USA, Mozambique and Malaysia to join in a series of 13 days from July 3rd to 15th, 2018. It is bound to make the audience enjoyable!
DIAF 2018 will be divided into two weeks and will be presented to the public on different themes every week. The first week will focus on various types of performing arts and the second week will focus on dance performances. In the first week, "On!Raku!" was brought by the leading Malaysian jazz band WVC Malaysian Jazz Ensemble and Japanese musicians! , then will be followed by the renowned French director Carlos García Estévez new creation of "PULSE", puppet performances across modern and ancient times will also list in our puppet festival.
The lineup for the second week cannot be underestimated, "East Point West Interntional Dance Showcase" showcase choreography from Greece, China, USA, Mozambique and Malaysia. To wrap up of the festival we brings to you renowned choreographer Kim Jae Duk with his Modern Table Dance Company presents "Darkness Poomba". The highly acclaimed dance performance will marks a perfect end for DIAF 2018.