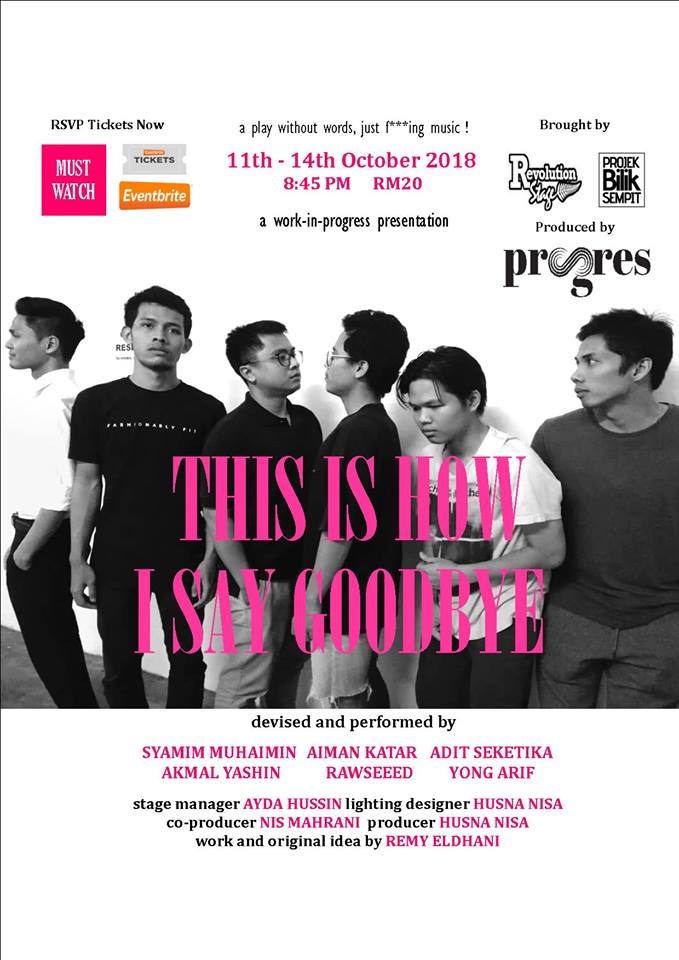 THIS IS HOW I SAY GOODBYE –
A new work-in-progress by ReMy Eldhani in exploring form of storytelling without words and presents it with new perspective in composition of body movement to deliver the action and reaction from the statement raise
inside the story.
THIS IS HOW I SAY GOODBYE is a fragmented story from men perspective at how they said goodbye to their past life, lover, family or anything that gave impact to them. And what make this play unique and special is, it will be accompany by set of music playlist and combination of designated lighting experiences to highlight the subject matter address in the story, and lastly to see how this piece can engage with the audiences.
Devised and performed by RAWSHEED, ADIIIT, AIMAN QATAR, SYAMIM MUHAIMIN, AKMAL YASHIN and YONG ARIFF.
Story and directed by REMY ELDHANI.
Lighting designer HUSNA NISA.
Co-Producer by LEA SYAURAH.
Collaborative with PROJEK BILIK SEMPIT REVOLUTION STAGE.
BUY TICKETS HERE:
https://www.eventbrite.com/e/this-is-how-i-say-goodbye-tickets-48454900913
Event Dates
Venue
Website
For Enquiries
Tickets Link