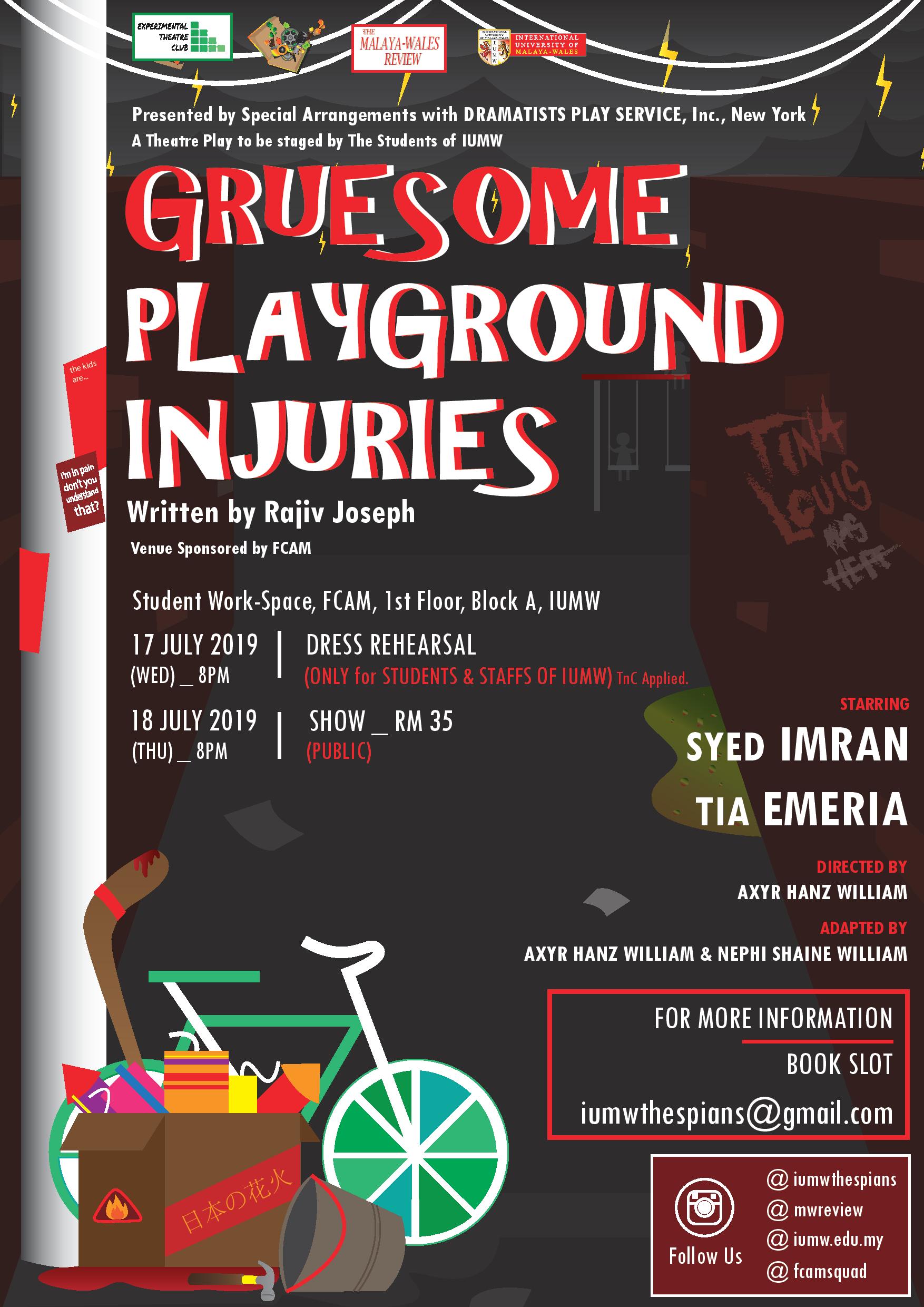 GRUESOME PLAYGROUND INJURIES
Sakit tak? Sakit.
IUMW Thespians in collaboration with the International University of Malaya-Wales (IUMW) presents Gruesome Playground Injuries, IUMW's 1st ever theatre production: Written by Rajiv Joseph, and adapted for Malaysian audiences by Axyr Hanz William & Nephi Shaine William.
Performed with special arrangements from The Dramatist PLAY SERVICE INC, New York open to the public for 1 night only on the 18th of July, 2019.
This play asks the question : Why do people hurt themselves, for the people they love the most?
Gruesome Playground Injuries is an American play written by Pulitzer's Prize Finalist, Rajiv Joseph. Originally staged off-Broadway in 2011, this adaptation is set in present-day Kuala Lumpur, Malaysia.
The play follows two "scar-crossed lovers", Doug (played by Syed Imran, 18) and Kayleen (Tia Emeria, 21) through a non-linear timeline of their relationship, spanning ages 8 to 38 years old. Leaping back and forth of time, connecting through injuries, scars and heartbreak. Set in the fictional school of SMK St. Bukit Nanas in downtown Kuala Lumpur, audiences are in for a journey of exploration and discovery of love told through the perspectives of different ages.
Various taboo topics of pain, loneliness, self-harm and mental health are explored throughout the course of their relationship. Gruesome Playground Injuries pokes at the elephant in the room about what it means to love and be loved. It takes the conventional idea of a love story, and then flips it on its head.
Think 500 days of Summer but on stage.
Being IUMW's first ever theatre production, the play will be adapted also in terms of language, playing around with the dynamic of the Malay and English language. Be ready to experience a beautiful story of the two scar-crossed lovers, through their trials and tribulations.
EVENT DETAILS
Gruesome Playground Injuries
LIMITED SEATS
17th of July, 2019 | DRESS REHEARSAL| 8PM
(Only for students and staff of IUMW) TnC apply*
18th of July 2019 | SHOW | 8PM | RM35
(PUBLIC)
Featuring
Syed Imran & Tia Emeria
Executively Produced Axyr Hanz William
Produced by Rheanna Deandra
Directed by Axyr Hanz William
Adapted by Axyr Hanz William & Nephi Shaine William
Stage Managed by YuKi Chin Assistant: Nur Anis Kaa Kei Kok
Set and Props designed by Vicnes A/L Sathasevam