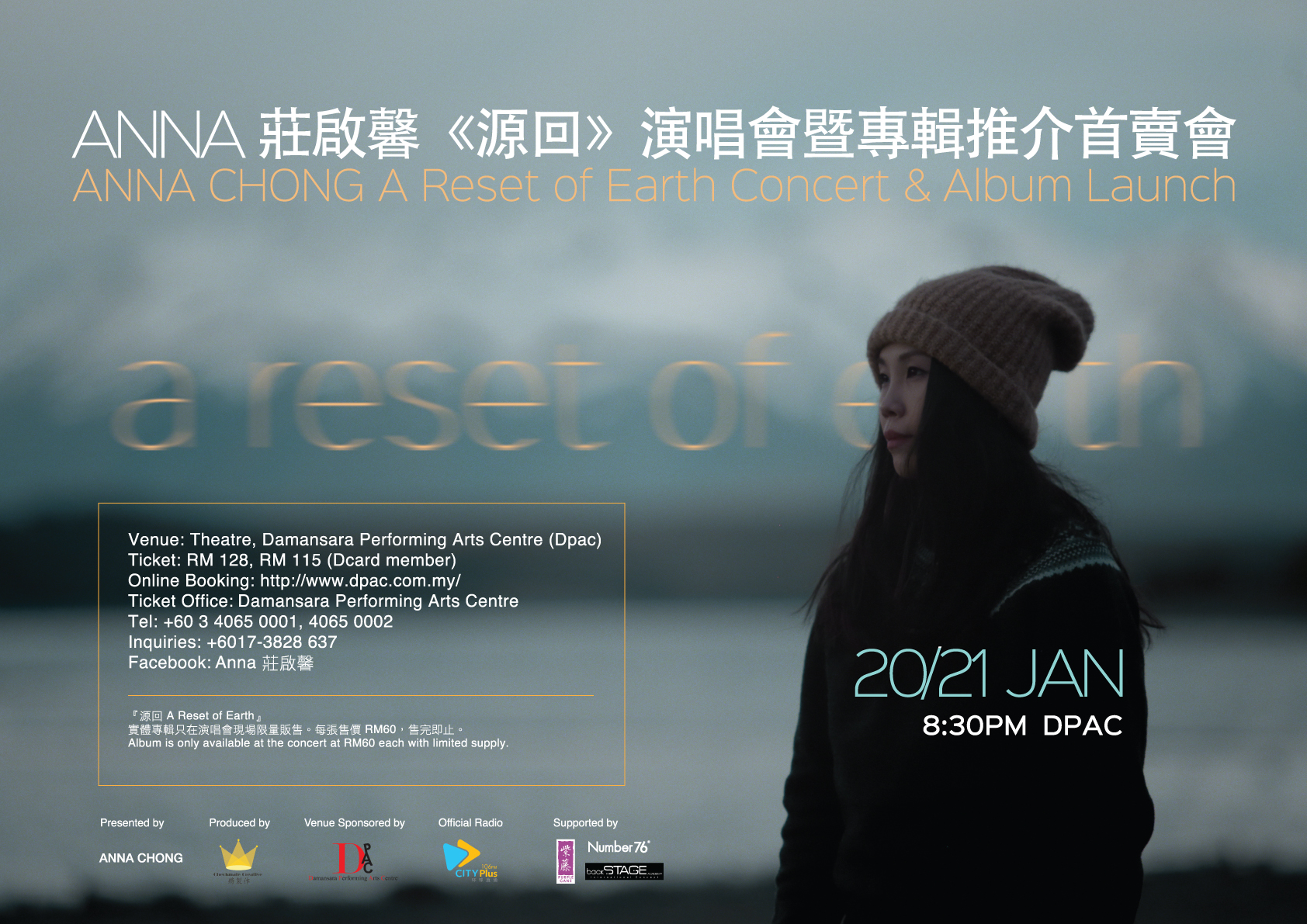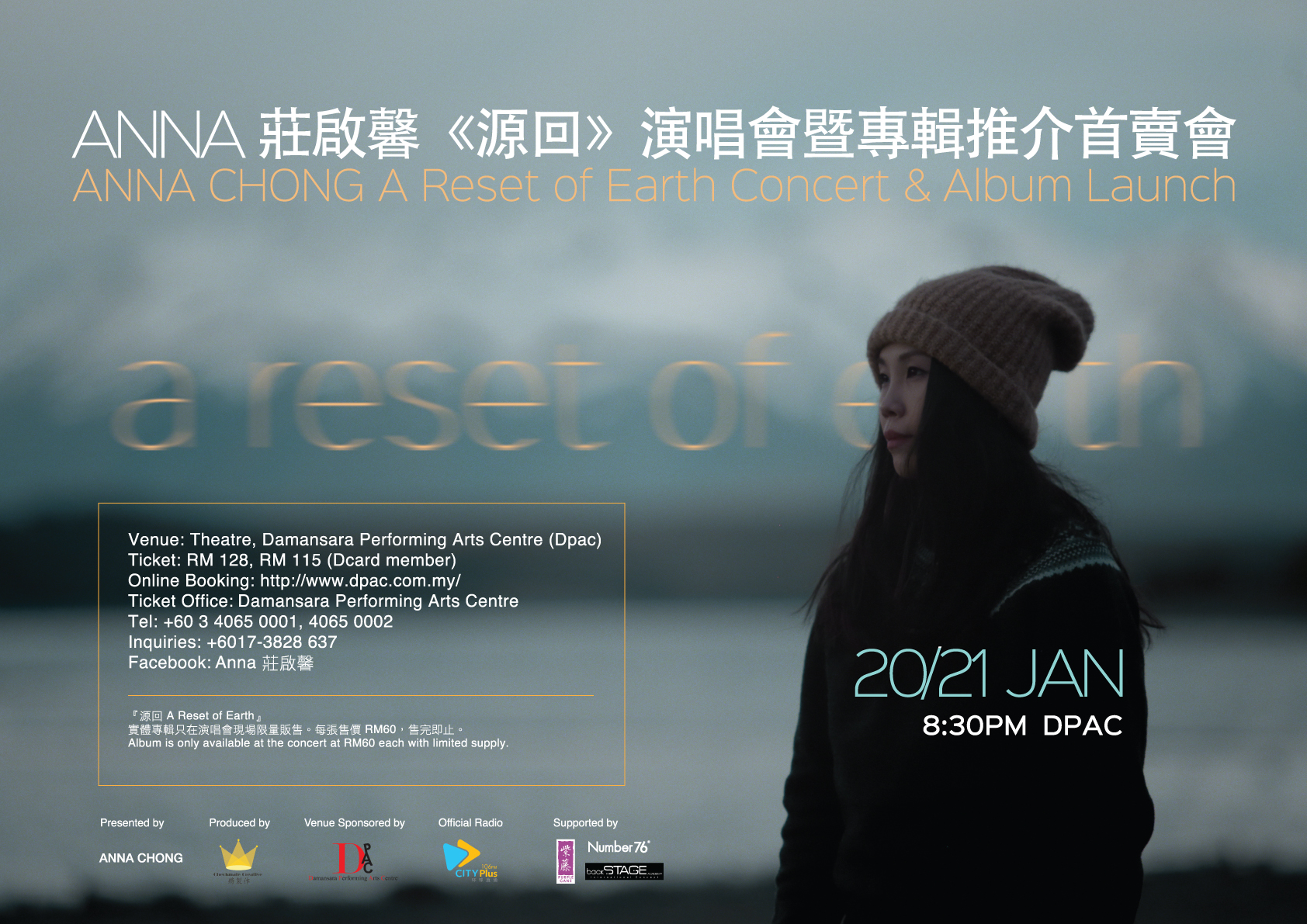 Anna Chong 'A Reset of Earth' Concert & Album Launch
Anna Chong 'A Reset Of Earth' Concert & Album Launch
'As you move through life and its sceneries, never forget the place of your beginnings.' – My father
After a 4-year wait, an indie singer, Anna Chong returns with her second album 'A Reset Of Earth' in December 2017. 'A Reset Of Earth' album is a completely self-funded album - from arrangement to production, these six compositions are expressions and experimentations of the existing malleability and potentialities of the voice by Anna Chong. In collaboration with a theatre director, Yeo Lyle, Anna is bringing her 'A Reset Of Earth' concert together with 12 musicians in January 2018 at Theatre, Damansara Performing Arts Centre.
In 2017, Anna became a mother. In this first year of walking the fine balance between the mundane every day and her lifelong passion, her main source of motivation are these sentiments: To take life in steadily, and make music soaringly.
The Chinese character of the album title - RESET (源回), taken from Anna's father's name, reminds the origin of the universe: the point at which she started; the place she was born. The album is a preserving of the utterances found at the earliest stages of composition, a breaking of the familiar walls of communication, then a going beyond and into spaces where our common languages remain unreachable. Actively performing the acceptance of one's many selves, here creativity is unleashed, free and boundless in potential. In this album named after her father, the stories told are mainly of the motivations in life and music-making: Anna is constantly returning to herself; where life is a recurring state of readjustment and renewal.
In collaboration with a theatre director, Yeo Lyle, Anna is bringing her 'A Reset Of Earth' concert together with 14 musicians including strings, percussion, and vocalists, combining different forms and elements filled with theatrical atmosphere through lightings, movements, and spaces through which the audience weaves and travel their musical utopia. The digital album was launched on 5th December 2017 whereas the debut albums will only be released exclusively in January 2018 during the concert at theatre, Damansara Performing Arts Centre (DPAC). Tickets are on sale now and start at RM 115. Tickets can be purchased by calling +603 4065 0001, online at www.dpac.com.my, or at the DPAC Box Office.
"In every person exists a complete world.
When that world comes to its final days, still I might not know myself entirely.
If music was to be found in every part of this world,
I shall first travel to six corners, then record six wondrous things found in my journeys.
And much later, once again
I will pick up my things
And fly further off to myself. " – 'A Reset of Earth', Anna Chong
Box Office Opens
From 20th January 2018 to 21st January 2018
Performance Date & Time
20 th January (Sat) 8:30 pm
21 st January (Sun) 8:30 pm

Venue
H-01, DPAC, Empire Damansara, Jalan PJU 8/8, Damansara Perdana, 47820 Petaling Jaya, Selangor, Malaysia.
WEBSITE
http://dpac.com.my/page/ticket/bookTicket/view/792.html
For enquiries:
Checkmate Creative
Tel: 0173828637
Email: maggie@checkmate-creative.com
Other Events You May Like
GETTING THERE