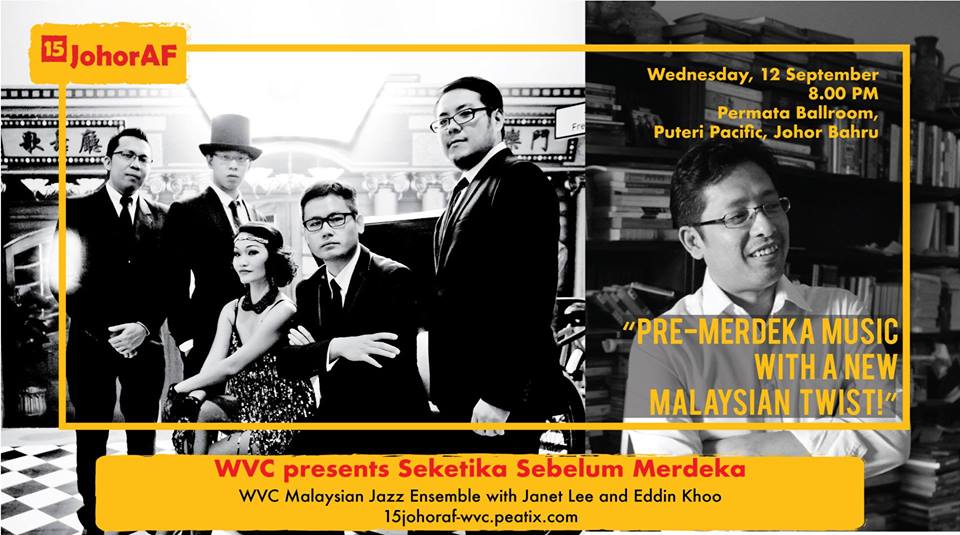 Pre-Merdeka music with a new Malaysian twist!
Malayan Classics re-imagined!
Take a step back in time with WVC and songstress Janet Lee as they present unique arrangements of pre-independent Malayan songs, including Hatiku Rindu, Bulan Ditutup Awan, Hitam Manis, Lenggang Mak Limah, Ibu, and many more – together with stories and anecdotes by historian, poet, and Pusaka founder Eddin Khoo.
Online Purchase: RM 100 (VIP), RM 50 (Regular), RM 30 (Student)*
At Door Purchase: RM 120 (VIP), RM 60 (Regular), RM 36 (Student)*
Click this link to get your passes.
https://15johoraf-wvc.peatix.com/view
* Please present your Student ID at the registration counter.
#JSPA #15JohorAF #livethearts #stories
WVC Malaysian Jazz Ensemble
Drawing inspiration from the many facets of modern life influenced by Malaysian and other Asian cultures, the music of WVC cuts across many musical genres and defies any kind of classification.
Formed in 2006 as a trio, WVC completed its quartet line up with the addition of saxophonist Julian Chan. The group has toured extensively in the region, heralding back the spirit being "on the road" of touring jazz bands of old.
Through these regional tours, WVC has brought its music to many corners of Malaysia, Singapore, China, Taiwan, Thailand, and Macau.
WVC has Five instrumental albums – WVC TRiO (2008), ELEVEN (2009), In the Dark, I See Her (2011) and Waiting For That Day (2014) and Do Not Go Gently (2016) – that explored different musical genres (while maintaining the spirit of jazz as its core) and combinations in its line-up.
Most of the tunes recorded are original tunes written by the band members. In addition, the band also experiments with transforming unlikely pop tunes, Chinese classics, and much mainstream music into new jazz re-arrangements, in the spirit of the great jazz musicians of old.
Event Dates
Venue
Website
Tickets Link