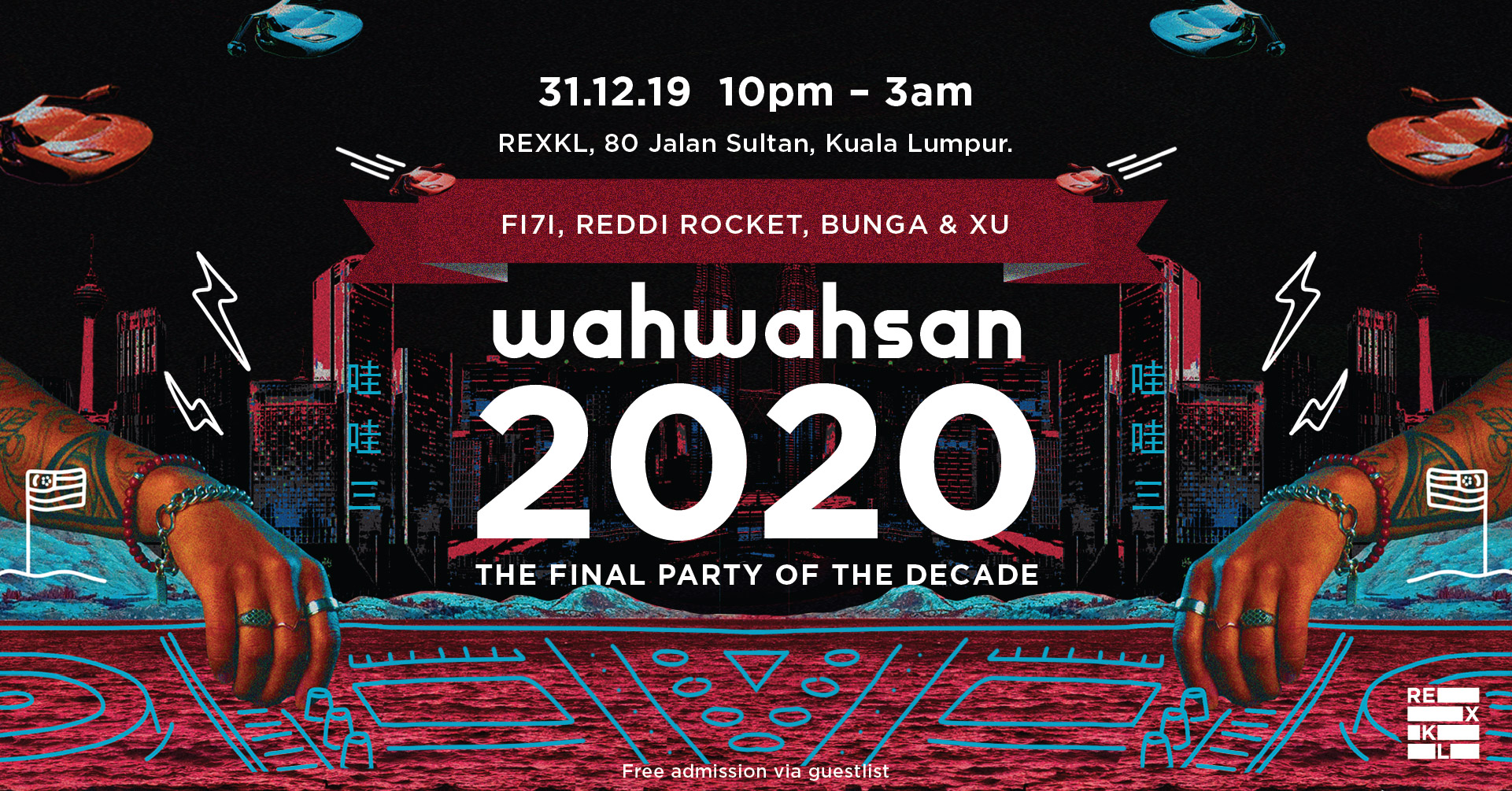 29 years have passed and we're finally here! Wah Wah San 2020 is upon us. Join us at REXKL as we celebrate and usher in the new decade with DJs Fi7i, Reddi Rocket, Bunga & Xu. Catch some sweet tunes and dance into the new year. We might even see some flying cars and fireworks from our rooftop balcony.
Free admission via guest list so make sure you register your spot quick.
https://wahwahsan2020rexkl.peatix.com/
See you there!
Fi7i
A DJ and producer based in Kuala Lumpur. Having a lust for disco, Fi7i sets are generally catered to a crowd that enjoys dancing and reliving a past they probably wished they lived in,the 80s. Influenced by music from 70's to 80's, Fi7i's sets will have you surfing the Vaporwave of Future Funk and with his own exclusive edits and flips on old Malay songs, Fi7i breathes new life into the old but gold.
Reddi Rocket
Jimmy Azli is the well-known Reddi Rocket of AKHYLA & SATURDAYSELECTS. With his balanced hooks and stellar beat producing techniques, Reddi Rocket's music appeals to an audience that can appreciate his wide-ranging talents to produce vibrantly and deliver a dynamic performance on stage.
Bunga
As one fourth of the indie / electro / whatever musical misfits Twilight Actiongirl; Bunga Actiongirl (real name: Lim Kok Kean) and the Twilight Actiongirl gang started out indie DJ nights in late 2003 as an outlet for like-minded friends to gather and have some unpretentious fun.
Not content with just one weekly night of mayhem, Bunga added a monthly retro hip-hop and R'n'B night titled Throwback with the legendary DJ Nesh (ex-Nouvo), SOLID GOLD, a bi-monthly nu-disco / house / deep house / electro house night at Pisco Bar with Mr. Backsounds (HULKAS) at Pisco Bar and finally a weekly residence every Saturday night at Frangipani with ex-Deer Society members Ruud and Robotron 5000 (DANGERDISKO). Billed as Indiego & Co, this new group have already built a solid reputation for
themselves for some of the most exciting and colourful parties seen in KL nightlife in a while.
Continuing on with the spirit of Twilight Actiongirl and Deer Society, Indiego & Co ran for 2 riotous years before splitting up, with 2/3 of the group Robotron 5000 aka Farez Khan and Bunga going on to become Bad Habits KL which has been active since May 2018.
Xu
No stranger to the hip crowd into Kuala Lumpur and a regular face at photoshoots, DJ Xu Tag first came to prominence with the weekly indie night Twilight Actiongirl.
There he built his niche and reputation through his punk attitude that matched his frantic electro sets. Add post-dubstep, future garage and techno to the dance floor equation.