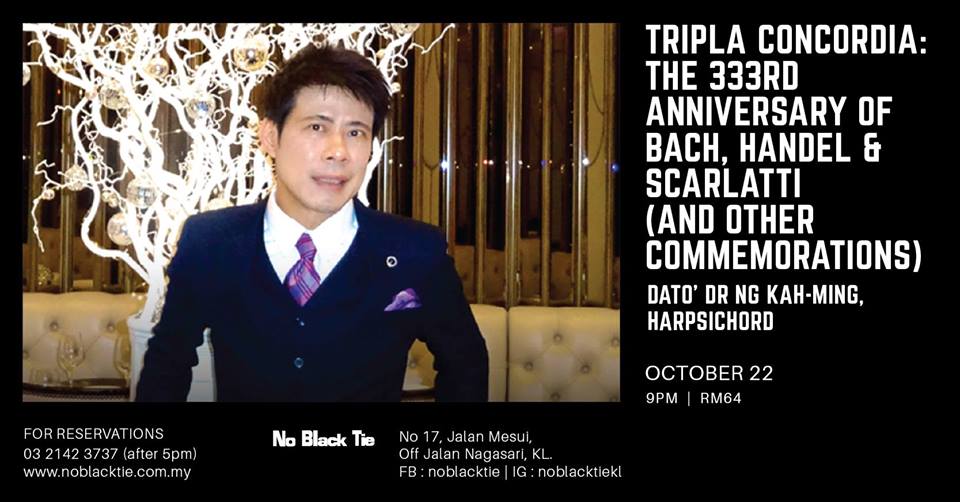 Tripla Concordia –
The 333rd anniversary of the Trinity of the Baroque—J.S. Bach, G.F. Handel & D. Scarlatti—as well as other anniversaries (F. Couperin & Sir Walter Raleigh) all nonchalantly misremembered in one informatively entertaining evening of music and anecdotes, played on the harpsichord and told to you by Dato' Dr Ng Kah-Ming.
Born in Malaysia of Cantonese-Hakka descent, Kah-Ming Ng studied at Monash University, Melbourne (where he obtained a B.E. in civil engineering), the Frankfurt State Academy of Music (as a DAAD scholar), the London Guildhall School of Music & Drama (on a Foreign & Commonwealth Office scholarship), and St Anne's College, Oxford (as a British Council Chevening research scholar), from which he gained his performance M.Phil. degree.
He was awarded a D.Phil. by Keble College, Oxford, for his doctoral research into figured bass accompaniment in its social and artistic context.
His harpsichord teachers included Elizabeth Anderson (Melbourne), Harald Hoeren (Cologne), Michael Behringer (Freiburg) and Christopher Kite (London). He is a winner of the Guildhall School's Early Music Competition and a Fellow (in Harpsichord) of the Trinity College of Music London.
He has accompanied the recitals and concerts of pioneering artists of the historically-informed movement, including Emma Kirkby, James Bowman, Catherine Bott, John Holloway, and Simon Standage. Kah-Ming regularly contributes reviews and articles to leading specialist music journals; he wrote the entries on English and French baroque ornamentation in the revised New Grove Dictionary of Music & Musicians.
In between his performing and directing, he squeezes in some adjudicating (of competitions and examinations) and lecturing, his most recent position being Course Co-ordinator & Lecturer in Early Music Studies (2004–6) at the Faculty of Music, Oxford University.
As the director of the award-winning Charivari Agreable and its work with over forty choirs in the UK, Kah-Ming was recently invited to address the 2008 annual convention of the Association of British Choral Directors, his co-presenters being some of the biggest names in the choral scene, such as Sir David Wilcocks, John Rutter, Bob Chilcott, Nicholas Cleobury, Andrew Parrott, and Eric Whitacre.
October 22, 9.00pm
Admission fee RM64 (add our optional Set Dinner in your checkout to enjoy our lovely dinner menu)
Don't miss out on our happy hour promo on tapas, beer (by the bottle), wine (by the glass), cocktails and spirits (by the glass) from 6-8pm (Sundays to Thursdays only)!
*RM10 off for students with valid Student ID, at the door.
Event Dates
Venue
Website