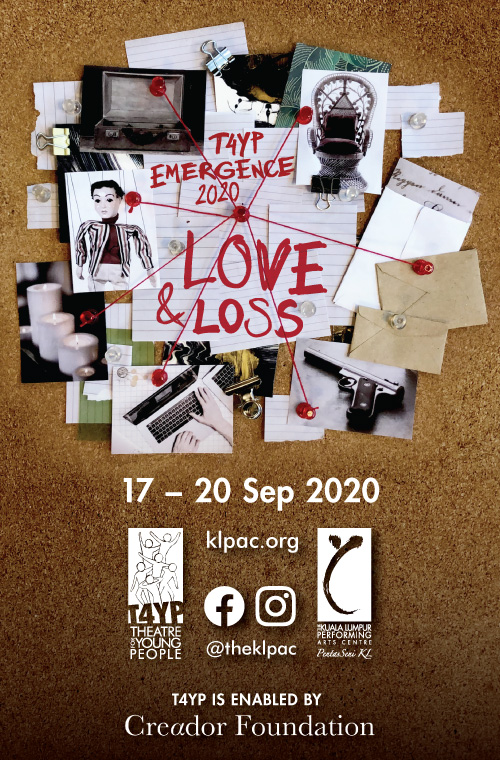 One of the greatest pleasure in life is love, but one of the greatest pain in life is losing someone you love. Love and loss, there are two sides of the same coin. We cannot have one without the other. Through eight short pieces of theatre work, the notions of love and loss are explored through vulnerability, intimacy, memory, journey of grief, and self-discovery.
These 26 artists, alumni of klpac's iconic Theatre for Young People programme from 2015 to 2019, translate the experiences of this human condition through complex personal and social lenses.
This will be the very first performance culminating from T4YP Emergence 2020, a new experimental platform where T4YP alumni are encouraged to find their own voice and learn how to be creators under the guidance of Mark Beau de Silva and Ho Lee Ching. It is also part of klpac's commitment to keep theatre-making going and young theatre-makers engaged during these difficult times. While the process began online, the final staging will be live across multiple sites at klpac.
Since 2008, 153 young thespians between 18 and 25 have undergone 250 hours of free theatre training, mentorship and performance opportunities under T4YP. Their ground breaking works have toured to Singapore, Russia and Kota Kinabalu, performing to full houses and rave reviews.
T4YP 2020 season is enabled by Creador Foundation, klpac's Partner since 2019.
SHOW DETAILS
Presented by The Kuala Lumpur Performing Arts Centre (klpac)
Date & Time: 17 – 20 September @ 8.30pm
19 – 20 September @ 4.00pm
Venue: Pentas 2, klpac
Ticket: RM 25