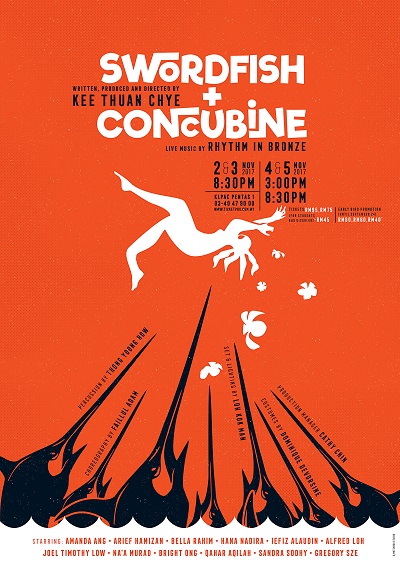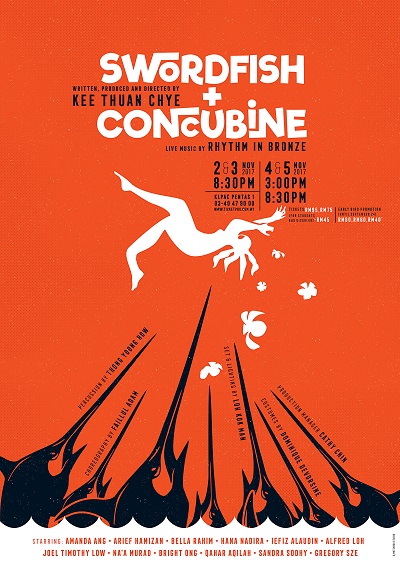 SWORDFISH + CONCUBINE
Swordfish + Concubine is a play based on two stories in Sejarah Melayu – the one about the swordfish attack that is popularly known as 'Singapura dilanggar todak' and another about the Sultan's favourite concubine who was found guilty of trumped-up charges of wrongdoing and unfairly punished.
The play pays tribute to Sejarah Melayu by sharing with a wider audience the narrative brilliance and profound insights of the classic Malay work. In re-telling the two stories, the production of Swordfish + Concubine uses live music played by a gamelan troupe and draws from traditional Malay dance and theatreforms like zapin, wayang kulit, kuda kepang, bangsawan, dikirbarat, etc.
Presented by Kee Thuan Chye
Date & Time
2nd & 3rd November @ 8:30pm
4th & 5th November @ 3pm & 8pm
Venue: Pentas 1, klpac
Tickets:
RM 95
RM75
RM45 (Student, Disable)
Ticket Promotions:
Early Bird ( 18th Aug to 24th September )
RM 80
RM60
RM40 (Student, disable)
Box Office Opens
From 2nd November 2017 to 5th November 2017
Performance Date & Time
02 nd November (Thu) 8:30 pm
03 rd November (Fri) 8:30 pm
04 th November (Sat)
04 th November (Sat)
05 th November (Sun)
05 th November (Sun)

GENRE
Theatre Play
Venue
Jalan Strachan, Sentul West, 51100 Kuala Lumpur, Wilayah Persekutuan Kuala Lumpur, Malaysia
WEBSITE
Other Events You May Like
GETTING THERE