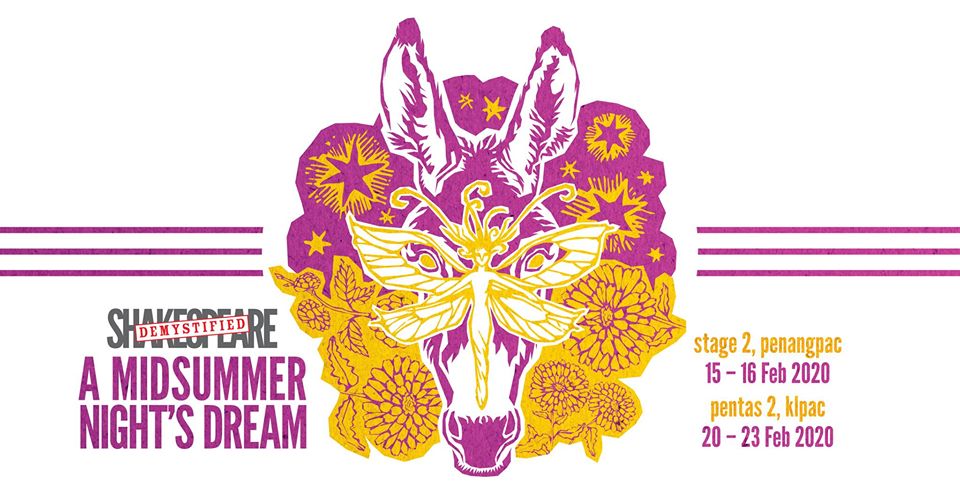 Shakespeare Demystified: A MIDSUMMER NIGHT'S DREAM (klpac)
** Suitable for 12 yrs old and above
Presented by:
KL Shakespeare Players
The Actors Studio Seni Teater Rakyat
VENUE
Pentas 2, klpac
DATES & TIMES
Public shows
20-22 Feb 2020 (Thu-Sat) @ 8.30pm
23 Feb 2020 (Sun) @ 3pm
School bookings only (Call 012-653 0987 to enquire)
19-21 Feb (Wed-Fri) @ 10.30am
22 Feb (Sat) @ 3pm
TICKET PRICE
Standard – RM55
Students / Disabled / Seniors / TAS Card – RM45
Group booking (minimum 40 tickets) – RM40
DURATION
100 minutes (no intermission)
*Also @ Stage 2, penangpac on 15 & 16 Feb 2020 (Sat – Sun)
***
FEATURING:
Lim Soon Heng
Lim Kien Lee
Johnny Gillett
Gregory Henno
Zul Zamir
Teoh Jun Vinh
DIRECTED BY:
Lim Kien Lee
***
Six actors–playing three groups of characters inhabiting three different worlds–use masks, puppets and themselves to create one of the Bard's most beloved and magical play.
As early as October, KLSP engaged Teochew Opera puppeteer, Ling Goh from Penang, to instruct the team on how to manipulate 15-inch tall iron-rod puppets. In the production, these made-of-wood beings will inhabit the dream-inciting magical forest of Oberon and Titania as they fly from place to place, person to person.
To shape a different kind of world for the Mechanicals, KLSP collaborates with trance-mask-work exponent, Simone Tani, who is also an instructor. He is UK-based and runs his own theatre company, Teatro Pomodoro. Through this partnership, Simone researches how trance masks can transcend from being a training tool for actors to being within productions.
***
TO BOOK or PURCHASE TICKETS
ONLINE
https://proticket.com.my/klpac-shakespeare-demystified-a-midsummer-nights-dream/
CALL or WALK-IN klpac
+603-4047 9000
Ground Floor, Sentul Park, Jalan Strachan, 51100 Kuala Lumpur
KLSP's Website :
www.klshakespeare.com.my
KLSP's Facebook :