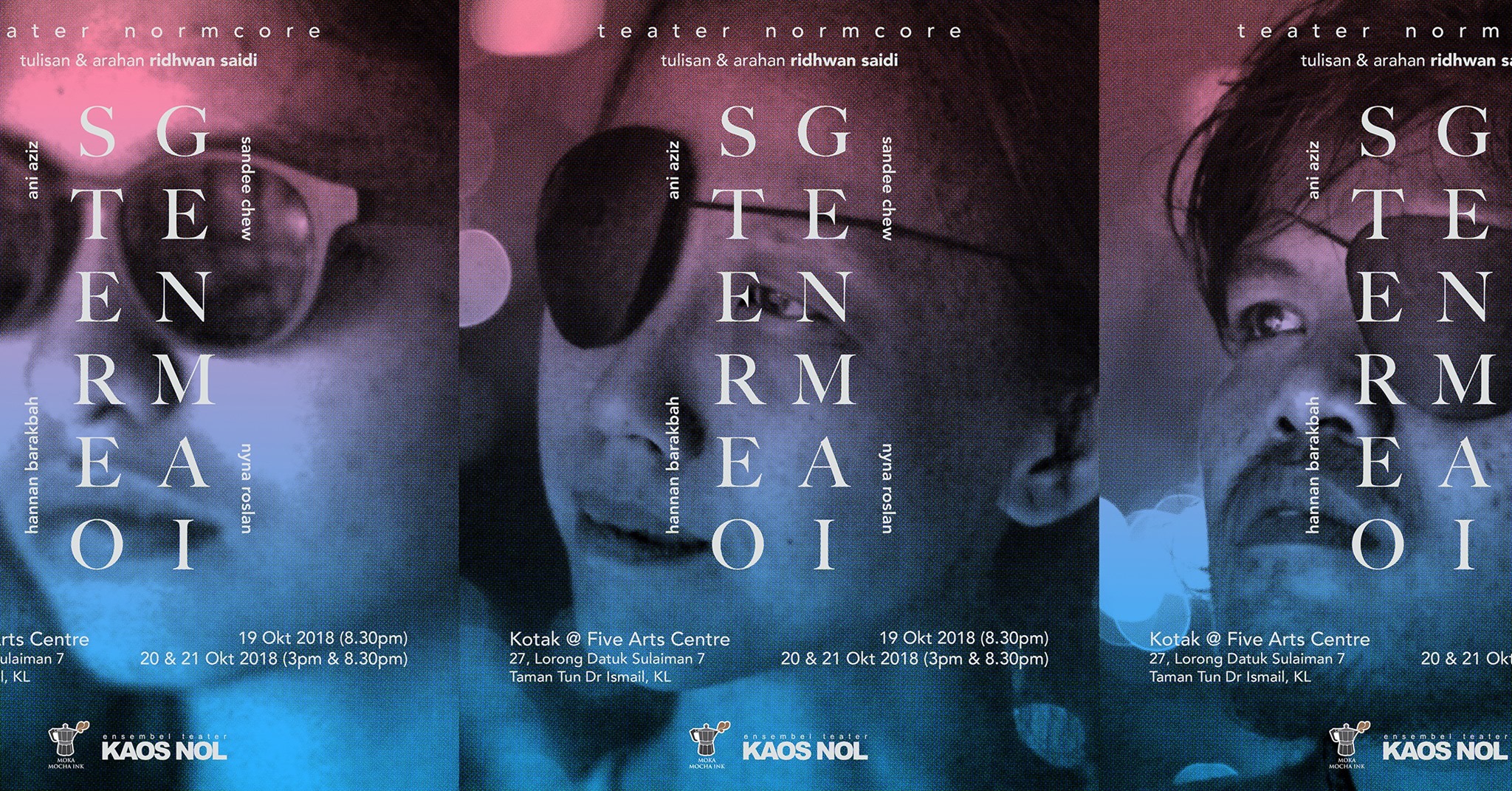 TEATER NORMCORE is a series of seemingly normal stage plays by Ridhwan Saidi. Stereo Genmai is the second instalment in the series after Teater Normcore: Double Bill which comprises of 2 one-act plays, Tiada Cinta Selama Muda (No Love for the Young) and Matinya Seorang Birokrat (Death of a Bureaucrat).
TEATER NORMCORE – Ridhwan Saidi 的标志性创作,一系列看似平凡却内有乾坤的另类剧场作品。Stereo Genmai 是系列的第二部作品。Teater Normcore 的第一炮是 Teater Normcore : Double Bill, 由两部单元剧 Tiada Cinta Selama Muda 《年轻无爱》& Matinya Seorang Birokrat 《官僚主义者之死》所组成。
STEREO GENMAI is a dark psychedelic adventure about a novelist named K.M. Raslan who's in search of his lost fictional character named D., in a dream-idea continuum. The relationship between a creator and his/her creation is examined in this two-act play. Expect essayistic monologue, chick lit puppy love and understated seriocomic gestures. The duration of this staging is 80 minutes, performed in Malay with post-performance discussion.
Actors: Ani Aziz, Hannan Barakbah, Nyna Roslan & Sandee Chew
STEREO GENMAI ialah advencer psikedelik gelap tentang seorang novelis bernama K.M. Raslan yang mencari karakter fiksyennya yang hilang bernama D., di kontinuum idea-mimpi. Hubungan di antara pencipta dan hasil ciptaannya disiasat di dalam teater dalam dua babak ini. Jangkakan monolog dalam bentuk esei, cinta monyet novel romansa dan gerakan halus serio-komik. Durasi bagi pementasan ini ialah 80 minit, dalam bahasa Melayu dengan sesi bual santai pasca persembahan.
Lakonan: Ani Aziz, Hannan Barakbah, Nyna Roslan & Sandee Chew
STEREO GENMAI 《玄米立体声》是一部黑色迷幻旅程,讲述一位作家 K.M.Raslan 于"梦境-理念的连贯空间"里寻找他/她小说里失踪的虚构人物,D.。以二幕剧的形式探讨创作者与被创作者的关系。散文式的独白,女性文学,青涩初恋以及含蓄的黑色幽默元素贯穿作品。演出时间为80分钟。以马来语演出, 每场演出后与团队进行交流会。
演员 :Ani Aziz, Hannan Barakbah, Nyna Roslan & Sandee Chew
ABOUT THE PLAYWRIGHT/DIRECTOR
Ridhwan Saidi is a Malaysian novelist and playwright. His series of short plays, 'Teater Modular', consisting 13 playlets, was produced to critical acclaim. The works have been described as 'politics, sex and religion existing in harmony' and 'absurd and weirdly sexy'. Ridhwan runs an indie publishing house, Moka Mocha Ink which focuses on contemporary Malay fiction. He is also part of the LiteraCity research team, a literary mapping project of Kuala Lumpur. Ridhwan was selected for a residency programme at the ASEAN Literary Festival 2016 and was invited to the Makassar International Writers Festival 2017 and Georgetown Literary Festival 2018.
关于编剧/导演
Ridhwan Saidi 是马来西亚当代小说家与编剧。他另一成名作系列,由13部短剧组成的 Teater Modular 《模块剧场》广获好评,被形容为 "政治,情欲与宗教的和谐共处"以及"荒诞并奇异地性感诱人"。Ridhwan 经营独立出版社 Moka-Mocha Ink,也是 LiteraCity, 吉隆坡文学制图项目的研究团团员。Ridhwan 曾被选为2016东盟文学节驻地艺术家以及被邀请参加2017 印尼望加锡国际作家节与2018马来西亚Georgetown文学节。
KAOS NOL is an open collective established by Ridhwan Saidi for theatre-making or art and theatre-related activism such as monthly readings and impromptu lepak sessions based in Kuala Lumpur.
KAOS NOL 是Ridhwan创办的开放式群体,主要是为了剧场创作以及艺术或剧场的活动例如位于吉隆波每个月的固定阅读活动和即兴的吹水会。
***
HANNAN BARAKBAH is a young theatre actor who designs the ocean as a messy grey stage and/or nothing at all. Bio-syair tiada kaitan / Setahun sudah masa berlalu / Laut dalam kian kelabu / Panggung jua hala tuju / Ukur bangunan diketepi dulu / Gubal pentas sudah dicuba / Lagak suara juga ada / Kamariah terakhir diberi nyawa / Kini diterbalikkan alam nyata
SANDEE CHEW is an actor, and award-winning lighting designer, with interest in audience and theatre development. Theatre performance credits include Contractions, REMEDY, 16-Bit-Coriolanus, Post Traumatic Shopping, Dead Man's Cell Phone, Serangan Zombi Pertama Di Malaysia, A Midsummer Night's Dream, Steven Berkoff's Metamorphosis, Malaysian Girls, Family Outing (forum theatre piece for Seksualiti Merdeka) and Shakespeare Demystified productions: Othello, Hamlet: A Performance-Lecture, The Merry Wives of Windsor, Merchant of Venice, and Julius Caesar. Film performance credits include Lupa, a short film by Playground Productions, and Parent, a CNY commercial spoof by Misai Films.
NYNA ROSLAN cenderung dianggap serius tetapi memilih untuk senang dengan ketawa. Beliau pernah berlakon di dalam teater Macbeth di DSB Shah Alam, Tiga Belas Setengah Malam di Revolution Stage dan AsramaRa di Istana Budaya. Beliau suka bermimpi—biar mimpi jauh ke dasar yang dalam, asal tidak disekat/tersekat.
ANI AZIZ seorang graduan penulisan kreatif dari UiTM dengan tesis bagi ijazah sarjana mudanya berjudul Estetika Grotes Sebagai Identiti Dalam Hikayat Seri Rama (1964) dan Hikayat Raja Babi (2015). Selain aktiviti menulis, teater menjadi tempatnya untuk berfoya-foya. Debut pertamanya sebagai aktor di dalam teater arahan Saat Omar berjudul Langgam Merdeka. Beliau penggerak sesi diskusi buku KAOS NOL.
Produser, rekaan visual: NURUL AIZAM
Co-produser: TAN CHER KIAN @ CK
Pengurus produksi, jurucahaya: AMIRUL RAHMAN
Rekaan/susunan bunyi: JONI ATARI
Venue:
KOTAK @ Five Arts Centre
27, Lorong Datuk Sulaiman 7
Taman Tun Dr. Ismail, Kuala Lumpur
Tickets Available at https://stereogenmai.peatix.com/