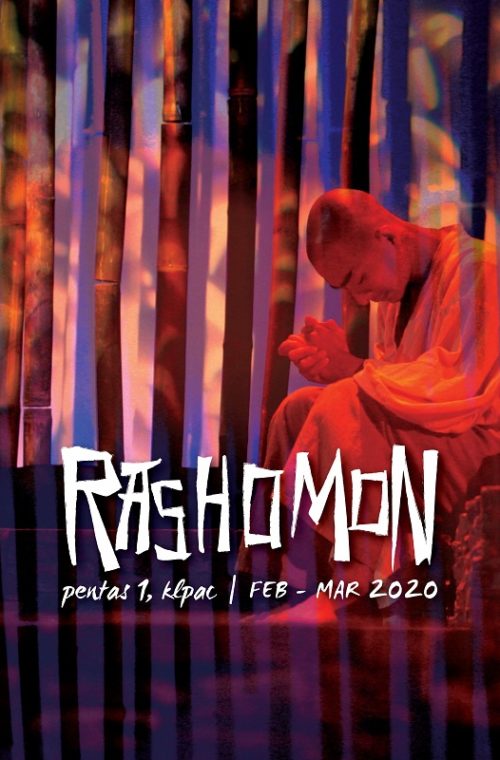 A samurai is murdered and his wife raped. The body of the samurai is discovered by a woodcutter. Just before the crime took place, a priest passed the couple. A notorious bandit comes forward to claim responsibility for the crime and the woodcutter and priest are summoned to testify at the trial. So begins the recounting of the crime by …the bandit …the woodcutter …the wife …and the samurai (through a medium). Except each of the four testimonies contradict each other. What really happened on the day of the crime?
A stellar cast featuring both foreign and local actors including Doppo Narita, Maiya Goshima, Lee Swee Keong, Omar Ali, Faridah Merican will be directed by Joe Hasham OAM.
SHOW DETAILS
Presented by The Actors Studio Seni Teater Rakyat & The Japan Foundation Kuala Lumpur
Venue: Pentas 1, klpac
Tickets:
Regular: RM100 / RM80/ RM60
Concession (TAS Card, Seniors above 60, students, Disabled)
RM80 / RM60/ RM40
Early bird (until 31 Jan 2020)
RM80 / RM60 / RM40
Weekday Mania (3 & 4 March shows only)
RM60 / RM40
Performed in English, Japanese, Mandarin & Bahasa Malaysia, with surtitles in English and Japanese.
THE TEAM
Director / Artistic Director: Joe Hasham OAM
Executive Producer: Dato' Dr. Faridah Merican
Set Designer: Paul Hasham
Lighting Designer: Yusman Mokhtar
Musical Director: Khairil Imran
Movement Director: Ho Lee Ching
Co-Movement Director: Chloe Tan
Musicians: Khairil Imran, Coebar Abel, Endee Ahmad, Ian Francis Khoo