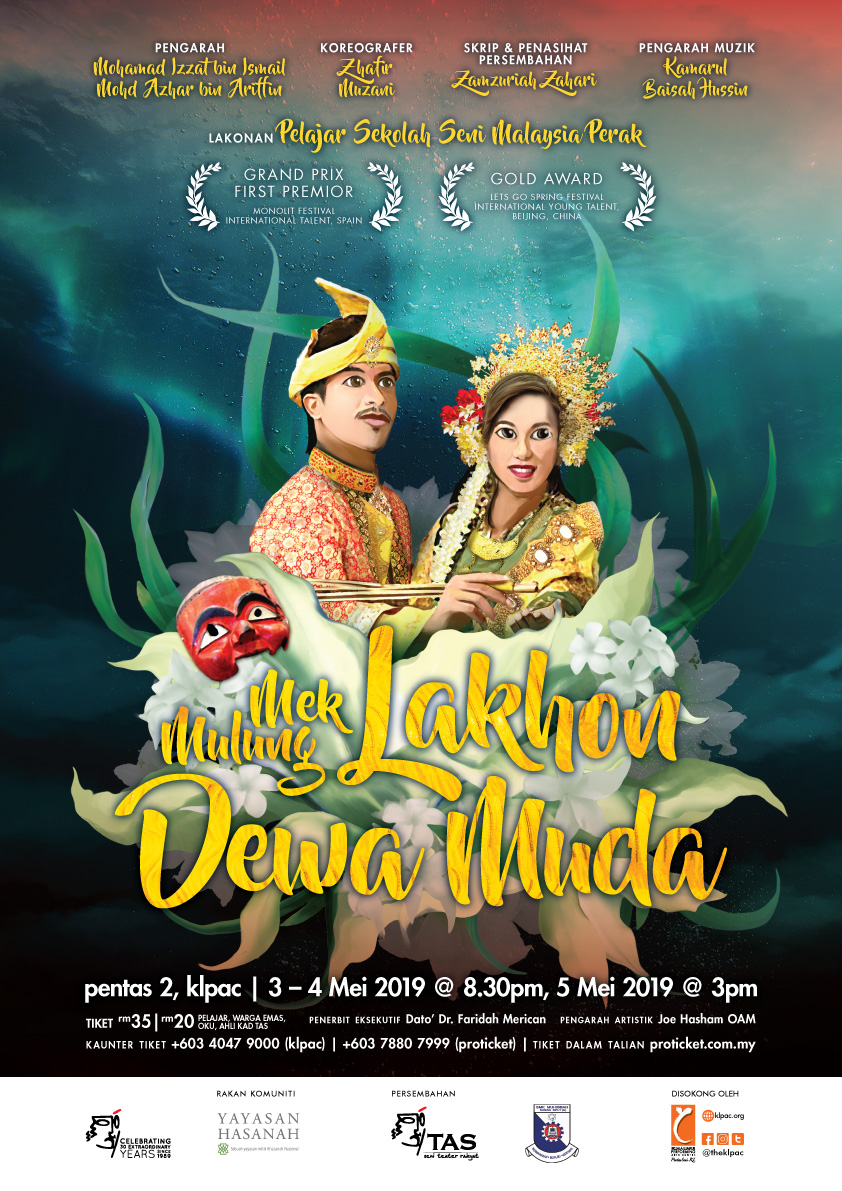 While some may know of Mak Yong, many would not have heard of Mek Mulung though it has been around some 400 years. Even less would know that of the four Sekolah Seni we have in Malaysia, one specialises in Mek Mulung and their performance won first prize in Spain and Beijing.
Sekolah Seni Malaysia Perak will be performing Mek Mulung: Lakhon Dewa Muda which tells the tale of a prince on a mission to bring peace to his country.
Mek Mulung Lakhon Dewa Muda is a form of Malay traditional theatre that describes the heroic life of a single prince. One day, he dreamed a message which required him to hunt sacred animals for the purpose of bringing peace to his beloved country. Hence, the prince acknowledged the message and went to carry out his hunting with his 'awang-awang' (his assistants). Along the way, they found a peculiar and sacred fruit. Will he be successful in his triumph to his country? What kind of threats will the fruit bring to the prince and will it be harmful to his journey?
SHOW DETAILS
Presented by Sekolah Seni Malaysia Perak & The Actors Studio Seni Teater Rakyat
Supported by The Kuala Lumpur Performing Arts Centre
Featuring Sekolah Seni Malaysia Perak
Date & Time:
3rd May 2019 (Friday), 8.30pm
4th May 2019 (Saturday), 8.30pm
5th May 2019 (Sunday), 3.00pm
Venue: Pentas 2, klpac
Tickets: RM 35 (Regular)
RM 20 (TAS Card Members / Students / Senior Citizens / Disabled)
Language: Mainly in Bahasa Malaysia
THE TEAM
Executive Producer | Dato' Dr. Faridah Merican
Artistic Director | Joe Hasham OAM
Script Adapter & Advisor: Zamzuriah bt Zahari
Music Director: Kamarul Baisah Hussin
Choreographer: Zhafir Muzani
Co-Directors & Scenographer: Mohd Azhar b. Ariffin
Co-Directors: Mohd Izzat b. Ismail
Producer & Production Manager: Zuraini bt Abdullah
Assistant Director: Mohamad Izwan b Mohd Saad