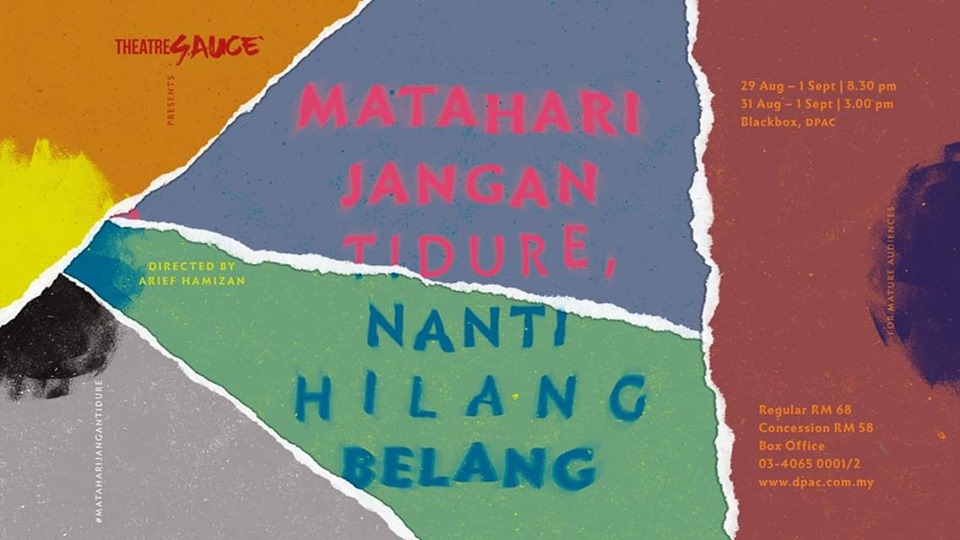 The hum of a broken television. An inevitable speech. The last ray of sunlight. Kiamat?
Set in maybe Malaysia, Matahari Jangan Tidure, Nanti Hilang Belang gazes upon a family seeking normalcy in the aftermath of a cataclysmic event. In their newly distorted world, they struggle to piece together the fragmented ideas of nation, religion, and morality that once existed.
A myth for a modern audience, Matahari confronts the transient nature of our existence in a world that refuses to remain still.
Matahari is devised by a multidisciplinary ensemble. It continues director Arief Hamizan's experimentation with creation and collaboration, following his previous original work, Api, Jangan Lupa Api (2018).
Matahari Jangan Tidure, Nanti Hilang Belang is staged with English surtitles.
Featuring Ali Alasri, Michael Chen, Sandee Chew, Milo Faeqo, Claudia Low, Hana Nadira, Visshnu Varman, Ng Hwee Yun, and Nabil Zakaria. Also in the team are Lim Sheng Hui (Assistant Director), Bryan Chang (Sceneographer), Ian Francis Khoo (Sound Designer), Ali Motamedi (Creative Collaborator), Kasih Azhar (Creative Collaborator), and Suhail Samsudin (Stage Manager)
Directed by Arief Hamizan. Matahari Jangan Tidure, Nanti Hilang Belang is the second of three New Projects presented by Theatresauce as part of the 2019 season.#mataharijangantidure