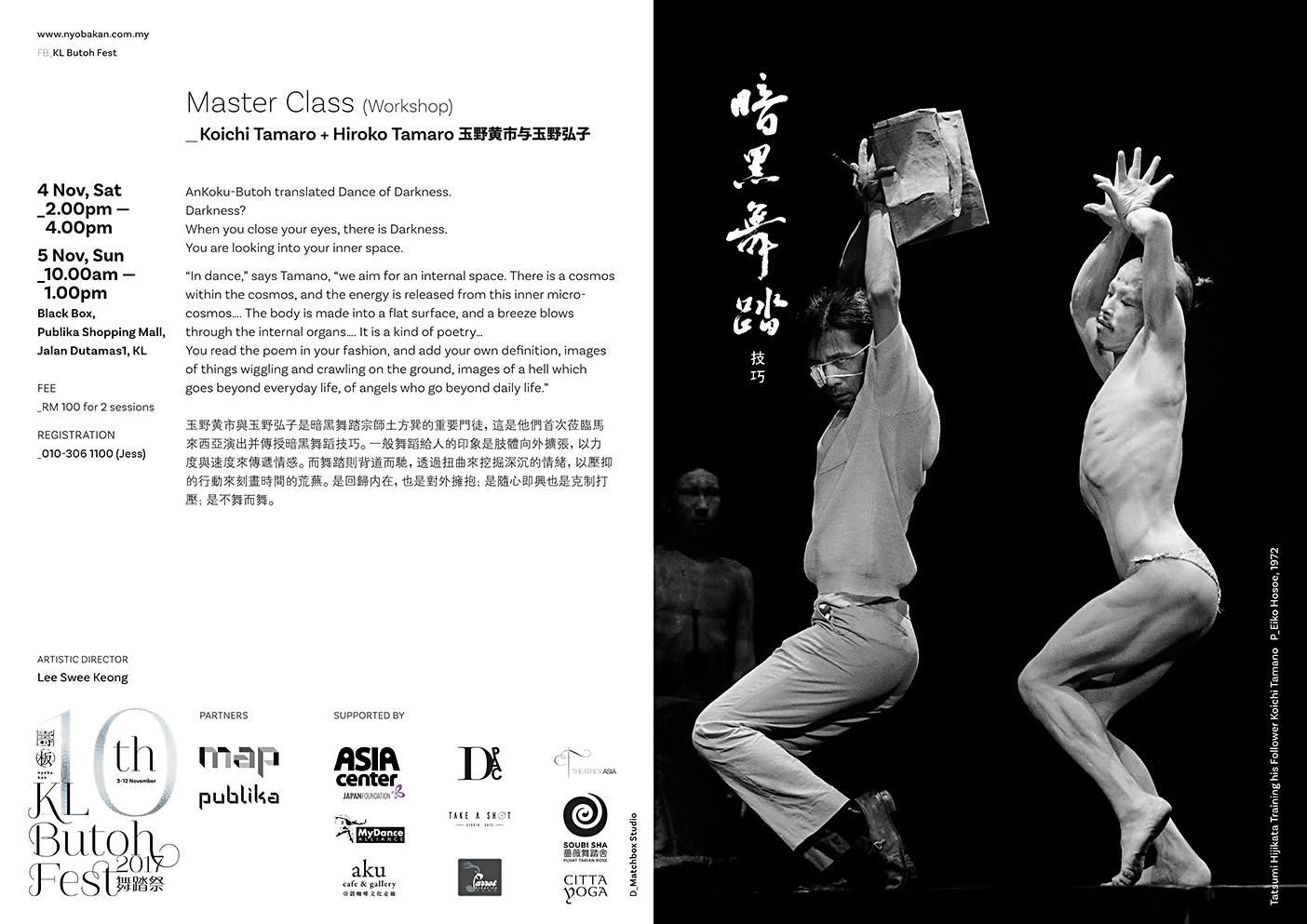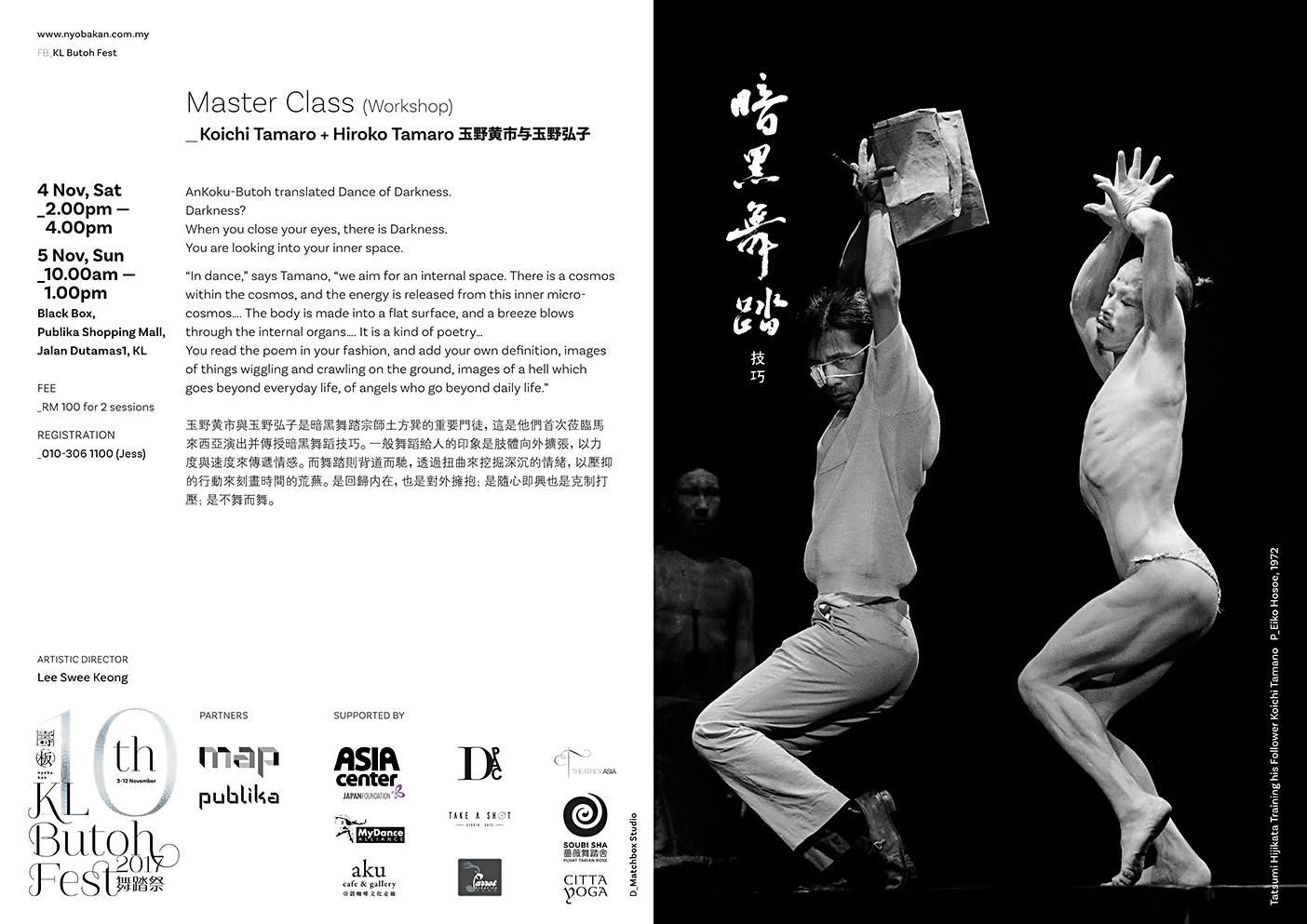 Master Class by Koichi Tamano & Hiroko Tamano
AnKoku-Butoh translated Dance of Darkness.
Darkness ?
when you close your eyes, there is Darkness.
you are looking into your inner space.
" in Dancing, " says Tamano,
"we aim an internal space. there is a cosmos within the cosmos, and the energy is released from this inner micro-cosmos....The body is made into a flat surface, and breeze blows through the internal organs .... It is a kind of poetry ...
You read the poem in your fashion, and add your own definition, images of things wiggling and crawling on the ground, images of a hell which goes beyond everyday life, of angels who go beyond daily life."
Date / Time: 4th Nov 2017 (Sat), 2.00pm to 4.00pm
5th Nov 2017 (Sun), 10.00am to 12.30pm
Venue: Black Box, Publika Shopping Mall, Jln. Dutamas 1, KL.
Registration: 010-3061100 (Jess)
Fee: RM 100 for 2 sessions
Facebook: https://www.facebook.com/events/493183737710026/
10th KL Butoh Festival
The KL Butoh Festival is celebrating its 10th year and has announced an awesome lineup of performances, exhibitions and master classes. The Festival kicks off with a double bill of butoh performances starring a piece "Earth Child" by two senior Butoh masters Koichi Tamano and Hiroko Tamano, "Wooden Face" by NyobaKan and "The Goddess of Mercy" solo by Lee Swee Keong.
Furthermore, the KL Butoh Festival wants to be identified and connected to the city where it is held. The Butoh Festival is presenting a photography exhibition titled "If life likens a river...." by DevLee and a painting exhibition titled "Looking Within: Image Without" by Loh Bok Lai. Performing and presenting during an exhibition is a whole new experience, within the space, installation and performance.
The festival will be held from 3rd to 12th November 2017 at Black Box & White Box, Publika Shopping Mall and 11th Nov 2107 at Take a Shot • Studio Cafe. Ticketing information is posted online on KL Butoh Festival's Facebook @klbutohfest or by phone at 012 362 2939.
Presented by: NyobaKan
Partners: MAP | PUBLIKA
Supported by: Japan Foundation Asia Center | MyDance Alliance | Citta Yoga |
Aku Café | Take a shot studio café | DPAC | Theatrex | Butoh SOUBI SHA
Box Office Opens
From 4th November 2017 to 5th October 2017
Performance Date & Time
04 th November (Sat) 2:00 pm
05 th November (Sun) 10:00 am

Venue
: Black Box, Publika Shopping Mall,Jalan Dutamas 1,Kuala Lumpur,Wilayah Persekutuan,,MY
WEBSITE
https://www.facebook.com/klbutohfest/
For enquiries:
Nyoba Kan
Tel: 0103061100
Email: info@nyobakan.com.my
Other Events You May Like
GETTING THERE