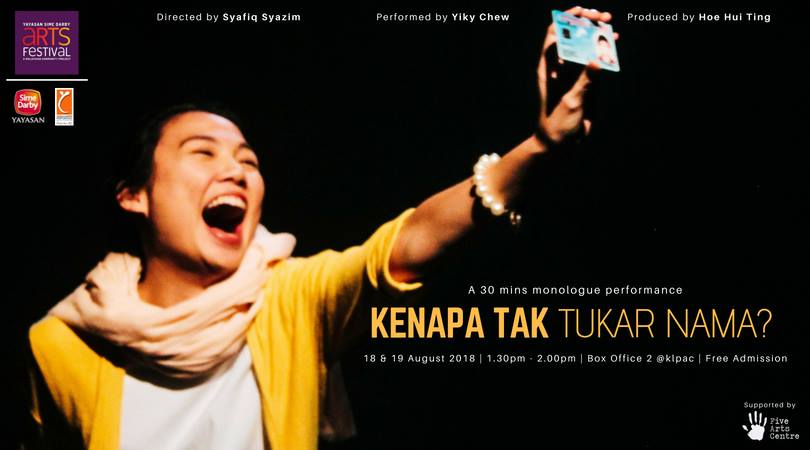 'Kenapa Tak Tukar Nama?' first staged under the 'Tiga Dalam Kepompong' programme for emerging performing arts practitioners at KOTAK, Five Arts Centre, Kuala Lumpur in 2017.
This year 'Kenapa Tak Tukar Nama?' has been invited to perform at the Yayasan Sime Darby Arts Festival 2018 (YSDAF 2018) ;
SYNOPSIS:
Relationships are built on love and faith. We marry for love, but do we change our name for faith? How do we deal with difficulties that present themselves due to bureaucracy, especially when one is pressed for time to get married? Follow Muslim convert Hoe Mei Ying as she navigates the complexity of identity and faith while struggling to answer the question everybody is asking – 'Kenapa Tak Tukar Nama?'. Indulge in the thought-provoking and hilarious 30-minute monologue performance by Yiky Chew as she plays five different characters, each with their own take on this matter. This playlet is inspired and then devised based on real- life experience of a convert in getting her new Malaysian identity card.
Performed in English, Bahasa Malaysia, Mandarin & Cantonese.
Devised by: Syafiq Syazim & Yiky Chew
Directed by: Syafiq Syazim
Performed by: Yiky Chew
Produced by: Hoe Hui Ting
This staging is supported by Five Arts Centre.
YSDAF 2018 Full Info: https://www.facebook.com/YSDArtsFest/?ref=br_rs