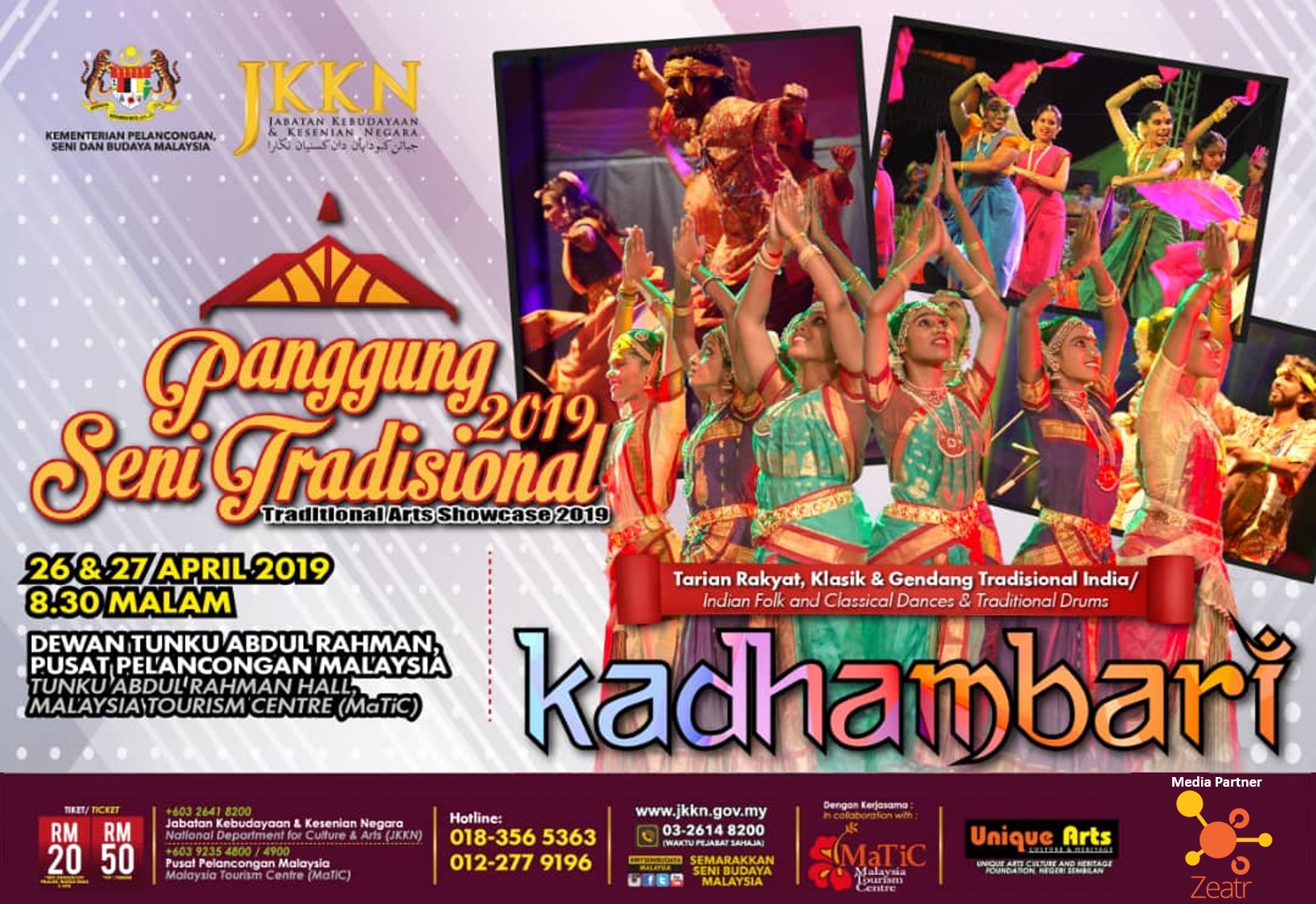 ZEATR
The 2nd Series of PST2019 programme organized by the National Department for Culture and Arts (@Kementerian Kementerian Pelancongan, Seni dan Budaya Malaysia) in collaboration with Malaysia Tourism Center will feature the Unique Arts Culture and Heritage Foundation troupe from N. Sembilan in a show titled "Kadhambari".
With the theme of 'Unity Through Arts & Culture' 'Kadhambari' presents Folk and Classical Indian Dances and Traditional Drums. Among the dances that will be performed are Bharata Natyam, Oyilattam, Thiruvathirakali, Ghoomar, Lambadi, Qawali, Bhangra and a medley of traditional songs with folk drums.
ZEATR is proud to be the Media Partner for this event.
To get your tickets, please contact: –
018-356 5363 (Unique Arts)
012-277 9196 (Abisheg Unique Arts)
03-2614 8200 (JKKN)
Tickets are priced at RM50 (VIP) and * RM20 (Normal) – * 50% discount is given to students, senior citizens and the disabled.
Dates: Friday, April 26, 2019 to Saturday, April 27, 2019
Time : 8:30 pm – 11:00 pm
Location: Malaysia Tourism Center, Kuala Lumpur, Malaysia (Pusat Pelancongan Malaysia @ MaTiC, Jalan Ampang)
Coordinator: Research and Development Division, National Department for Culture and Arts .
#Zeatr #ZeatrOfficial #Kadhambari #unique_arts_academy ##malaysiatourismcenter #KL #KualaLumpur #Malaysia #Dance #Theatre #Performance #BharataNatyam #Oyilattam #Thiruvathirakali #Ghoomar #Lambadi #Qawali #Bhangra #medley #traditional #songs #folk #drums #Dhol