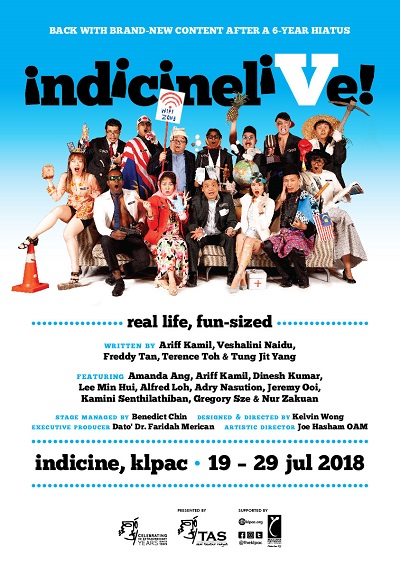 The much-hyped and consecutively sold-out indicineliVe! revue returns after a 6-year hiatus with brand-new sketches and parodies, crafted by a revamped team of the old and new. As the country embarks on overdue repairs, we find hope again through some real life, fun-sized.
Written by Ariff Kamil, Veshalini Naidu, Freddy Tan, Terence Toh, Tung Jit Yang and the ensemble of Amanda Ang, Ariff Kamil, Dinesh Kumar, Lee Min Hui, Alfred Loh, Adry Nasution, Jeremy Ooi, Kamini Senthilathiban, Gregory Sze & Nur Zakuan. Staged managed by Benedict Chin. Designed and directed by Kelvin Wong.
indicineliVe! is presented by The Actors Studio Seni Teater Rakyat, supported by The Kuala Lumpur Performing Arts Centre.
#reallifefunsized