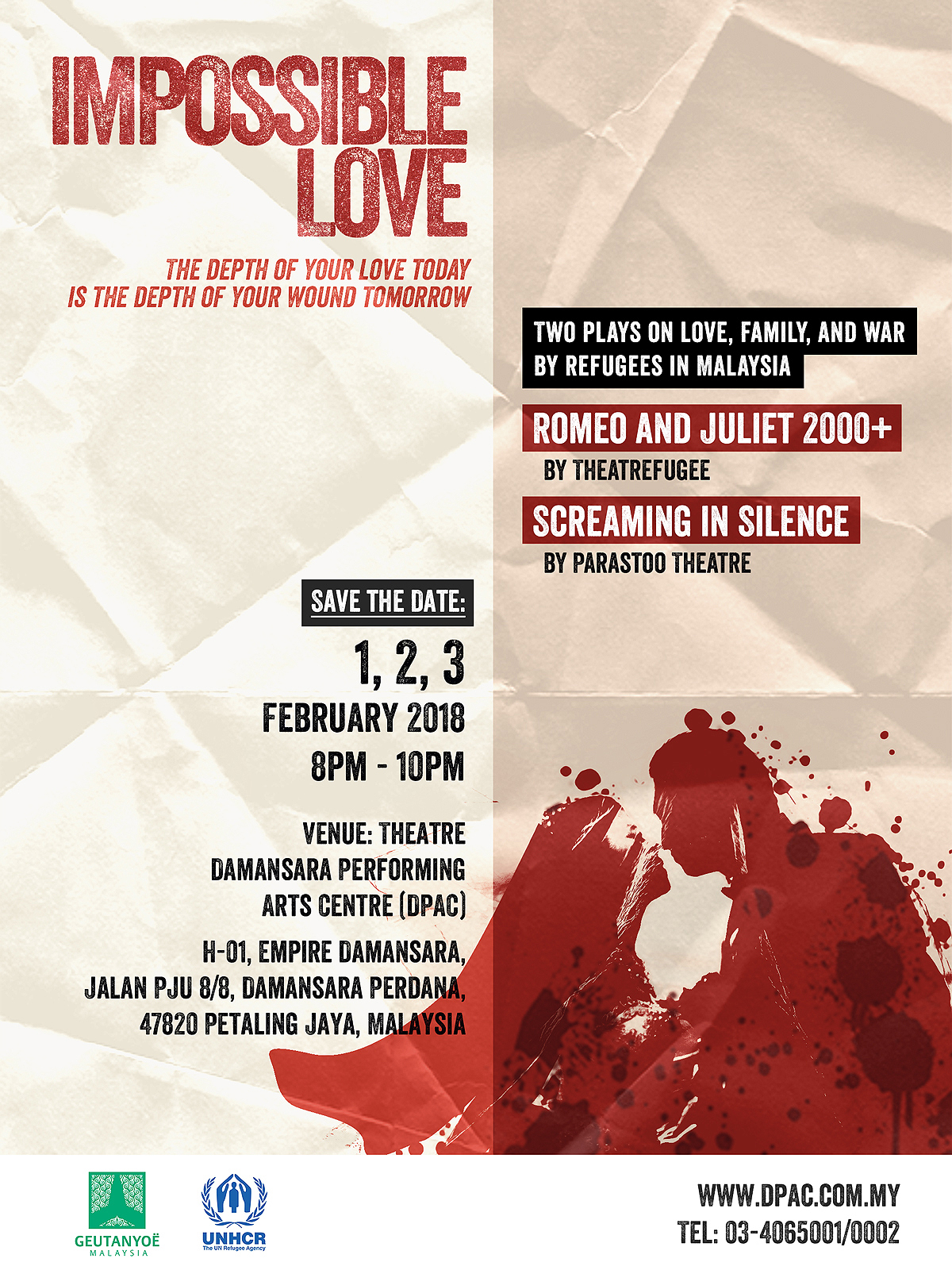 Geutanyoe Foundation and UNHCR proud to present Impossible Love, a double billed performance of two plays written, directed, and acted by refugee artists in Malaysia, each exploring the impact of war on love and family.
Romeo and Juliet 2000+ by TheatreFugee, directed by Omar Alkhammash, a 19-year old artist from Syria, and Saleh Sepas, a professional theater director from Kabul, is a retelling of the William Shakespeare play, only this time set in Colombo during the Sri Lankan civil war, with the feuding Montagues and Capulets reimagined as Sinhala and Tamil Tiger families. The actors comprise of refugees from different parts of the world, including Syria, Libya, Sri Lanka, Afghanistan, and Pakistan.
Screaming in Silence is an original play written and directed by Saleh Sepas, founder of the Afghan refugee Parastoo Theatre. Set in Afghanistan, the play tells the tragic story of Nazanin, a 12-year old girl forced into marriage with a much older man when her father loses to him at gambling. Eventually, Nazanin runs away, only to find that even the institutions responsible for enforcing the law fail to protect her rights.
The plays address the realities of societies both hardened and eroded by conflict. In Romeo and Juliet 2000+, those who try to break away from cycles of hostilities of war and choose the path of love and peacemaking must confront their own families and face exile or death. In Screaming in Silence, families entrenched in the misery of war, poverty, parochialism of rural Afghanistan condone the forced marriage of a young girl, with little regard for the multiple forms of violence and vulnerability that she becomes exposed and subjected to as a result. Such situations are all too real for girls in many parts of the world. According to the United Nations, rates of child marriage increase in times of crisis, when marriage can seem to offer 'protection', 'honour' and security, even while it often severely compromises girls' development, interrupting their education, leading to early pregnancy, social isolation and domestic violence.
The performance is a collaborative artistic effort between TheatreFugee and Parastoo Theatre, with management and production support from humanitarian organisation Geutanyoe Foundation. The effort was funded through a seed grant from UNHCR Malaysia to TheatreFugee as well as public donations for Parastoo Theatre channeled through Geutanyoe Foundation.
The plays will be performed on 1-3 February 2018 at the Theatre at Damansara Performing Arts Centre (DPAC). Proceeds from the performances will go towards programmes to support Rohingya women and girls' education by Geutanyoe Malaysia as well as a collaborative arts programme between refugee and Malaysian youth, led by TheatreFugee. We welcome individuals, organisations, and companies who wish to sponsor tickets for underprivileged Malaysian youth and refugee youth to attend the plays of any night.