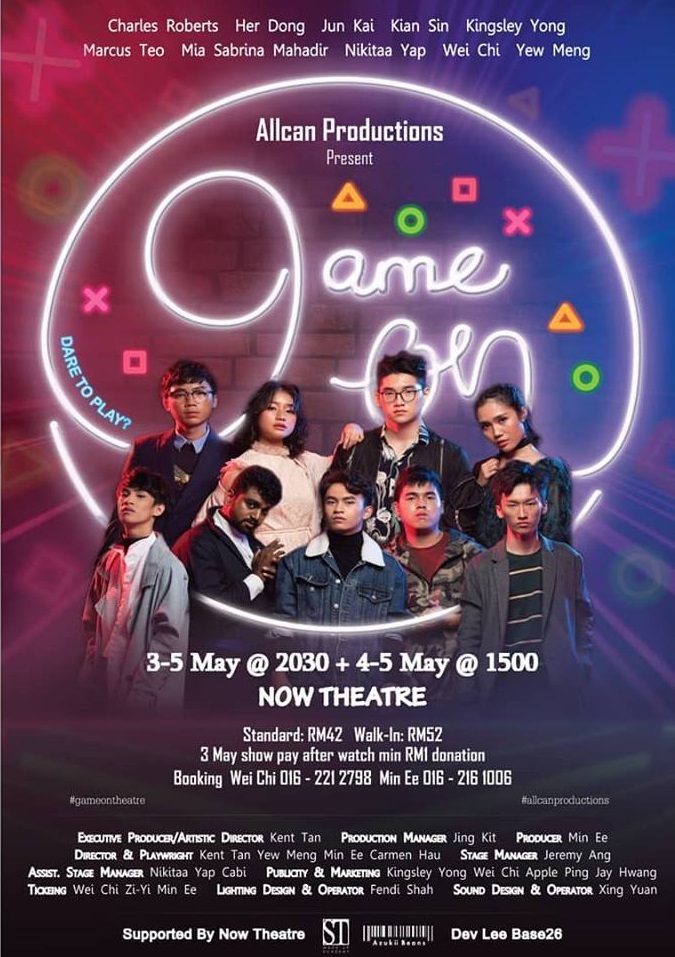 DARE TO PLAY?
A one of a kind play that breaks the fourth wall is coming soon this May! Get ready as the Game Master leads you through the show and using a secret tool, you as the audience, are able to change the plot of the story. Trust me, this will be an adventure like no other.
From Kent Tan, the executive producer, director and playwright of the top-grossing and innovative play Old Bird (2015), I Hate My Job(2016) and JAM-LAH (2017), the experienced stage lighting designer Fendi Shah, television actor Charles Roberts and the Best Female Actress 2017 College Canselor, Universiti Putra Malaysia, Fatin Adila and three novice directors Carmen, Min Ee, Yew Meng followed by a group of new faces in the theatre industry, will be unleashing their creativity to create three game-like plays that will take the audience along for the ride.
This is a play that combines the diversity of Malaysian culture and languages. There will also be a lot of interaction with the audience, thus it will truly be a 5D experience. The Game Master will share his current situation through three game-like plays, You are the God, Left Vs Right and Metamorphosis to make a perfect decision. How will the game go on, and will the "player" reach a consensus with the Game Master?
Can you believe that all you need to spend is as low as RM1 to watch this play? We hope that people of all classes are able to immerse themselves in the beauty of performing arts, which is why the audience is only required to pay after watching for the first show of our play. The audience can donate any amount of money they wish (minimum RM1). This is for us to know how the audience value our play and let our actors do their best for everyone. The play will be from 3rd of May to 5th of May,at Now Theatre, there will be five shows in total. The ticket price is RM42, RM52 for walk in. This show is suitable for audience aged 13 and above. Any inquiries please contact Wei Chi 016-2212798 or Min Ee 016-2161009. To celebrate Parent's Day, there will be a buy 10 free 1 promotion!
PERFORMANCE DETAILS
Date &Time:
03/05/19 (Fri) 8.30pm(Pay after watch, Min Donation RM1)
04/05/19 (Sat) 3.00pm & 8.30pm
05/05/19 (Sun) 3.00pm & 8.30pm
Venue:
Now Theatre
Ticket Price:
Standard: RM42/pax
Walk-in : RM52/pax
Promotion:
Buy 10 free 1
Contact:
Wei Chi +60 16-221 2798
Min Ee +60 16-216 1009