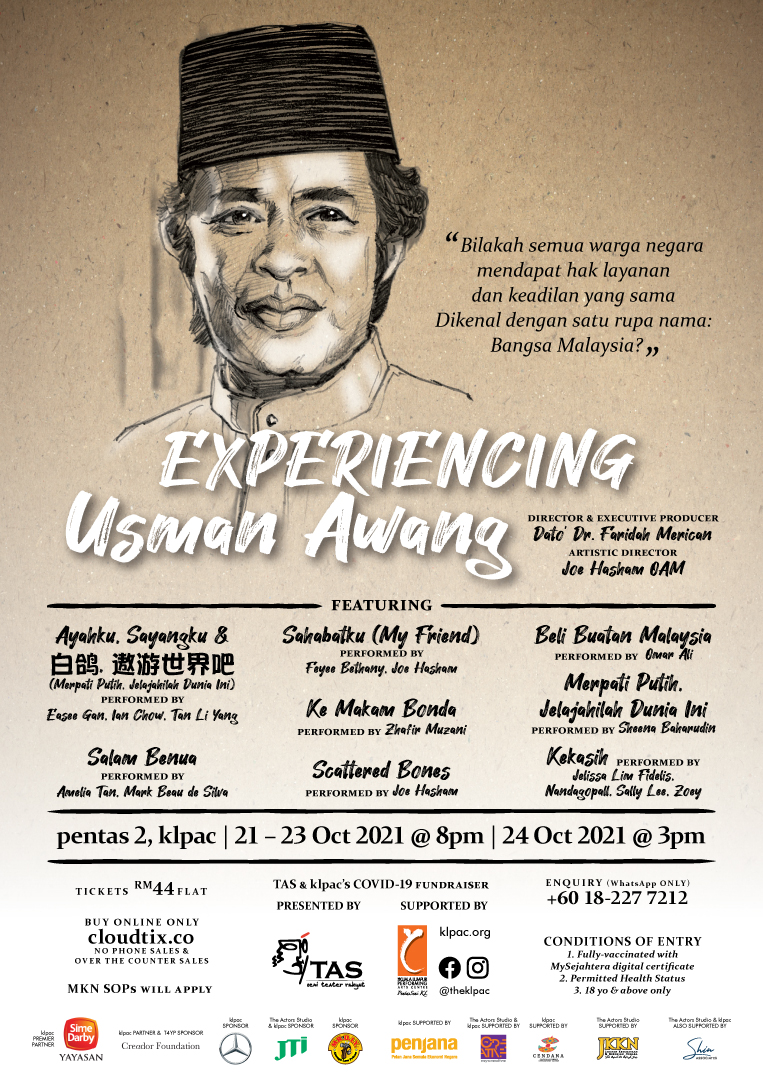 Bilakah semua warga negara mendapat hak
layanan dan keadilan yang sama
Dikenal dengan satu rupa nama:
Bangsa Malaysia?
Though Allahyarham Dato' Dr. Usman Awang penned this in Sahabatku many years ago, it is a question many of us still ask today.
The world over, poets are revered as national treasures, their works read and reread. Our very own National Laureate should not be forgotten too. Known as the People's Poet, the late Dato' Dr. Usman Awang's powerful words and simple delivery still resonates today as it eloquently and passionately paints this beloved country of ours.
Directed by his dear friend Dato' Dr. Faridah Merican, Experiencing Usman Awang offers you the chance to experience eight of his most well-known works – Scattered Bones, Sahabatku, Beli Buatan Malaysia, Kekasih, Merpati Putih, Jelajahilah Dunia Ini, Mata Ayah, Ke Makam Bonda and Salam Benua – through the eyes of 16 creative talents.
Reimagined in different languages (Bahasa Malaysia, English, Mandarin and Hokkien) and forms, some will be recited while some interpreted as a dance and yet others will feature original music. Filled with themes of love, compassion, unity and a spirit of togetherness, things we so greatly need now, one must not miss this warm invitation to get to know our literary giant and Malaysia better.
Supported by  MyCreative Ventures