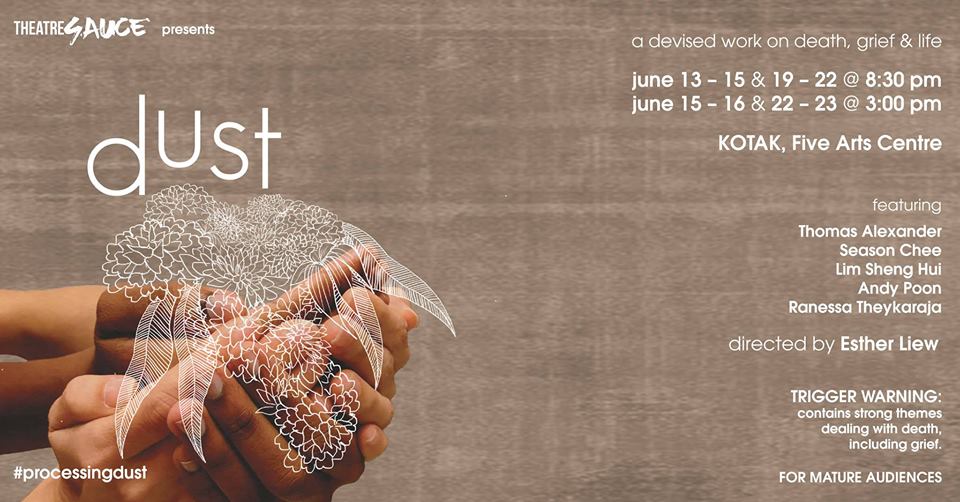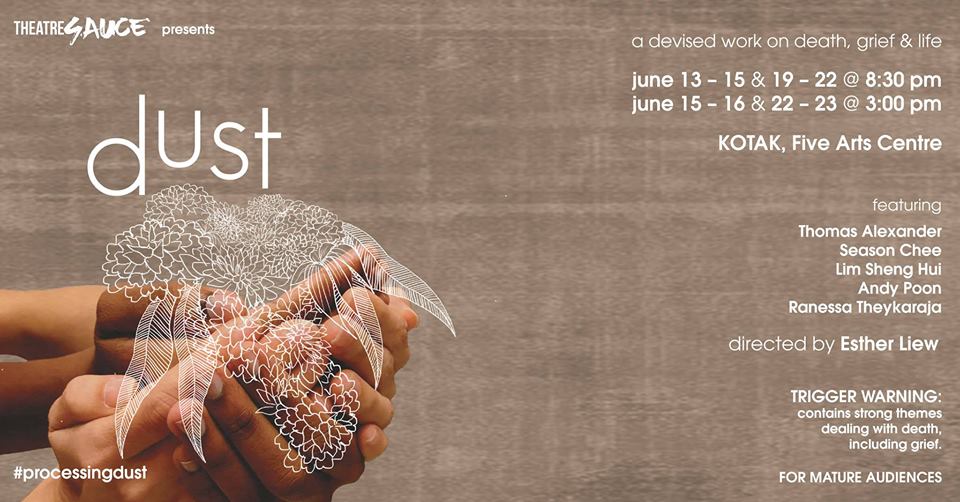 DUST : a devised work on death, grief & life
DUST is an intimate, multi-lingual exploration of mortality, and how different people deal with it. It's conceived through the stories, dreams and imaginations of five performers who have been deeply impacted by experiences and questions about death, grief, and ultimately, life.
In 90 minutes, DUST weaves theatrical storytelling with expressive visual and auditory montages. Reflective, poignant and at times surreal, this project ultimately searches for hope – by considering life, and the way we choose to live.
Featuring Thomas Alexander, Season Chee, Lim Sheng Hui, Andy Poon, and Ranessa Theyakaraja. Also in the team are Ali Motamedi (Assistant Director), Sandee Chew (Dramaturg), Artistic Director Kelvin Wong (Scenic Designer), Syamsul Azhar (Lighting Designer), Hannah Cheah (Stage Manager), and Frederick Tan 陈促锝 (Assistant Stage Manager).
Directed by Esther Liew. DUST is the first of three New Projects presented by Theatresauce as part of the 2019 season.
TICKETS
RM63 (Regular)
RM53 (Concession; students, the elderly, the disabled)
PROMO!
Buy 3 Free 1 (25% discount off each ticket!)
STUDENT BULK BOOKINGS (Includes special programming & complimentary tickets for teachers):
Email kelvin@theatresauce.com
TRIGGER WARNING:
DUST contains strong themes dealing with death, including grief. Viewer discretion is advised.
PRESS INQUIRIES:
Email Asher Au at newprojects@theatresauce.com
Event Dates
From 13th June 2019 to 23rd June 2019
Performance Date & Time
13 th June (Thu) 8:30 pm
14 th June (Fri) 8:30 pm
15 th June (Sat) 3:00 pm
15 th May (Wed) 8:30 pm
16 th May (Thu) 3:00 pm
19 th June (Wed) 8:30 pm
20 th June (Thu) 8:30 pm
21 st June (Fri) 8:30 pm
22 nd June (Sat) 3:00 pm
22 nd June (Sat) 8:30 pm
23 rd June (Sun) 3:00 pm

Venue
27, Lorong Datuk Sulaiman 7,Taman Tun Dr Ismail, 60000 Kuala Lumpur.
WEBSITE
https://www.facebook.com/events/2367267883598629/?event_time_id=2367267890265295
For enquiries:
Box Office
Tel: 0198074810
Email: newprojects@theatresauce.com
Other Events You May Like
GETTING THERE