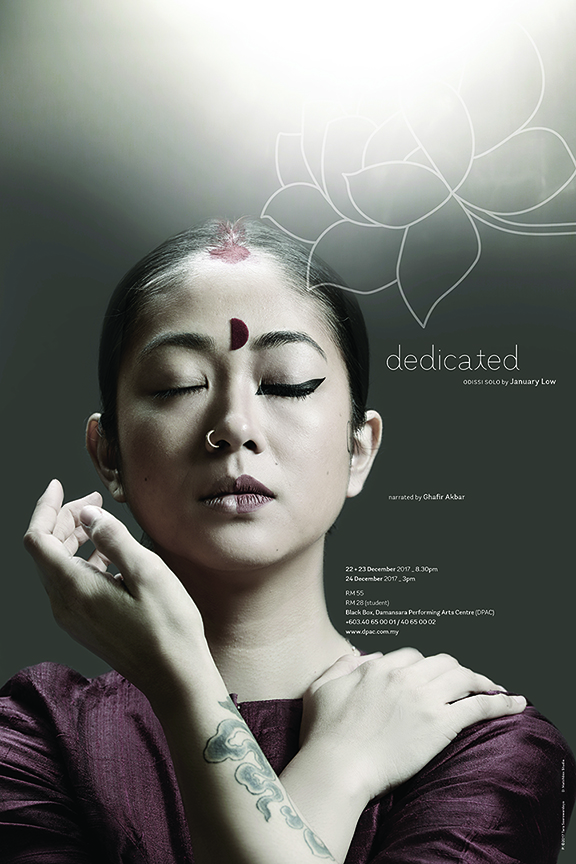 dedicated
dedicated is a full-length traditional Odissi production and will premiere works that January learnt 3 years ago in her makeshift studio in the basement of her home from Odissi sister and star, Shrimati Sonali Mohapatra with music composed by renowned Shri Abhiram Nanda. This production will be her first solo after her departure from Sutra Dance Theatre 7 years ago.
A retrospective, January will share raw excerpts describing her evolution from girl, to wife to mother and how she has come to embrace all these identities fueling her passion for Odissi.
A long-time coming, this production will showcase January's dedication to her first love, Odissi.
Box Office Opens
From 22nd December 2017 to 24th December 2017
Performance Date & Time
22 nd December (Fri) 8:30 pm
23 rd December (Sat) 8:30 pm
24 th December (Sun) 3:00 pm

Venue
H-01, DPAC, Empire Damansara, Jalan PJU 8/8, Damansara Perdana, 47820 Petaling Jaya, Selangor, Malaysia.
WEBSITE
http://www.dpac.com.my/page/ticket/bookTicket/view/787.html
For enquiries:
DPAC Box Office
Tel: 60340650001
Email: damansara.dpac@gmail.com
Other Events You May Like
GETTING THERE