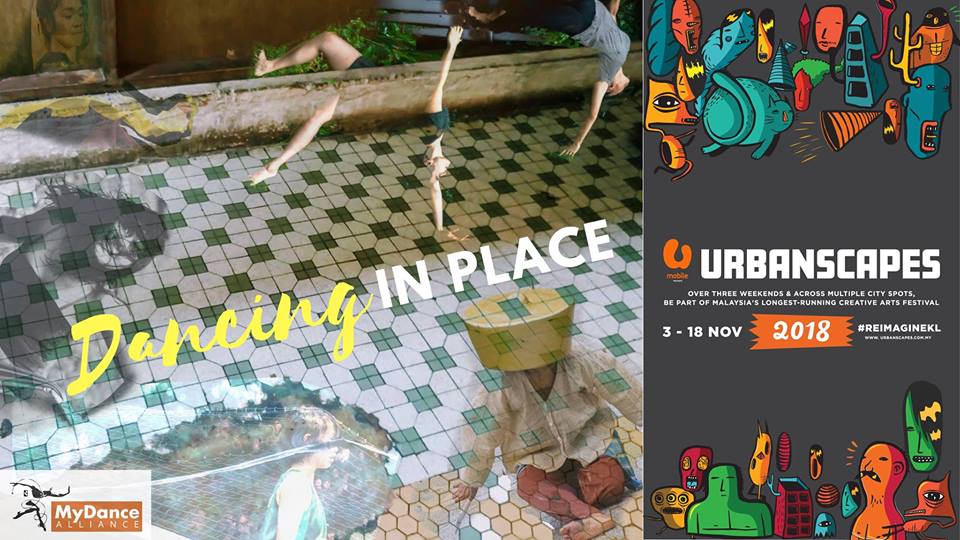 Dancing in Place 2018 at Urbanscapes –
Dancing by the river. Dancing on a bridge. Dancing up a ladder. Dancing underground.
New dance works performed outdoors by the River of Life area in Kuala Lumpur's Chinatown. Malaysian dancers respond to the site where the whole city began, letting past, present and future resonate in their bodies.
A different program every weekend!
5:30-6:30pm
Saturday & Sunday
3-4 Nov, 10-11 Nov, 17-18 Nov
FREE ENTRY, donations welcome.
PROGRAM A: 3-4 Nov
– Lim Pei Ern
– Rathimalar Govindarajoo & Kishore Kumar
– Khairi Mokthar & Ng Xin Ying
– ASK Dance Company
PROGRAM B: 10-11 Nov
– Alla Azura Abal Abas
– Lee Ren Xin
– Balletbase
– ASWARA Faculty of Dance
PROGRAM C: 17-18 Nov (RIUH happening too!)
– Rithaudin Abdul Kadir
– Joanna Koleth-Tan
– Lau Beh Chin
– Al-Jabar Laura & Kumpulan Kesenian Negeri Pahang
FREE ENTRY! Please register with
INSTRUCTIONS TO AUDIENCE:
Meet at 5:15pm to register at Urbanscapes House, 2 Jalan Hang Kasturi. A Dancing in Place guide will greet you there, give you an introduction, and take you from site to site to see the dance works.
The event will continue, rain or shine. Please wear shoes for walking, and bring sunscreen and an umbrella. For best results, be prepared to sit on the ground. Sorry, this event is not fully wheelchair accessible.
Come and see Chinatown as you've never seen it before, and as you'll never forget it.
Dancing in Place is a production of MyDance Alliance, and part of Urbanscapes 2018.
Producer: Bilqis Hijjas
Event Dates
Venue
Website