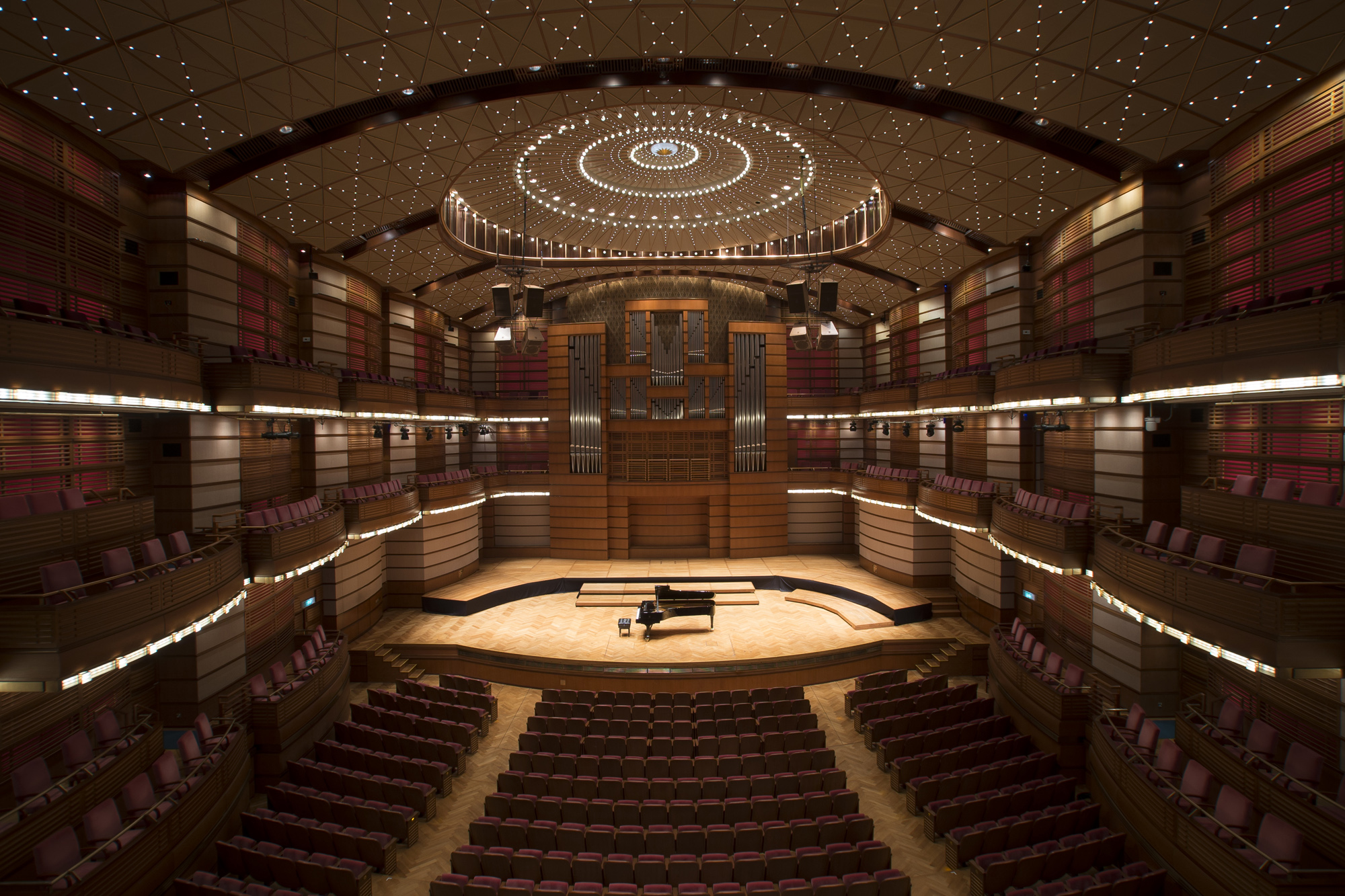 Dewan Filharmonik PETRONAS (DFP) is Malaysia's first concert hall dedicated to classical music and home to the Malaysian Philharmonic Orchestra (MPO). Located at the PETRONAS Twin Towers, it was officially opened on 17 August 1998 by the Patron of the MPO, Tun Dr. Siti Hasmah Haji Mohd Ali and Prime Minister, Tun Dr. Mahathir Mohamad.
Designed by Cesar Pelli, the hall takes its inspiration from the traditional shoe-box shape of the great 19th century European concert halls with the magnificent Klais Pipe Organ providing a spectacular backdrop to the stage.
The hall seats 920 people at one time which includes box seats, corporate suites and a royal suite. Acoustics experts Kirkegaard & Associates have incorporated unique acoustical devices into its design to maximize the hall's natural qualities.
DFP plays an integral part in the music and cultural landscape of the city of Kuala Lumpur and Malaysia. It continues to enthrall audiences since the day it first opened its doors. World renowned orchestras that have performed here include the New York Philharmonic, Philadelphia Orchestra, BBC Symphony and Vienna Symphony.
Beyond classical music, DFP has hosted ensembles of jazz and world music genres such as the Count Basie Orchestra, Yellowjackets, Ladysmith Black Mambazo, Mezzoforte, Igudesman & Joo, Pink Martini and Gotan Project.
International superstars who have graced the stage are Harry Connick Jr., Diana Krall, Anoushka Shankar, Laura Fygi, Zakir Hussain, Larry Carlton, Harvey Malaihollo, Ruth Sahanaya and Judika.
Among renowned Malaysian artists who have mesmerized audiences at DFP include SM Salim, Sheila Majid, M Nasir, Siti Nurhaliza, Jamal Abdillah, Khadijah Ibrahim, Ramli Sarip, Ella, Yuna, Faizal Tahir, Dayang Nurfaizah and Misha Omar. It also provides the platform for the talents of young Malaysians from the Malaysian Philharmonic Youth Orchestra (MPYO).
DFP's success is attributed to its exceptional architectural design, superior acoustics and recording studio modelled after the legendary Abbey Road Studios.
As the first purpose-built concert hall in Malaysia, DFP will continue to provide Malaysians with world-class music experiences through innovative programmes and repertoire every season.
Box Office Operating Hours:
Tuesday – Saturday: 10:30AM to 6:30PM
Performance nights: 10:30AM to 9:00PM
Performance Sundays: 12:00PM to concert time
(Closed on Sundays, Mondays and Public Holidays unless a concert is scheduled)