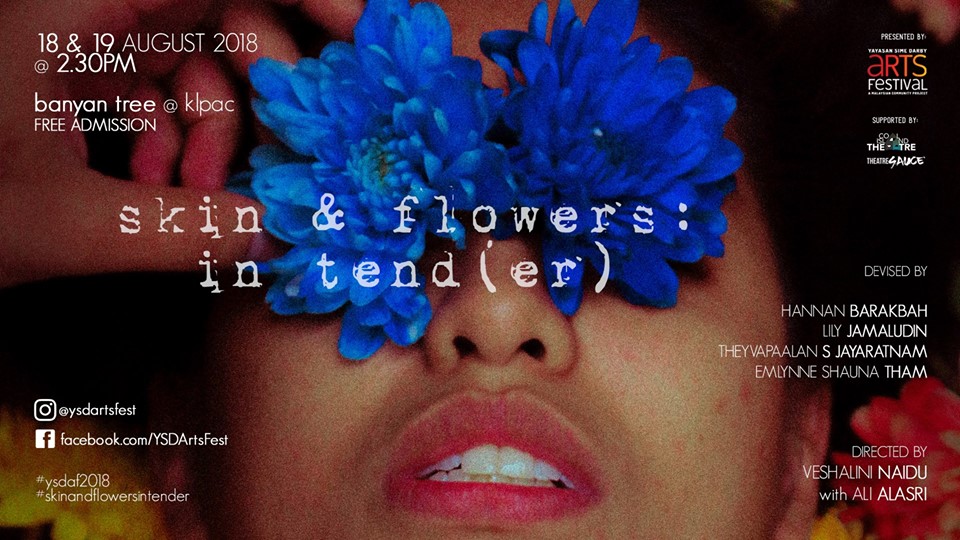 PREMIERING AT Yayasan Sime Darby Arts Festival (YSDAF 2018)!
SYNOPSIS:
Skin and Flowers: In Tend(er) begins to explore queerness in relation to our bodies, and the language of tenderness as we speak of it.
Based on the watercolour series "Skin & Flowers" by Veshalini Naidu; a visual interrogation of femininity, masculinity, gender and sexuality inspired by the poetry of Nayyirah Waheed and Lily Jamaludin.
DETAILS:
Date: 18 & 19 August 2018.
Time: 2.30 – 3.00PM
Venue: Banyan Tree @ The Kuala Lumpur Performing Arts Centre (klpac).
FREE ADMISSION.
Devised by:
HANNAN BARAKBAH.
LILY JAMALUDIN.
THEYVAPAALAN S JAYARATNAM.
EMLYNNE SHAUNA THAM.
Directed by:
VESHALINI NAIDU with ALI ALASRI.
For more info on YSDAF 2018: https://www.facebook.com/YSDArtsFest/?ref=br_rs
Presented by Yayasan Sime Darby Arts Festival.
Supported by Theatresauce & Coal Island Theatre.
#ysdaf2018 #skinandflowersintender #theatre #strongasflowers#softaswarriors