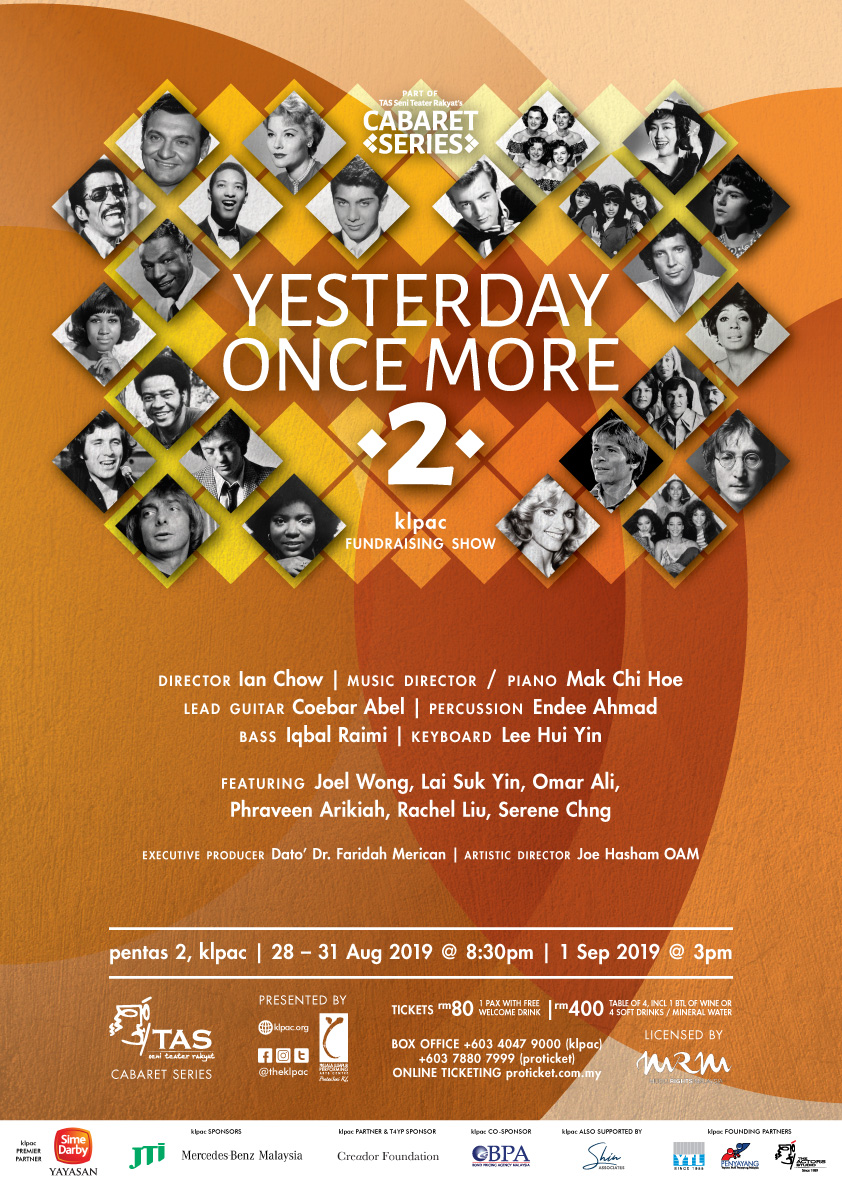 After its sold out debut in 2018, klpac is presenting the second installment of its all-time popular golden oldies concert Yesterday Once More 2 with the support of Creador Foundation, klpac's Partner.
We turn the clock back in time with timeless classics such as Rose, Rose, I Love You, Put Your Head on My Shoulder, Mr. Bojangles, Big Spender, Ain't No Sunshine, Imagine and I Will Survive, performed by Joel Wong, Lai Suk Yin, Omar Ali, Phraveen Arikiah and Rachel Liu, Serene Chng under the direction of Ian Chow and backed by a 5-piece band.
Pentas 2 will be turned into a lounge setting complete with a bar manned by celebrity bartenders Joe Hasham OAM and Lawrence Selvaraj. Relax and unwind to some of the greatest hits from the 50s to the 70s by some of the best known names such as Frankie Lane, Patti Page, Paul Anka, Nat King Cole, Aretha Franklin, Shirley Bassey, The Beatles and Olivia Newton John.
SHOW DETAILS
Presented by The Kuala Lumpur Performing Arts Centre
Date & Time:
28th – 31st August 2019, 8.30pm
1st September 2019, 3.00pm
Venue: Pentas 2, klpac
Tickets: Category 1: RM400 (Table Seat of 4 pax) inclusive one bottle of wine or choice of 4 cans of soft drink / mineral water
Category 2: RM80 (Normal seat) inclusive of one welcome drink
THE TEAM
Executive Producer | Dato' Dr Faridah Merican
Artistic Director | Joe Hasham OAM
Director | Ian Chow
Music Director & Keyboardist | Mak Chi Hoe
2nd Keyboardist | Lee Hui Yin
Lead Guitarist | Coebar Abel
Percussion & Vocalist | Endee Ahmad
Bassist | Iqbal Raimi
Featuring | Joel Wong, Lai Suk Yin, Omar Ali , Phraveen Arikiah, Rachel Liu, Serene Chng
Celebrity Bartenders | Joe Hasham OAM & Lawrence Selvaraj
Lighting Design |  Mohamed Fairuz @ Boy
Sound Engineer | Khairil Imran
Set Designer / Senior Art Director |  Joel Wong
Head of Marketing / Publicity | Ang Yue May
Stage Manager | Benedict Chin
Senior Publicist | Maggie Ong
Publicist |  Megann Teoh
Technical Manager | Mike Thomas
FOH / Theatre Executive |  Catherine Lee and Camillea