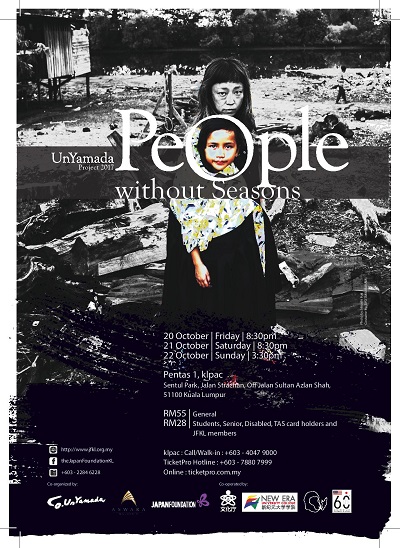 Co. Un Yamada Project 2017
Celebrated dancer Un Yamada is no stranger to Malaysia, having visited here for performances and residency program since 2012.
In January 2016, she directed a double bill project titled "one◆piece x The Rite of Spring" in klpac. Both works were originally produced for Co. Un Yamada, but in this double bill project, "one◆piece" was performed by local male dancers selected through competitive audition, and "The Rite of Spring" by Co. Un Yamada dancers from Japan.
This year, Un Yamada has mixed Malaysian and Japanese casts together to present a special Malaysian version of "People without Seasons."
A City without Seasons
It was first performed by Co. Un Yamada in 2012 in Japan, initially by twelve dancers, with the idea taken from Shugoro Yamamoto's literary work of the same title. In fact, 2017 is the 50th anniversary of the writer's death. The literature had also made into a movie "Dodesukaden" by a world famous film director, Akira Kurosawa, in 1970. Receiving the inspiration from both the novel and the movie, Un Yamada has established an energetic dance world with implementing a lot of theatrical elements, with adopting Beethoven's "Ninth Symphony" effectively into the act.
For the Malaysian version of the show, Un Yamada will be selecting 15 Malaysian participants through the audition. They will learn the choreography from Un Yamada and her company members, as well as from Fauzi Amirudin and Jabar Laura who had participated in the show held in Japan earlier this year.
They will all together present the result at klpac.
Presented by
The Japan Foundation Kuala Lumpur(JFKL), Co. Un Yamada, ASWARA
Co. Yamada Un
Artistic Director & Choreography: Un Yamada
Set Designer: Hiroshi Fuji
Costume Designer: RYOTAMURAKAMI
Lighting Designer: Yukiko Sekine
Lighting Operator: Masahiko Fujita
Sound Operator: Chikako Ezawa
Stage Manager: Soh Chong Hong
Producer: Toshiko Uehara
Performers: Un Yamada, Fauzi Amirudin, Jabar Laura, Chinami Ito, Toshihiko Jo, Sayuri Iimori, Masashi Koyama, Kiea Kuan Nam, Pengiran Qayyum, Joanna Koleth-Tan, Lim Pei Ern, Syed Haziq Afiq, Mohd Zulkarnain, Sueki Yee, Yap Chiw Yi, and Janet Pillai
The Japan Foundation Kuala Lumpur
Yuri Yamada (Project Manager)
Stephanie Ho (Production Manager)
Sulatan bin Ibrahim (Administration)
Nurliyana binti Norazami (Publicity)
Kyoko Kugai, Nurul Amira binti Sabri (Front of the House)
Hiromi Ikeda (Emergency)
Venue Pentas 1, The Kuala Lumpur Performing Arts Centre
Tickets
Normal: RM 55
Concession; RM 28 for student, senior citizen, disabled, JFKL member and TAS card member (ONLY applicable to walk in to klpac with Valid ID)
All tickets are inclusive of RM3.00 ticket handling fee
Ticket Promotions
Buy 3 Free 1 (Only for Normal Tickets)
(RM41.25 x 4 tickets = RM 165)

TICKETS LAUNCHING SOON!
Event Dates
Show Times
Venue
Website
For Enquiries