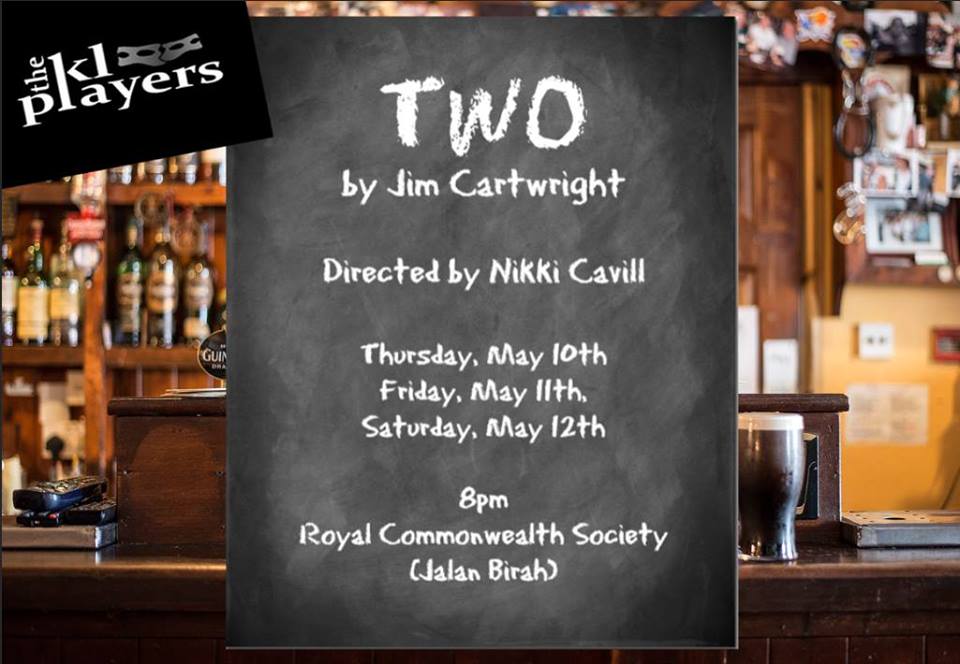 The KL Players are proud to present our next mid-term show, 'Two' by Jim Cartwright, directed by Nikki Cavill.
'Two' presents a microcosm of working-class life in a Northern local pub in the 80's'. Watch a bickering husband and wife and the dozen regulars who pass through their pub in an evening of both pathos and humour. When a little boy is left behind by his father, a fragile reconciliation occurs as their own dark tragedy is revealed…
Come and watch the Players put on another entertaining evening at the Royal Commonwealth Society, showing on the dates below:
Thursday, 10th May
Friday, 11th May – SOLD OUT
Saturday, 12th May
Doors open 7:30pm for an 8pm start each night.
——————————————————————————————-
Ages 14+ – parental digression is advised due to the mature themes of the play and some mild language.
All drinks are available for purchase from the venue – there is NO corkage. Food can be purchased downstairs, but please no eating upstairs during the show. We recommend you pre-order food for the interval if you wish.
This is a free seating show – arrive early to secure your seat!
For further information, please message our Facebook group: https://www.facebook.com/KLPlayers/
Or, contact us by email at: [email protected]
TICKETS AVAILABLE NOW
————————————–
Drop us a message, email [email protected] or through our outlets below –
Alice Smith (JB): Julie Nunweek, [email protected]
Garden School: Simon Oates, [email protected]
BSKL: Sarah Winser, [email protected]
MKIS: Mickey Essadi, [email protected]
Sri KDU: Nikki Cally, [email protected]