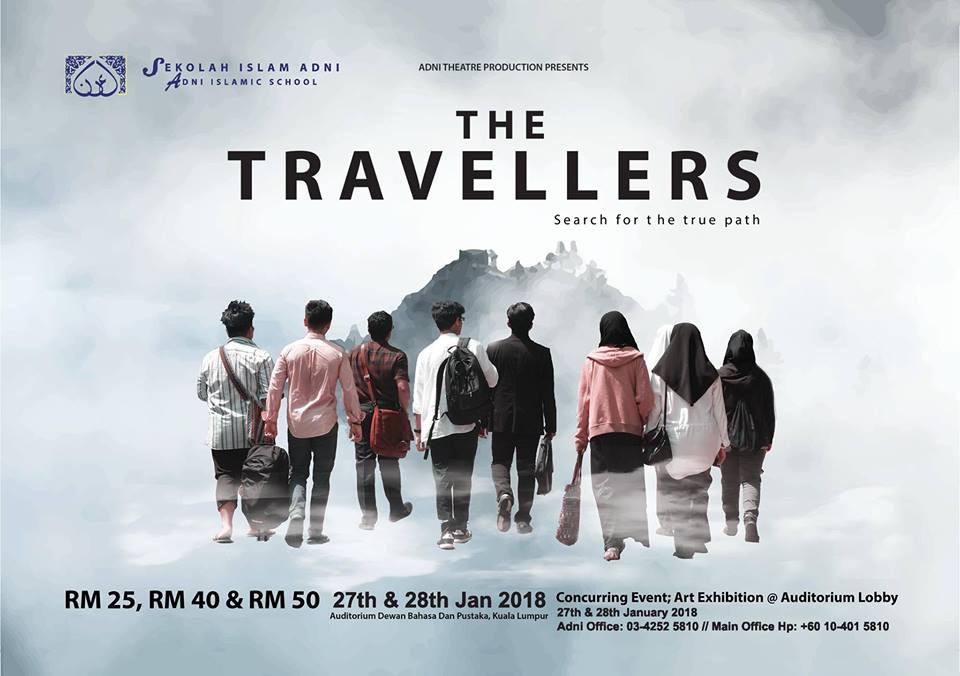 ADNI Islamic School presents their 2018 Annual Theatre Performance,
"THE TRAVELLERS"
Presented by ADNI Theatre Production of ADNI Islamic School 
"(Allah,) The Originator of the heavens and the earth. When He decrees a matter, He only says to it, "Be," and it is."
+++++++++
​Synopsis:
Insan are the travelllers as The World is just a temporary stop for an ongoing journey. 'The Travellers' sets the audience to experience a glimpse of our whole journey as an Allah's servant and the khalifah. This staging consists of 3 Acts which depict before world, the world, and after world. The timeline for the world depicts a life of a boy growing old. The boy's life is also depicting the life of a person who has been practicing the teaching of the Quran since he was in his mother's womb and later became a hafiz. The significance of having a prominent character with a development is to weave all stages of human's life and it is a storytelling style for the audience to experience a glance of human's life, where growing old is certain and the process is actually instant, to be compared with the journey afterwards.
Other than that, other different characters in the world carries a different bag which depict their deeds. During Mizan scene, the boy who has grown old, he will open his bag and put it on a scale. The ending, two lights are shown, red and white, depicting heaven and hell, but no verdict is shown for the character as it is not certain, as we are human with knowledge's limitation of Allah's decree.
For an effective delivery of the message, this theatrical experience involves narration, visual aids, audio, lighting and stage performers (light drama, spoken words, poetry recitation, & nasheed).
+++
Venue:
AUDITORIUM DEWAN BAHASA & PUSTAKA
Jalan Dewan Bahasa, Bukit Petaling, 50460 Kuala Lumpur, Wilayah Persekutuan Kuala Lumpur.
https://web.facebook.com/DBPMalaysia/
Ticket Prices:
RM25 (Top floor)
RM40 (Ground floor)
RM50 (VIP Seats)
For ticket info, call ADNI OFFICE at 03-4252 5810 or 010-4015810.
Walk-in available through school office or at the door.
+++
ORIGINAL IDEA:
Allahyarhamah Mrs. Zaiton Abd. Malek
SCRIPT:
Nour Amir (RumahCantik) 
Edited by Tc Afeera, Tc Afni, Tc Aqilah
CAST
ADNI students