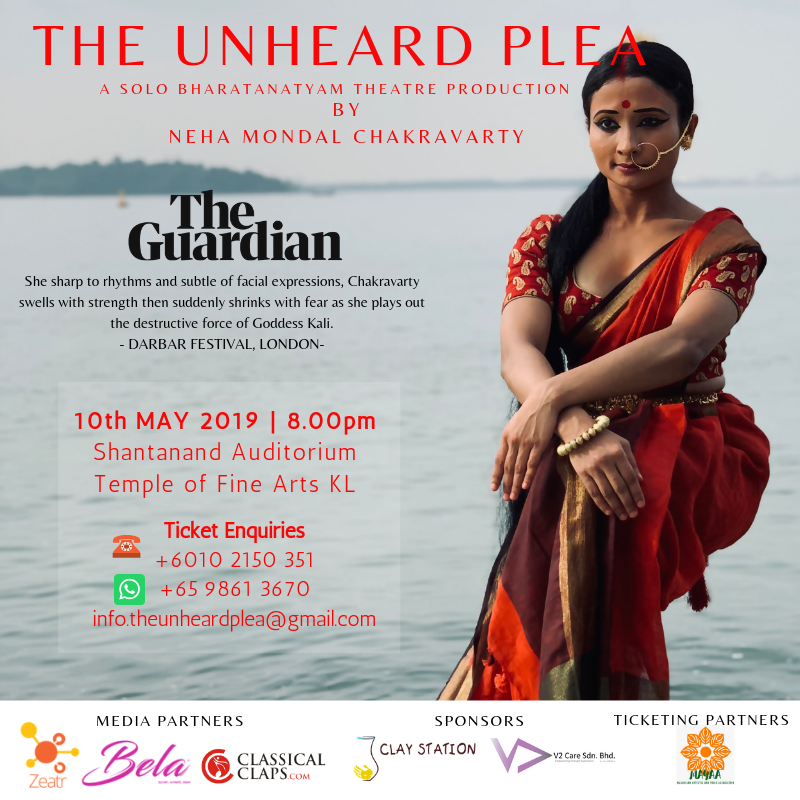 ABOUT THE UNHEARD PLEA
"Her story is a voice against oppression of women, relevant to this day. A voice that inspires, questions, reacts and claims justice."
Draupadi, the epic heroine of Mahabharata, was a woman way ahead of her time. Emerging from the sacred flames of the Yajna, she was raised to fulfil her father's desire for revenge. Of unparalleled beauty, she was an epitome of femininity, compassion and virtue. Fiery, intense and emotional, she remains an icon of early feminism today.
Draupadi, a woman who boldly acknowledged her sexuality. Fearless and outspoken, she dared to question the ordains of a patriarchal society. Her intelligence and knowledge of state affairs was considered no less than that of any Man at that time. Her skilful use of intellect, time and again helped vanquish her tormentors and rescued her husbands from humiliation and misery.
Her destiny though, was dictated by a prophecy during her birth. She often became a victim of circumstances. A polyandrous marriage is thrust on her, she is disrobed in a court of men, loses her sons in war and is finally abandoned by her 5 husbands, But she stood unflinching in the face of trials and emerged determined and strong.
Did she become a threat in a patriarchal world?
Did she have to pay a price for her beauty and intellect?
ABOUT NEHA MONDAL CHAKRAVARTY
"Art is perceived to be the strongest connection between man and the almighty. I firmy believe we are here on Earth for some purpose, to work towards some goal. This is what Karma is, and to me, the medium of fulfilling this purpose is through DANCE. Dance rediscovers the self and helps maintain an emotional, physical, mental and spiritual balance. Finding that inner
happiness and getting immersed in the nectar of Bharatanatayam is what I strive for"
Neha Mondal Chakravarty, is a bharatanatyam dancer and choreographer, based out of New Delhi, currently residing in Singapore.She is a post graduate from the renowned Kalakshetra Foundation in Chennai and have learnt under some eminent stalwarts in the industry. An intermediate level trained contemporary dancer, Neha has worked with The Ministry Of Information and Broadcasting, for Soochna Bhavan as an A grade Artist. Awarded with YUVA KALA RATNA by the Government of Andhra Pradesh,she has also been bestowed with scholarships By The Ministry Of Culture and National Centre Of Cultural Resources and Training, in Bharatanatyam to further her dance training and enhance her skills.'
Her journey of Dance in Malaysia while she lived there, made her expand the horizons of classical dance and to enrich the vocabulary to reach out to a diverse audience. She worked with Swara Community Arts Center in Kuala Lumpur, heading the dance Department, collaborating with a no. of eminent artists. She has toured extensively with her productions, and recently premiered her latest work "The Unheard Plea" at The Drive East Festival In New York. Currently Neha is a company performer and Faculty member at The Apsaras Arts Dance Company in Singapore and tours frequently with their productions.
THE MESSAGE OF DRAUPADI
How far can one go with the quest for justice swerving towards revenge ?
What price does the body has to pay ?
What price humanity is paying till date ?
"This is not necessarily a feminist approach, my attempt is to go deeper inside her soul, to make you experience your own internal debate which usually remains unspoken and unsung.
However it does not leave you on a crossroad, because at every moment she still rises and evolves. With every scene, she unveils a different side of hers which is unassuming and
refreshing.
The main lessons the audience will take back from this production is that :-
➤ To speak up & stand for what is right for your well-being
➤ The only person you can rely on is yourself
➤ The universe favours those who helps themselves.
ZEATR is proud to be associated as Media Partner for this event.
Date And Time
Fri, May 10, 2019, 8:00 PM Malaysia Time Malaysia (Kuala Lumpur) Time
Location
Temple of Fine Arts KL
116 Jalan Berhala
Kuala Lumpur, Wilayah Persekutuan Kuala Lumpur 50470
https://www.eventbrite.com/e/the-unheard-plea-a-solo-dance-theatre-production-tickets-58993752903