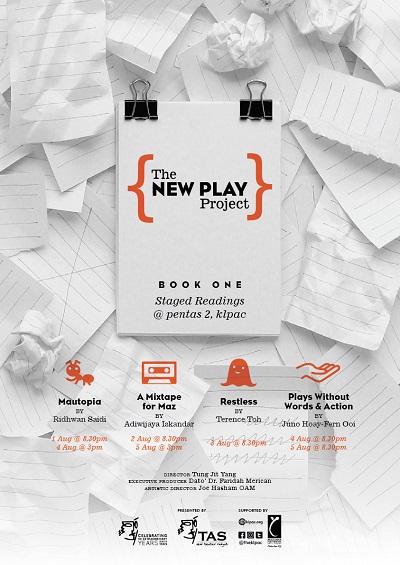 If we do not tell our Malaysian stories who will?
The New Play Project aims to bring to the fore Kuala Lumpur's storytellers, playwrights, and the stories that needs to be told and heard by us, the contemporary audience.
This project, initiated by The Actors Studio Seni Teater Rakyat and facilitated by Director in-Residence Tung Jit Yang, started in 2017. Four playwrights were chosen and, over six months, they gathered weekly to work on their scripts while learning from the best of the best including Nam Ron, Haresh Sharma and Jo Kukathas.
From 1 to 5 August, these 4 plays by Ridhwan Saidi, Adiwijaya Iskandar, Juno Hoay-Fern Ooi, and Terence Toh will be showcased to the public for the very first time as Staged Readings. Be the first to hear some of KL's newest stories for the theatre, ask the playwrights questions, purchase the anthology, and ideally plan to stage these very plays in your very own classrooms, and theatres.
Mautopia by Ridhwan Saidi (BM)
Mautopia sebuah distopia getir tentang sekumpulan pelajar sekolah bernama Kamariah, Rashid, Xulaika dan Nabil yang tinggal di Bukit Famosa. Mereka perlu tontonyang dan menurut larangpantang atau akan dihukum Ustaz dan Guru Disiplin. Setiap hari satu perkataan diharamkan Guru Besar.
A Mixtape for Maz by Adiwijaya Iskandar (English & BM)
Maz and Edi are teenage siblings who have returned to rural North Malaysia in the late nineties after years of growing up abroad.
Not only do they face the stresses of high school life, they must also navigate the contradictions between their western influences (early Internet culture, nineties music and video games) and the conservative society engulfing them.
As their identities are challenged and redefined, will they ever learn to reconcile the shattered fragments of their selves or will they succumb to the temptations of conformity?
Restless by Terence Toh (English)
It seemed like such a nice place to stay. Friends Daniel, George and Jenny decide to move into an old house in Kuala Lumpur, only to discover it is haunted. And by two ghosts to boot: the malicious Edmund and the sensitive Natasha! Both the living and the dead have to put up with each other, resulting in both tense and ridiculous situations. Ultimately, each character has to make the same decision: should they stay where they are? Or is it time to move on?
Plays Without Words & Action by Juno Hoay-Fern Ooi (English)
A collection of shorts originally titled Against Everything before humbly retitled Plays Without Words & Action. Plays Without Words consists of three short plays without words – Against Speech, a play against speech, Against Work, a play against work, and Ritual, a ritual as play. The second section, Plays Without Action, three plays without action, begins with Descartes, a dangerously inaccurate reading of René Descartes' ontological argument, followed by Kafka, dead and no longer in existence, and Play on Play, a playful play on play. The last segment, Plays Without Form, was fortunately not completed in time for printing because there is only so much writing I can take.