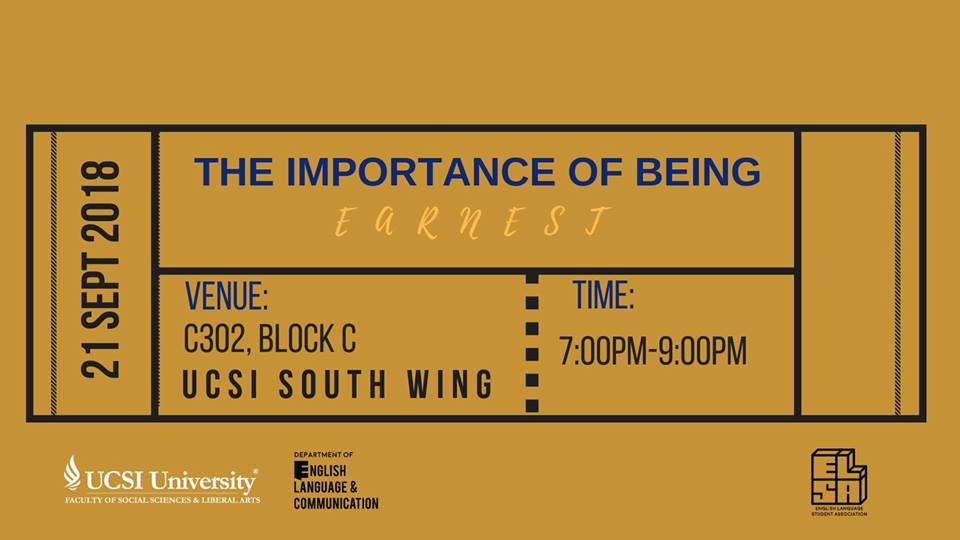 The Importance of Being Earnest
Greetings everyone!
The Department of English Language and Communications, in collaboration with English Language Student Association (ELSA) is proud to present to you:
A Malaysian-flavoured edition to the Oscar Wilde play; our rendition is an adaptation of Oscar Wilde's classic play, with a Malaysian twist!
Feel free to invite your friends and family as this play is open to the public!
Event details:
Date: September 21st (Friday)
Time: 7.00pm-9.00pm
Location: C302, Block C, UCSI University (South Wing)
Price: RM10
Link to purchase tickets:
https://goo.gl/QWu3cv
Synopsis of the play:
The Importance of Being Earnest by the master of comedy Oscar Wilde, underwent a Malaysian-flavoured transformation and is now making its debut in the Malaysian society in UCSI University.
Jack Jamek wishes to marry Adam Megat's cousin, the beautiful and stunning Gwen Wong, but first he must convince her mother, the fearsome Datin Ros, of the respectability of his parents as well as his own past.
However, this is not as easy as it sounds for Jack, who started his life as an abandoned baby in a handbag at a LRT Station.
Prepare for an adventure with the much-loved cast of the play as town and country clash in a brilliant and wildly funny story of romance, identity, prams and capacious handbags.
Event Dates
Venue
Website
Tickets Link