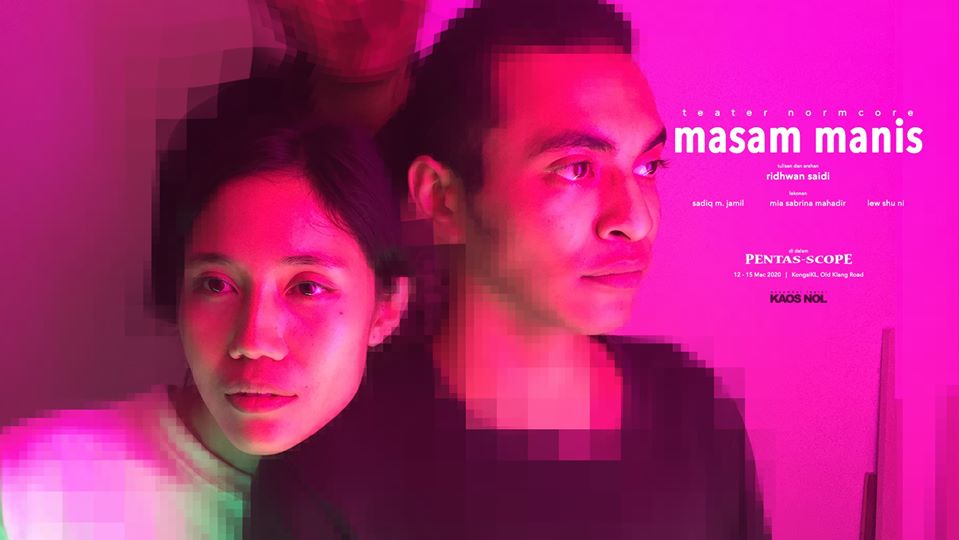 MASAM MANIS sebuah play tentang ruang peribadi dan ruang awam, hubungan kita dengan teknologi, dan lapisan persona yang kita hidupi. Diinspirasi filem Masam-Masam Manis (1965) oleh P. Ramlee, yang menangkap semangat kota Kuala Lumpur melalui sinema. MASAM MANIS tentang situasi kehidupan kita hari ini.
MASAM MANIS is a play about private and public spaces, our relationship with technology, and the multi-layered persona that we embody. Inspired by the film Masam-Masam Manis (1965) by P. Ramlee, that captures Kuala Lumpur nuances via cinema. MASAM MANIS is about our contemporary condition today.
---
Written & directed by Ridhwan Saidi
Performed by Sadiq M. Jamil, Mia Sabrina Mahadir & Lew Shu Ni
Duration: 70 minutes (performed in Malay with English surtitles.)
Scenography: Ilham Sani
Sound design: Joni Atari
Tech: Rashid Akhmal & Tasha K.
Producer: Nurul Aizam
Marketing & promotion: Tan Cher Kian
Video documentation: Amirul Rahman
Venue: KongsiKL, Old Klang Road
Date: 12 – 15 March 2020
Time: 8.30 pm
---
The first TEATER NORMCORE play titled 'Stereo Genmai' was staged in October 2018 at [email protected] Arts Centre, followed by 'Hamlet Fansuri' at PortCommune in August 2019, and a new direction for 'Stereo Genmai' at TheGodown for Urbanscapes in November 2019. 'Masam Manis' will be the third play in the series.