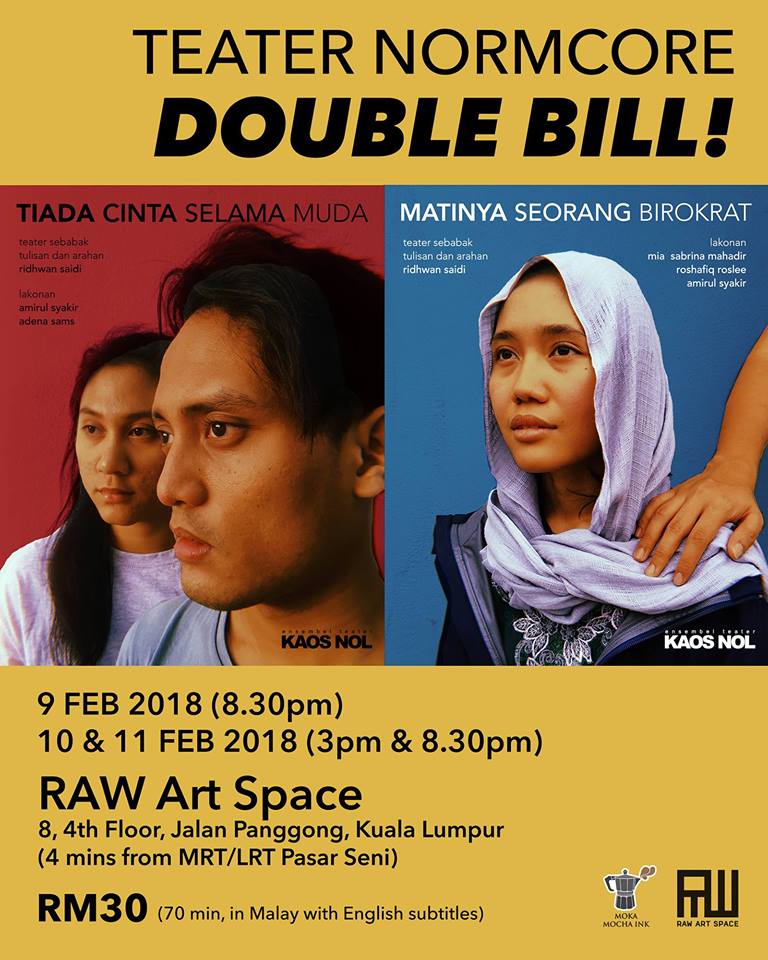 TEATER NORMCORE ialah satu siri baru teater sebabak oleh Ridhwan Saidi. Jika sebelum ini 13 playlet Teater Modular (berdurasi 5-20 minit setiap satu) telah ditulis Ridhwan, kali ini skala yang lebih panjang ingin diteroka iaitu teater sebabak (30-50 minit). Tidak diketahui berapakah jumlah yang akan berada di dalam siri Teater Normcore ini.
APA ITU NORMCORE?
Normcore seperti iklan iPhone suatu ketika dulu di mana gambar dari telefon bimbit pun boleh dicetak sebesar papan iklan di tepi lebuhraya. Kepedulian dan kepekaan terhadap benda-benda biasa. Bahawa benda biasa boleh jadi cantik jika kita rasa ia cantik. Bak kata David Lynch, "My cow is not pretty, but it is pretty to me."
DOUBLE BILL NORMCORE ini akan berlangsung selama tiga hari dari 9 ke 11 Februari 2018 jam 8.30 pm. Pada hari Sabtu dan Ahad matinee show dibuat jam 3 pm. Dua teater sebabak akan berlangsung TIADA CINTA SELAMA MUDA dan MATINYA SEORANG BIROKRAT sekitar 35 min setiap satu.
Datang!
TEATER NORMCORE is a series of normal-looking one-act play by Ridhwan Saidi. For it's debut two plays will be staged: Tiada Cinta Selama Muda (No Love for the Young) and Matinya Seorang Birokrat (Death of a Bureaucrat). Total duration 70 minutes, performed in Malay with English subtitles.
TIADA CINTA SELAMA MUDA revolves around status difference and their urge towards love. Perform in a French New Wave kind of manner, expect emotional montage.
Actor: Amirul Syakir & Adena Sams
MATINYA SEORANG BIROKRAT is an enlightening comedy on 'tak faham konsep' between an actor and a visiting bureaucrat. Death occurs but will it touch on a spiritual level?
Actor: Mia Sabrina Mahadir, Roshafiq Roslee & Amirul Syakir
ABOUT THE PLAYWRIGHT/DIRECTOR:
Ridhwan Saidi graduated with a degree in Architecture, author of six novels including Mautopia which is being adapted into a full-length play. He started writing seriously since 2008 when he initiated the blog Binfilem where he wrote about film and architecture among other things. He runs an indie publishing outfit Moka Mocha Ink which focuses on contemporary Malay fiction. He's part of LiteraCity research team, a literary mapping project of Kuala Lumpur. He was selected for residency programme at ASEAN Literary Festival 2016 and represents Malaysia at Makassar International Writers Festival 2017. Runs Moka Mocha Ink an independent publishing house that publishes the Teater Normcore zine containing scripts and production details. Kaos Nol is his newly establish theatre ensemble.
KAOS NOL is an open collective establish by Ridhwan Saidi for theatre-making or art and theatre related activism such as monthly reading and impromptu lepak session based in Kuala Lumpur.