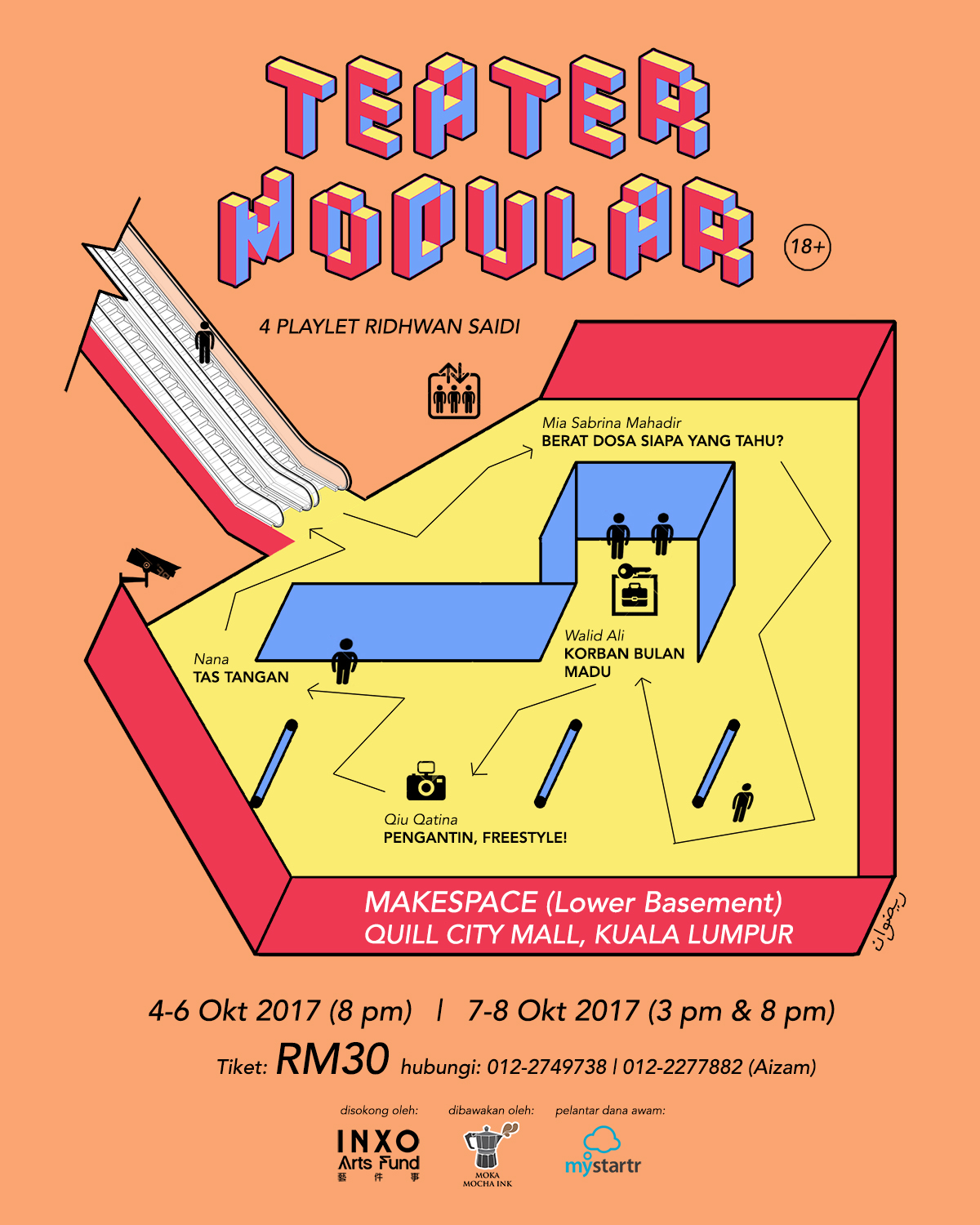 ABOUT THE PLAYWRIGHT/DIRECTORS:
teater modular – Ridhwan Saidi, graduated with a degree in Architecture, author of six novels including Mautopia which is being adapted into a full-length play. Runs Moka Mocha Ink an independent publishing house that publishes the Teater Modular zine containing scripts, photos and brief interviews with the directors of Teater Modular.
playlet #5: Tas Tangan – As a spoken word poet, Nana has participated in both solo and ensemble performances at events including George Town Literary Festival and Suatukala in Langkawi. Under the nom de plume Nabila Najwa, her writing has been featured in The Jakarta Post, Dirty x Dirty, Jurnal Obscura, and the Malaysian Anthology of Modern Poetry.
playlet #6: Pengantin, Freestyle! – Qiu Qatina, 24, graduated with a degree in theatre from UiTM. She established Asterik Anak Seni an independent theatre production. Actively involved in various theatre production company as director, actor and playwright.
playlet #7: Berat Dosa Siapa Yang Tahu? – Mia Sabrina Mahadir, graduated in Mass Comm from KDU University College. First theatre experience: Short+Sweet Malaysia in 2012. Apart from doing theatre, she writes, and teach Bahasa Malaysia.
playlet #8: Korban Bulan Madu – Walid Ali, a multi-displinary artist. Creative director for Luar Kotak Production. He has performed live art at Edinburgh Fringe Festival and Chapters Arts Centre.
Location: Makespace (lower basement), Quill City Mall, Kuala Lumpur
Date: 4-8 October 2017
Ticket: RM30
For more info: 012-2749738 | 012-2277882 (Aizam)
https://mokamochaink.com/teater-modular/