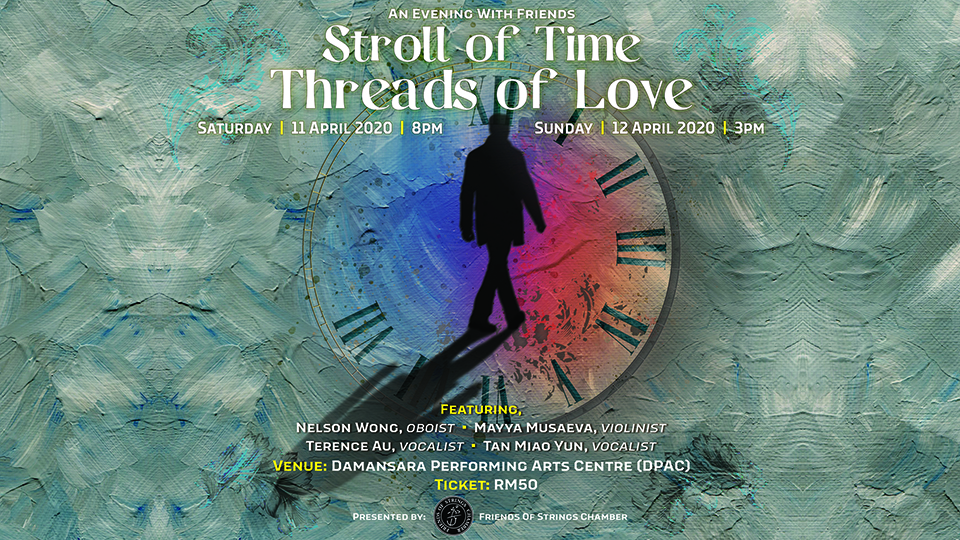 Far down the quiet distance, let's have a slow walk and pay a visit to JS Bach, John Williams, Ennio Morricone, and the rest of the other great composers.
This year in "An Evening with Friends" concert series, Friends of Strings Chamber humbly presents a new set of musical arrangements, pulling in and weaving threads of love from the old, the classic and the new soundscape.
Featuring guest soloists Nelson Wong (oboist), Mayya Musaeva (violinist), Terence Au (vocalist) and Miao Yun Tan (vocalist), concert programme includes Bach's Violin & Oboe Concerto in C minor, Dartmoor (from the movie War Horse), Mi Mancherai (from the movie Il Postino), Por Una Cabeza (from the movie Scent of a Woman), Ennio Morricone's music medley from original movie soundtracks, highlights from the Greatest Showman and Pirates of the Caribbean and etc.
Friends of Strings Chamber (FOSC) is a fully non-for-profit local strings ensemble made up of both amateur musicians and hobbyists. FOSC has been holding music concerts annually for more than 10 years as a continuous effort to share staged music with the local community and also providing a platform for people of similar passion to gather, enjoy and grow in music making and performance.
Resident Conductor: Kok Leong Lee
Music Composer / Arranger: Yeo Chow Shern, composer
Music Composer / Arranger: Jayson Ng's Music
———————————————————–
Standard ticket : RM 50 (Numbered Seatings)
Age limitation: For 6 years and above
Ticket Bookings: Online purchase via www.dpac.com.my OR contact 012-397 8236 (FOSC Ticketing)
Follow us at our Facebook page @friendsofstringschamber and Instagram account @friendsofstringschamber for more information!