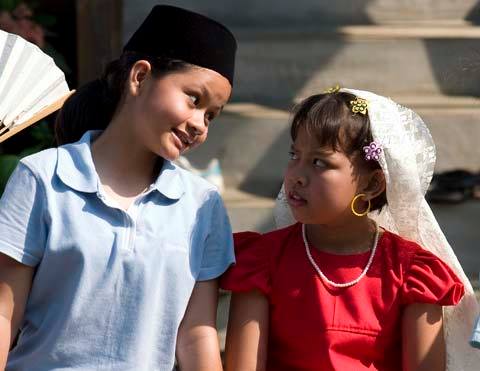 In Hirokazu Koreeda's 'I Wish', a grandfather wishing to resume his business of selling Karukan cakes, adds granulated sugar to his recipe in order to intensify the cake's sweetness, presumably to adapt to modern taste buds. A while later, his friend suggests that he does a seasonal version of the Karukan cake by dying them pink (the colour of cherry blossoms) to go with Spring. His refusal is adamant. He says, 'As a craftsman, there are some compromises I cannot make.'
This month, we situate the 'Coming-of-Age' theme within these posturing and jostling of values, of giving and taking. As Southeast Asia capitulates to modernity and as she wades her way through the murky waters of post-colonialism, these films find their place. They question the very fact of 'coming-of-age' in their respective locales and contexts, if it is possible and what it entails.
They are in themselves, a 'coming-of-age' in the making as they maneuver and meander through nostalgia and memories, breaking away from conventional form of visual storytelling, and as they scrutinize their contemporaries with suspicion and incertitude, opening up a new horizon for discrete voices to set in their searches for identities.
LIST OF FILMS:
Years When I Was A Child Outside(Taon Noong Ako'y Anak Sa Labas) / John Torres / 2008 / The Philippines / 100 mins
Postcards From The Zoo(Kebun Binatang) / Edwin / 2012 / Indonesia / 95 mins
Jungle Love / Sherad Anthony Sanchez / 2012 / The Philipines / 85 mins
Mukhsin / Yasmin Ahmad / 2006 / Malaysia / 95 mins
Year Without A Summer / Tan Chui Mui / 2010 / Malaysia / 87 mins
Goodbye Boys / Bernard Chauly / 2006 / Malaysia / 88 mins
Flower in the Pocket / Liew Seng Tat / 2007 / Malaysia / 97 mins
Vertical Ray of the Sun / Trần Anh Hùng / 2000 / Vietnam / 112 mins
Lips to Lips(Hanya Bibir) / Amir Muhammad / 2000 / Malaysia / 98 mins
Programmed by Chloe Yap Mun Ee, Elise Shick Chong, Keenen Yong, Weijie Lim and Dr. Norman Yusoff.
Check out our full schedule here: https://goo.gl/BqXKrd
Showtimes:
Monday to Friday screenings at 8pm
Saturday and Sunday screenings at 3pm, 5pm, and 8pm
Entry by a minimum donation of RM10 or purchase a SEA Membership for only RM50 at the door to enjoy all films in August with no extra charge!
Students can present their valid student ID cards at the door to enter and watch all films for FREE!
Calendar: https://goo.gl/BqXKrd
Look for us on Google Maps: https://goo.gl/AuwPZr