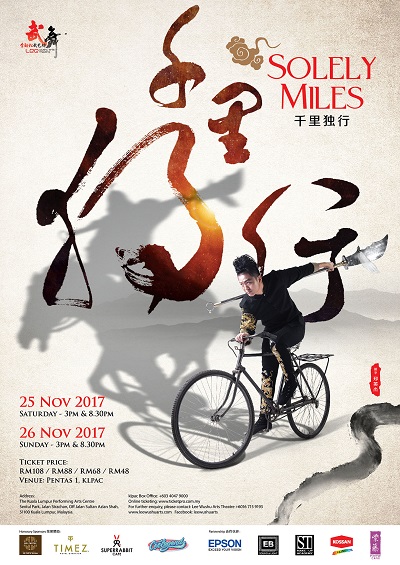 Date & Time:
SATURDAY, 25 NOVEMBER 2017 – 3PM (CHARITY)
SATURDAY, 25 NOVEMBER 2017 — 8.30PM (CHARITY)
SUNDAY, 26 NOVEMBER 2017 – 3PM (CHARITY)
SUNDAY, 26 NOVEMBER 2017 – 8,30PM (THIS SHOW OPEN FOR PUBLIC ONLY)
Venue: PENTAS 1, KLPAC
Tickets: RM108 / RM88 / RM68 & RM48
Ticket Promotions:
BUY 1 GET 1 FOR RM19 (IN CELEBRATING 19TH ANNIVERSARY)
OFFER TILL 19th OCTOBER 2017 (THURSDAY)
FOR RM108, RM88 & RM68 ONLY
Ticket sales launching date: 5th October 2017
Guan Yu, courtesy name Yun Chang, is respected as an epitome of loyalty and righteousness in Chinese historical figure, who been through honored title by the dynasty emperors in ancient, representing the virtues of Chinese tradition appeared before the mankind; much like something out of literature, drama, or a play, a being that is [loyal to its country], [treats people benevolently], [handles issues wisely], [righteous to its friends], and [goes to war with a heart of bravery]. However, he too is the keeper of ancient times adhering to the faith of his collective beliefs. His deeds for the people have been sung of, trials overcome, mercy bestowed, and yet ultimately his city still fell to its knees; alas the pinnacle of his existence spawned arrogance, leading to the end brought upon by none other than himself in embodiment of Confucianism's beliefs?
All these years, we believed that loyalty in faith is absolute to the gods. By time, we fall into the doctrine of the power, like a figureless shadow in awe at the slightest respect, lighting the fire of desire in the heart of humans! When you place [Loyalty] in the society today, will it still be worthy to keep faith? Having to face all the desires we long for, just how many people still hold on to morality and brave ambitions in our hearts?
The choreography uses a flashback creation, switching between timelines of modern and ancient eras. The timeline starts from 219 A.D., the defeat of Jingzhou and the retreat of Guan Yu into Maicheng city, ultimately leading to the sacrifice of his life. The story's narrator appears in various scenes, roles switch in the blink of an eye, as if you were in conversation with the reaper of gods himself, being brought back to life. With the painstaking training sessions our Wushu artists undergo over the years, comes together with multimedia projection and the sense of combining Chinese and Western live music piece, let's immerse your soul in a performance that integrates both visual and auditory senses.
Presented by LEE WUSHU ARTS THEATRE
Artistic Director LEE SWEE SENG
Music Director YII KAH HOE
Stage Manager CHOW PEI FOON
Narrator CHONG KIAT ANN
Lighting Designer AMELIA TAN
Gu Qing NG TECK HING
Cast TBC