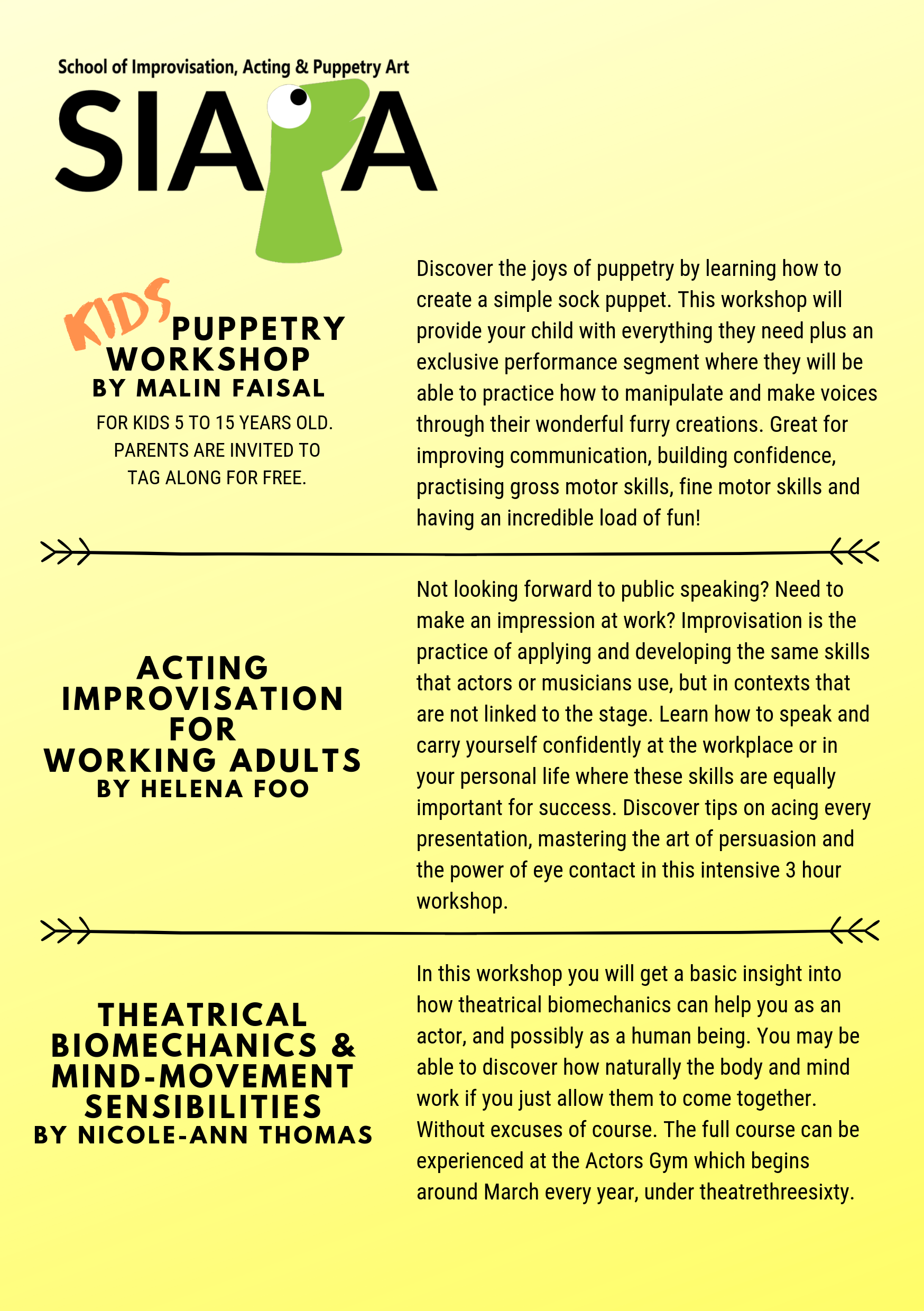 SIAPA aka School of Improvisation, Acting and Puppetry Arts presents
MERDEKA WORKSHOP SERIES 1.0.
KIDS PUPPETRY WORKSHOP by Malin Faisal
TIME : 9.00am – 11.00am
FOR KIDS 5 TO 15 YEARS OLD
Discover the joys of puppetry by learning how to create a simple sock puppet. This workshop will provide your child with everything they need plus an exclusive performance segment where they will be able to practice how to manipulate and make voices through their wonderful furry creations. Great for improving communication, building confidence, practicing gross motor skills, fine motor skills and having an incredible load of fun!
COST PER PAX – RM70
PARENTS ARE INVITED TO TAG ALONG FOR FREE
*price includes ONE SIAPA Sock Puppet Kit
**limited to 25 pax only
ACTING IMPROVISATION FOR WORKING ADULTS by Helena Foo
TIME : 12.00pm – 3.00pm
Not looking forward to public speaking? Need to make an impression at work? Improvisation is the practice of applying and developing the same skills that actors or musicians use, but in contexts that are not linked to the stage. Learn how to speak and carry yourself confidently at the workplace or in your personal life where these skills are equally important for success. Discover tips on acing every presentation, mastering the art of persuasion and the power of eye contact in this intensive 3 hour workshop.
COST PER PAX – RM70
NO PRIOR ACTING EXPERIENCE NECESSARY
*limited to 30 pax only
THEATRICAL BIOMECHANICS & MIND-MOVEMENT SENSIBILITIES by Nicole-Ann Thomas
TIME : 4.00pm – 7.00pm
FOR AGES 21 AND ABOVE
In this workshop you will get a basic insight into how theatrical biomechanics can help you as an actor, and possibly as a human being. You may be able to discover how naturally the body and mind work if you just allow them to come together. Without excuses of course. The full course can be experienced at the Actors Gym which begins around March every year, under theatrethreesixty.
COST PER PAX – RM70
NO PRIOR ACTING EXPERIENCE NECESSARY
*limited to 15 pax only
+++++++++++++++++++++++++++++++++++++++++
FACILITATORS BIO
MALIN FAISAL
Malin Faisal is constantly exploring her dimension and versatility within the Performing Arts. As co-founder of SIAPA, her experiences in Puppetry, Object Manipulation and Contemporary Modern Circus Art has brought her all around the world to learn, share and exchange skill sets. Student of Puppetry Master Rahim Taman, she strives to revive the art of puppetry in Malaysia and to break new boundaries through experimenting with puppets, mechanics and animatronics.
HELENA FOO
Helena Foo is a professional theatre director, actor and writer with 15 years of experience. A once-upon-a-time resident director at the Kuala Lumpur Performing Arts Centre and show creator at Sunway Lost World of Tambun, she now co-runs SIAPA and dabbles in the local theatre scene whenever she can. Her most recent works include VSC Project's DUALITY, Suna Productions' In A Different Light, and Fajar & Senja at Iskarnival 2018, Johor.
NICOLE-ANN THOMAS
Nicole is a founding partner of theatrethreesixty, and considers herself an actor, then a director. Just off from directing the successful run of the musical The Working Dead, she has
recently been doing more directing than acting. The Malaysian premiere of the play The Pillowman, which she directed, earned a 'Best Of' nomination in The Boh Cameronian Arts Awards in 2018. She's been around long enough to smell the roses from the BS, and vice versa.
++++++++++++++++++++++++++++++++++++++++++
School of Improvisation, Acting and Puppetry Arts aka SIAPA
MISSION STATEMENT
SIAPA aims to inspire and share the magic of contemporary puppetry, theatre and acting improvisation to children, adults and the young at heart throughout Malaysia and beyond. Through show productions, workshops and masterclasses to summer programs for kids and internships for students; we have set out to provide education, entertainment and a whole lot more to anyone and everyone interested, young or old. We pay special emphasis to educators and therapists who work with young children to assist them in bringing out the best in to those in their care.
VISION STATEMENT
To inspire the minds of everyone anywhere through theatre, acting improvisation and puppetry arts.
OUR VALUES
PUPPETRY AND DRAMA IN EDUCATION
We believe that theatre improvisation, drama skills and puppetry role-playing are important elements and vital tools of a child's skill set and should be taught freely in every school in Malaysia. Therefore, we have taken on the responsibility to provide the necessary education and training to assist as much as we can to make our dream a reality.
CREATING MAGIC IN ENTERTAINMENT
We believe in the magic and wonder of puppetry. Everyone should experience it, whether through a performance or puppeteering first-hand. The ability to resonate amongst your viewers and audience is astounding.
SPREADING THE LOVE OF PUPPETRY AND PERFORMING ARTS
We believe in nurturing, cultivating and expanding the art of puppet creation and puppeteering. We want to inspire more people to join us in igniting a passion throughout Malaysia for puppetry, acting and theatre improvisation.