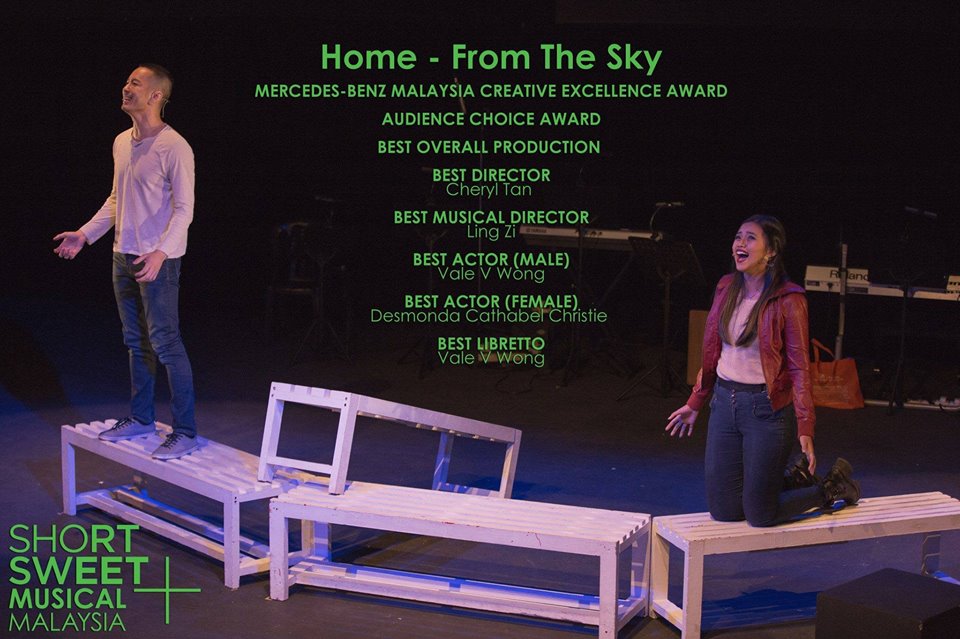 This year, the S+S Musical Workshop KL 2018 will be facilitated by Vale V Wong.
24 Mar (Sat): 2pm to 5pm Composers + Lyricists
25 Mar (Sun): 2pm to 5pm Performers
25 Mar (Sun): 6pm to 9pm Combined
RM20 per workshop
RM20 per workshop
RM20 per workshop (I can't believe it either… that's cheaper than a bento!)
Vale V Wong is a full time musical theatre actor, scriptwriter and music producer, currently involved in the production/direction of multiple musicals for corporate events including Public Bank, Ecoworld, LGB Group and SP Setia. A two time winner of the Mercedes Benz Award for Creative Excellence for his musicals "Walk With Me" and "Home – From the Sky", he is both passionate on and off stage, (however wrong that sounds) and continues to study all forms of the art when it comes to performing.
For the first time, come enjoy a workshop taught by a jack of arts. From Vale, Both an actor and composer, learn to write while considering the performance of it. Perform while enjoying the writing and intentions of each line. Mock or embrace the truth and enjoy the different paths they throw you on. No wrongs, no rights, just different levels of effectiveness and likability.
In the composers+lyricists workshop, we will explore effective storytelling, casting, directing, and giving the audience a good time as well as their money's worth. From concise, effective lyrics to staging and character development, lets explore the stories you want to tell ; and how to move the audience to tears or laughter, or in some cases, both… in 10 minutes. We'll explore and workshop your lines, musical arrangements, possible stylistic executions, and chord choices as well. Or we'll try anyway, in those 3 hours.
Performers, lets perform. We'll completely bypass singing technique if possible, as that's really something you should be doing in a singing class on a constant basis. Instead, we'll be looking at authenticity, finding the truth in a line; connecting the words to the music, to the character, to the audience. We'll talk about mental blocks, what the audience thinks (because the paying audience is always right lol), and different variations of the same subject material. We'll touch on diction, acting, dancing, and joy. Joy of the stage.
On Sunday night, we'll have a combined sessions where we'll bring these ideas to life, and pair up teams according to their material. Sometimes, it's the most unlikely pairings that teach us the most, surprising us with the material and interpretations, as well as giving us the most valuable skillset we can have in this industry: To work under pressure with forces a little out of our control, and still putting on a great show.
I might bring on a veteran performer or two, to immediately showtest the highest potential of your ideas. Will see how we go with participant response.
Thank you.
Aspiring composers, lyricists, anyone who has a story you believe worth telling!… Singers, actors…! Musicians!
Can't wait to see you. Even if you're the only one who turns up, awesome! Get to workshop you for 3 hours. Spread the word!
Forms can be downloaded at
https://drive.google.com/file/d/1mv0q6uDXnDi69lhFsFejEzchHkufirh8/view?usp=sharing
Story:
Short+Sweet Malaysia is the biggest little festival in the world.
This innovative and fresh
performing arts festival features categories in theatre, dance, musical, stand-up comedy,
song and film.
Short+Sweet Malaysia aims to nurture the creation and production of original works
under 10 minutes in length; in all Malaysian languages; and to showcase and reward
the best of, established and emerging writers, directors, actors, choreographers, dancers,
composers, lyricists, comedians and singers.
We hope to further develop arts audiences in
the process for the arts industry.
Short+Sweet first produced at the Newtown Theatre in Sydney, Australia in 2002 and at
The Kuala Lumpur Performing Arts Centre (klpac) in Malaysia in 2008.
The festival will be
held at two prestigious theatre establishments in the country, The Kuala Lumpur
Performing Arts Centre (klpac) and Performing Arts Centre of Penang (penangpac).