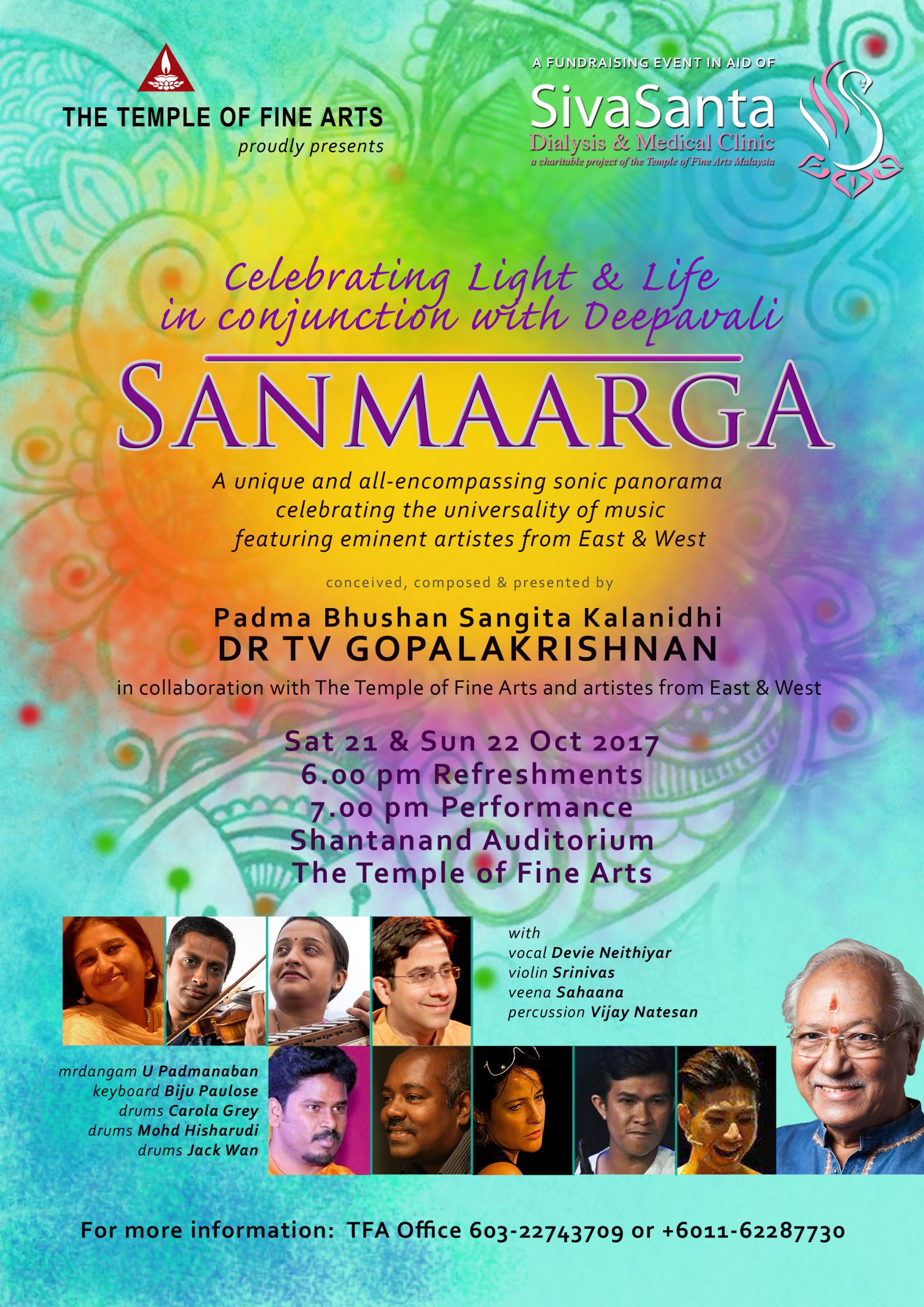 The Temple of Fine Arts [TFA] is a non-profit organisation which has embarked on various charitable endeavours since its inception. One such project of the organisation is the Temple of Service, better known as Klinik Derma SivaSanta. This has been in operation since the early '80s and we are now looking to expand the services. 

Towards this end, TFA is hosting a musical extravaganza, Sanmaarga – Celebrating Light & Life this Deepavali, bringing together the best of the East and West – this Deepavali, in aid of the proposed expansion of the Klinik Derma SivaSanta facility. This is in collaboration with several eminent musicians namely, Padma Bhushan Sangita Kalanidhi Dr. TV Gopalakrishnan, a Carnatic and Hindustani classical music legend and the innovator of Indian Jazz, as a quest to promote the appreciation of music transcending barriers of age, language and scholarship. He will be accompanied by Devie Neithiyar, Carola Grey and Biju Paulose, to name a few. There will also be guest features by Malaysian artistes well-known in the local music scene.
Date: 21st (Saturday) & 22nd (Sunday) October 2017
Time: 7pm
Venue: Shantanand Auditorium, The Temple of Fine Arts
Facebook: https://www.facebook.com/SivasantaClinic/
Invites are available upon a minimum donation of RM50 and above.
Please contact 03-2274 3709 or [email protected] for more information.
Event Dates
Show Times
Venue
Website