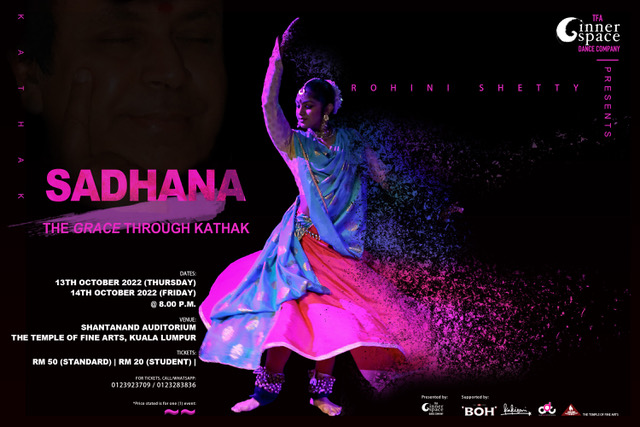 'SADHANA – The Grace through Kathak' is a Kathak solo dance performance accompanied by live music. I will be presenting a few dance compositions encompassing both Nritya (pure dance) and Abhinaya (expressions) that fit into different rhythmic cycles, set at various tempos. The gradual unfolding of these compositions, from the gentle Aamad to the Gats, Thukdas, Tihais, etc. interspersed with the dance form's signature Chakkars or pirouettes will allow me to navigate through the entire depth of Kathak dance.
Tickets: Standard (RM50) & Student (RM20)
Malaysia has a limited number of dance practitioners with the capability of performing full length work in this Indian classical dance style, Kathak. Education is a vital theme for Inner Space Dance, where the company focuses on respecting and nourishing artistic links of Indian and global ideology. This is because sustainability of the arts and artistes is viewed as a core vision of the company. I have been learning multiples dance styles for many years and this project will provide an opportunity for me to develop and hone my skills further in Kathak. My endeavour to upskill my talent is in keeping with the company's ideals and will impact the Malaysia's arts scene positively. This endeavour will provide a platform for me to perform and showcase this beautiful artform, Kathak thus energising the arts and empowering the communities.