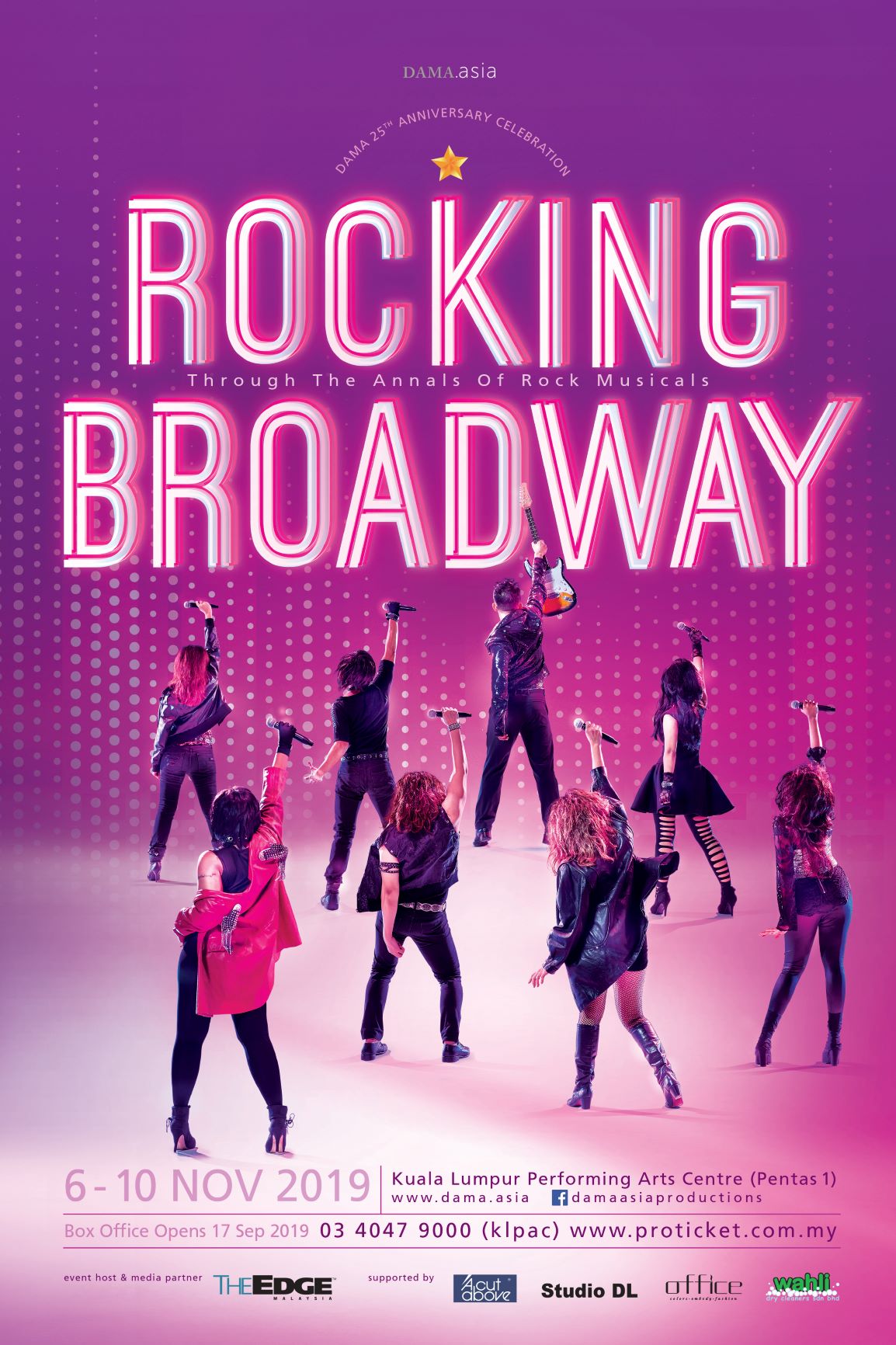 Dama Asia presents
ROCKING BROADWAY – Through The Annals Of Rock Musicals
ROCKING BROADWAY musical concert charts the choppy world of rock musicals on Broadway and in the West End. Since Rock 'n' Roll music appeared on the musical stage some 40 years into Broadway existence, the genre has a rather love hate relationship with the musical stage.
This docu-tainment show features some of the best-loved songs from rock 'n' roll rock musical hits, from the success of Hair, Superstar, Grease and Rent to Hedwig, Tick Tick … Boom, We Will Rock You, Spring Awakening, and Rock Of Ages and right through to the recent musical hits like Memphis, Dear Evan Hansen and the all time family favourite School Of Rock. Join us in tracking the 'uncharted' exhilarating route of rock onto the musical stage with ROCKING BROADWAY.
Duration: Total of 120 minutes (inclusive of a 15-minutes intermission)
Language : English
Box Office Opens
17th September 2019
Performance Date & Time:
6th Nov – 10th Nov 2019
• Wednesday to Saturday Evenings ( 8.30pm )
• Saturday & Sunday Matinees ( 3.00pm )
Public Performance
7th Nov (Thu, 8.30pm), 9th Nov (Sat, 8.30pm) & 10th Nov (Sun, 3pm)
Private & Hosting Events
6th Nov (Wed, 8.30pm): The Edge Appreciation Night ,enquiry [email protected]
8th Nov (Fri, 8.30pm): Inspired to Rock: A Fundraising Event for Arthritis Foundation ,enquiry 03-7960 6177 / [email protected] / www.afm.org.my
9th Nov (Sat, 3.00pm) : PRIVATE EVENT
Venue:
Pentas 1, Kuala Lumpur Performing Arts Centre, Sentul Park, Jalan Strachan, off Jalan Sultan Azlan Shah, KL
PUBLIC PERFORMANCE TICKET PRICES
7th Nov (Thu, 8.30pm)
RM65 / RM105 / RM145 / RM185 / RM225 / RM265
9th Nov (Sat, 8.30pm) & 10th Nov (Sun, 3.00pm)
RM85 / RM125 / RM165 / RM205 / RM245 / RM285
INCLUSIVE OF RM3 HANDLING FEE AND 6% SST
EARLY BIRD DISCOUNT ( for PUBLIC SHOW )
15% Discount for 17 Sep – 7 Oct 2019
10% Discount for 8 – 28 Oct 2019
For Enquiries:
Dama Asia Productions
Tel: +603 6201 9108
E-mail: [email protected]
Facebook: https://www.facebook.com/damaasiaproductions/
Instagram: https://www.instagram.com/dama.asia/?fbclid=IwAR3I9yt8PO-yQrp-6Hxj7VcTcZf-mjE0reXDKTmizLUe9gT-zjaN6FB-4bE