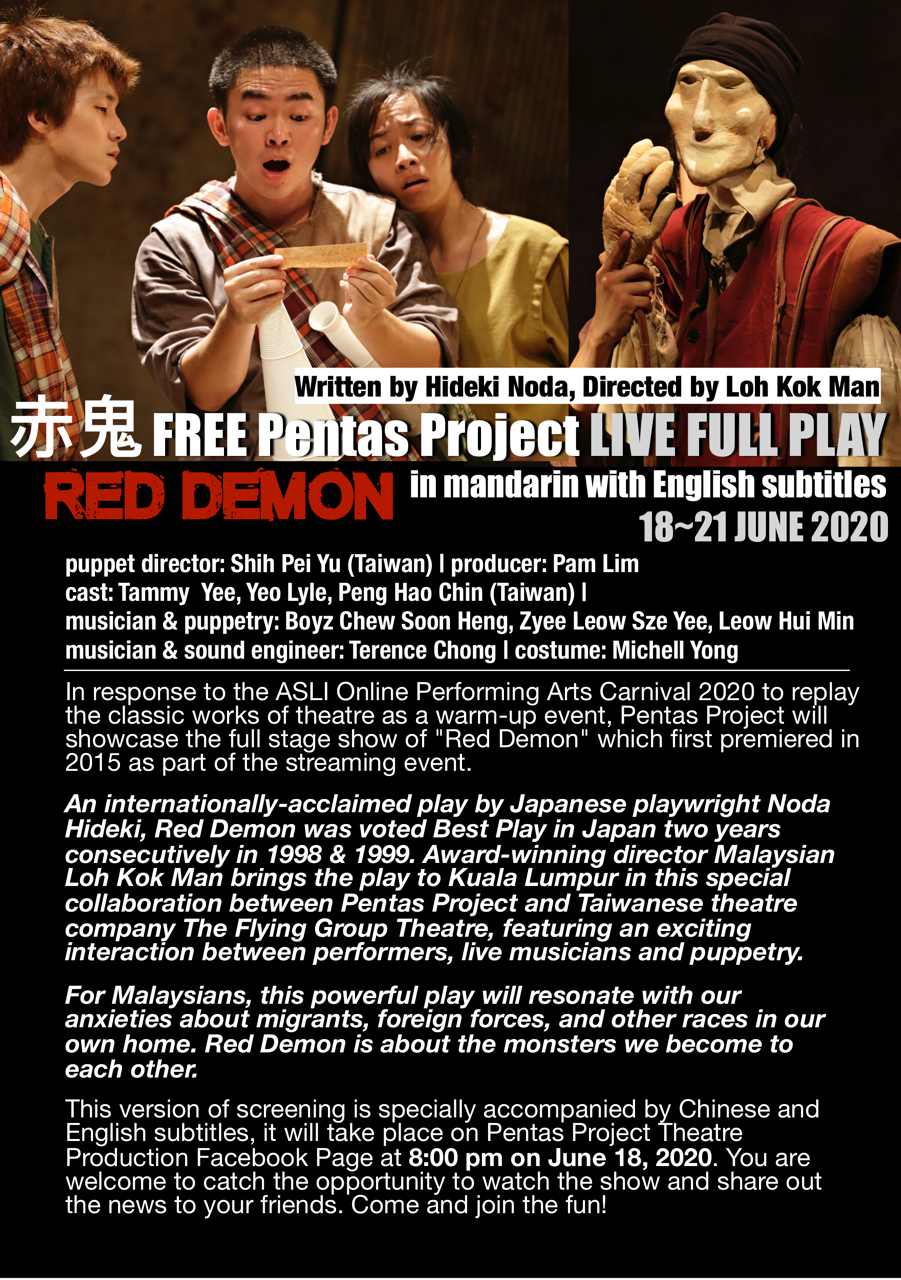 FREE Pentas Project LIVE FULL PLAY in mandarin with English subtitles.
at https://www.facebook.com/PentasProjectTheatreProduction/
In response to the ASLI On line Performing Arts Carnival 2020 to replay the classic works of theatre as a warm-up event, Pentas Project will showcase the full stage show of "Red Demon" which first premiered in 2015 as part of the streaming event.
This version of screening is specially accompanied by Chinese and English subtitles, it will take place on Pentas Project' Theatre Production Facebook Page at 8:00 pm on June 18, 2020. You are welcome to catch the opportunity to watch the show and share out the news to your friends. Come and join the fun!
What is that on the shore? Is it asking for food? Is it going to eat us? A stranger arrives on an island. The villagers could not understand his language and wild gestures. He must be a demon! He is befriended by that woman, an outsider living among the villagers. The demon and that woman learned each other's language. The villagers become afraid and suspicious. Is the demon conspiring with that woman? Are they bringing other demons to invade our island? We must kill the demon!
An internationally-acclaimed play by Japanese playwright Noda Hideki, Red Demon was voted Best Play in Japan two years consecutively in 1998 & 1999, and has been performed in UK, Thailand & Korea. Award-winning director Malaysian Loh Kok Man now brings the play to Kuala Lumpur in this special collaboration between Pentas Project and Taiwanese theatre company The Flying Group Theatre, featuring an exciting interaction between performers, live musicians and puppetry.
For Malaysians, this powerful play will resonate with our anxieties about migrants, foreign forces, and other races in our own home. Red Demon is about the monsters we become to each other.
********************************************************
playwright : 野⽥秀樹 Noda Hideki (Japan)
director & lighting design: 羅國文 Loh Kok Man
puppet director & design: ⽯佩玉 Shih Pei Yu (Taiwan)
producer & set design : 林偉彬 Pam Lim
main cast : 余秋坪 Tammy Yee,蔡德耀 Yeo Lyle,彭浩秦 Peng Hao Chin (Taiwan)
musician & performer: 周順興 Boyz Chew Soon Heng,廖世儀 Zyee Leow Sze Yee,廖慧鳴 Leow Hui Min
music composer & sound engineer : 張俊開 Terence Chong
costume design: 楊淑棻 Michell Yong Soo Fon