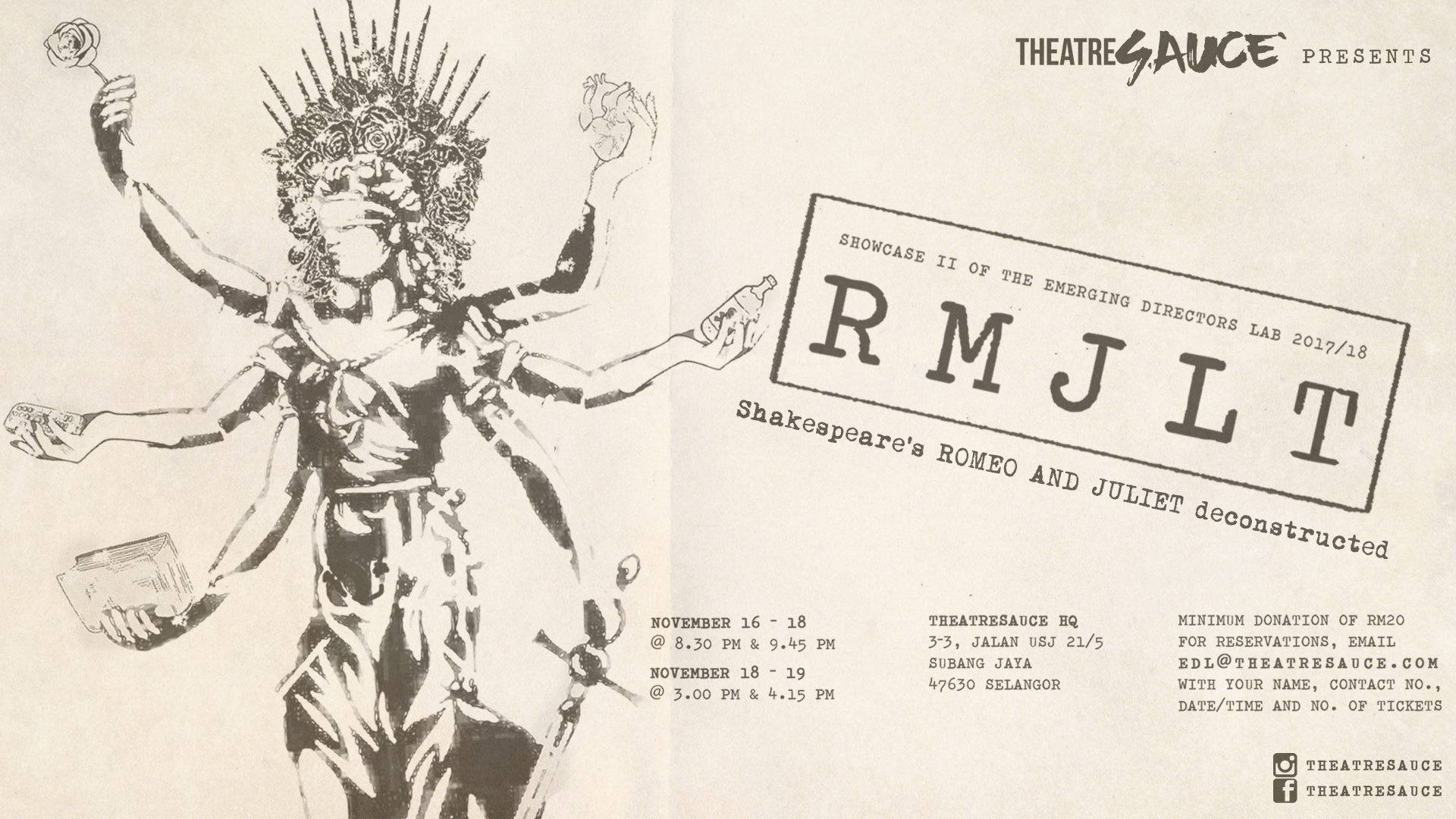 Minimum donation of RM20
BOOK YOUR SEATS
Email [email protected] with your name, contact number, preferred date/time and number of tickets. Seats are very limited. First-come, first-served.
The crisis of faith and conscience.
A ritual of dreams and desires.
The balcony scene from an alternate perspective.
An action-packed, heart-pounding duel.
After a sold-out first showcase in August, the 2017/18 EDL Directors return — this time with a deconstruction of pivotal scenes from Shakespeare's classic. This experimental and experential showcase is presented — for the first time — in our humble HQ in USJ 21, where audiences are led from one space to another.
Each performance admits only 20 audience members. 10 performances only, so book your seats before they run out! 
The line-up: 
A STUDY OF A PRIEST
by Alex Chua
featuring Azzad Mahdzir
MAB: A MANIFESTATION OF DREAMS
by Esther Liew
assisted by Kevin Eng
featuring Nabilah Hamid, Erick Ng, Kamini Senthilathiban & Calvin Tan
MERDUNYA BUNYI CENGKERIK
by Arief Hamizan
assisted by Ariff Kamil
featuring Ali Alasri & Emma Khoo
ROMEO ❤ TYBALT
by Toby Teh
featuring Khairi Anwar, Shane Capri Chin & Wyman Wai
Staged managed by Ali Motamedi.
—
ABOUT THE EDL DIRECTORS LAB
The Emerging Directors Lab – EDL in short – is Theatresauce's response to the dearth of trained directors in the Kuala Lumpur theatre scene. This rigorous year-long program offers early-career directors with a conducive yet challenging space to hone, sharpen and personalize their craft.
The EDL combines seminars, research and practice. It consists of three parts and includes more than 160 contact hours with the Artistic Director. Part one explores the foundations of drama, realism and dramaturgy while part two examines theatre theory, composition and style. In part three, directors investigate trends in postdrama, nonrealism and theatre criticism. Each part culminates in a fully-supported collective project that is showcased to the public. To maximize directors' experience, they also assist the Artistic Director on productions and run monthly director jams with other aspiring directors.
Apart from rehearsal and assisting periods, directors meet once a week. Besides a returnable deposit, the entire program is free. The EDL admits four directors every season. Through this initiative, Theatresauce hopes to provide the local scene with a steady influx of inquisitive, critical and aesthetically-diverse theatre-makers.