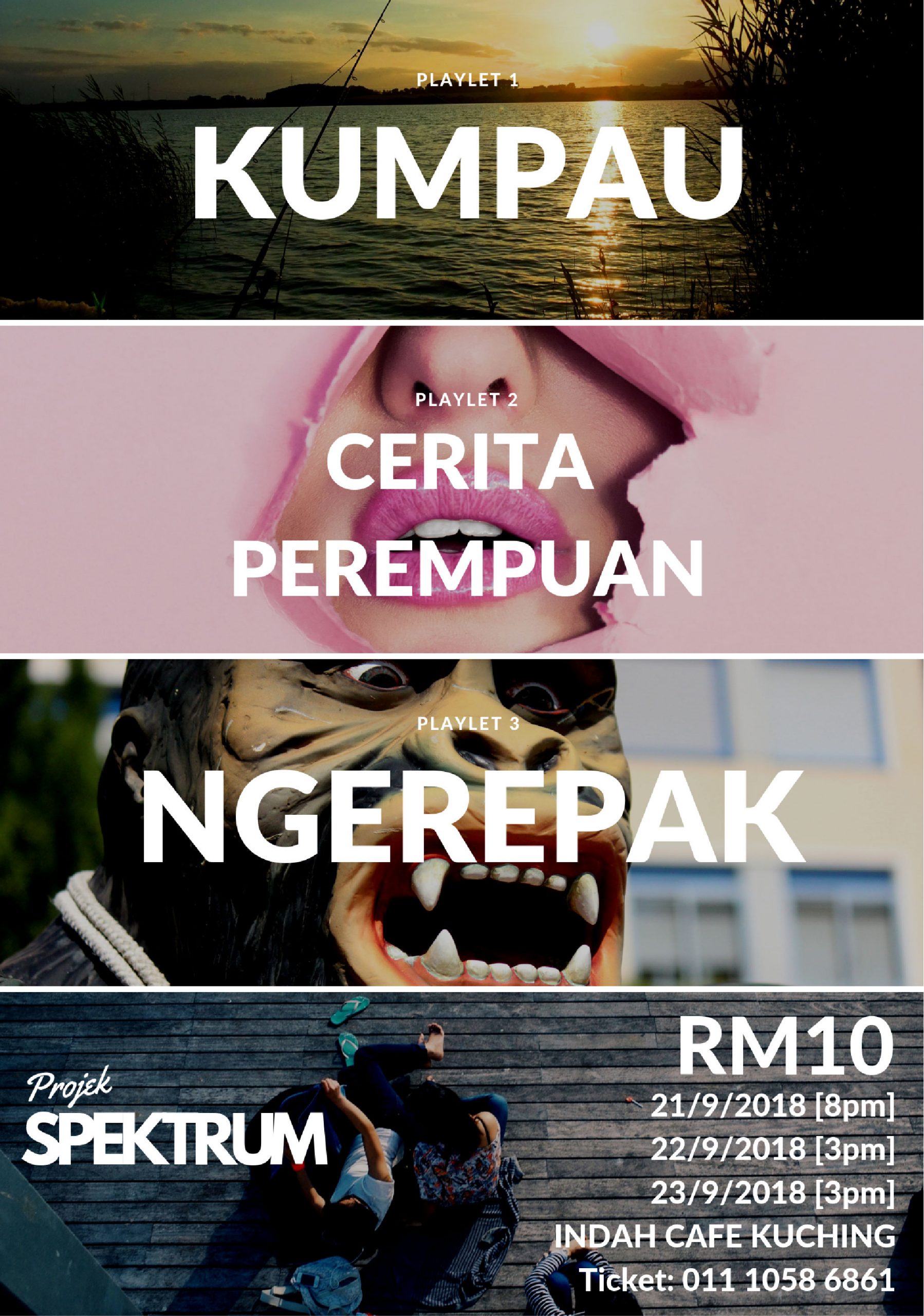 PROJEK SPEKTRUM
Duration: 60'
Creator: Walid Ali
It is a contemporary theatre project that is being developed by allowing new theatre directors who are fresh, eager and unique to perform their piece ideas for Sarawak Theatre audiences.
Through movement and interesting text, the project deals with the styles, relationships between absurdity and reality. How will they showcase their creative playful ideas? What can we discover from their artworks? The project offers another approach to the performing arts, develops new ways to experience theatre in Kuching that always performing cliche'. This young people will overcome the cliche' with their own great interpretations and performance.
Spektrum is a project for new theatre directors in Kuching to explore ideas and possibilities. Guided by Walid Ali, a multidisciplinary live artist [director for Lari (2012), How to Read My Map (2016-today), The Kitchen Story (2016), M. Nasir Simbah Cat (2016), Keluarga Borjuis (2016), Ajak Crush Awak (2018), Teater Modular (2016-2018)]. This guy will share his experience with the Spektrum directors who never direct any theatre performance on how to make an enjoyable theatre. Three playlets from new directors are coming to you this September.
Playlet list :
1) Cerita Perempuan
– Unconventional stories from millennials about their experiences being girl /woman.
2) Ngerepak
– Ngerepak is a unique word for people. We can interpret it in many ways. Some may see it as a positive thing, some may kill themselves.
4) Kumpau
– A theatre about skills to tackle a prey. The predator will explain to us how to be the greatest hunter.
Want to buy a ticket?
Ticket: RM 10
Venue : Indah Cafe
Language: Malay, Malay Sarawak
Booking : 01110586861
Event Dates
Show Times
Venue
Website