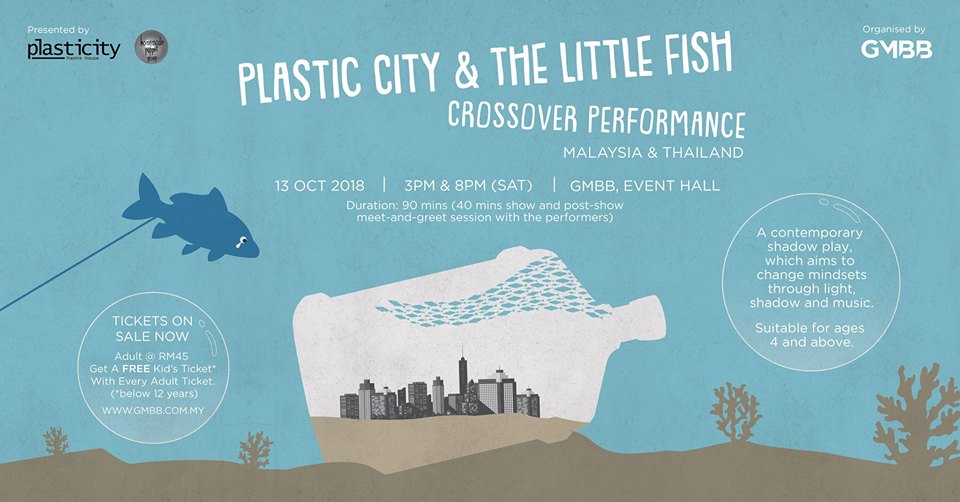 Plastic City is not your average shadow play skit.
It elevates traditional Wayang Kulit performances to illustrate the most essential symbiosis of our growing modernity – the coexistence between man and nature. When the ocean gets too contaminated, can the marine lives survive? Can humanity continue living without being affected by its own selfish acts?
All plastic materials we use are collected from what others have thrown away. We give these objects their own voice through a flashlight to depict their message on screen. By this we strive to shine a light on environmental issues and spark the right conversations.
–
The Little Fish explores hope and redemption in an illuminating deep sea adventure.
Terrorized by the menacing Big Hungry Fish, Little Black Fish must do all it can to survive and reunite with the rest of its family after escaping an initial onslaught. So begins this great adventure which sees the Little Black Fish crossing paths with fantastical creatures and journeying through wondrous encounters, all while the shadow of the Big Hungry Fish draws closer and closer.
–
Date: Sat, 13 Oct 2018
Times: 3:00pm & 8:00pm
Venue: GMBB Event Hall
Duration: 1 hour 30 mins
(40 mins performance + performance meet-and-greet session)
Admission:
Adult @ RM45/pax*
*One free Child ticket with every purchase of Adult ticket (child must be 12 years and below).
Ticket link: https://plasticityandthelittlefish.peatix.com
Event Dates
Venue
Website