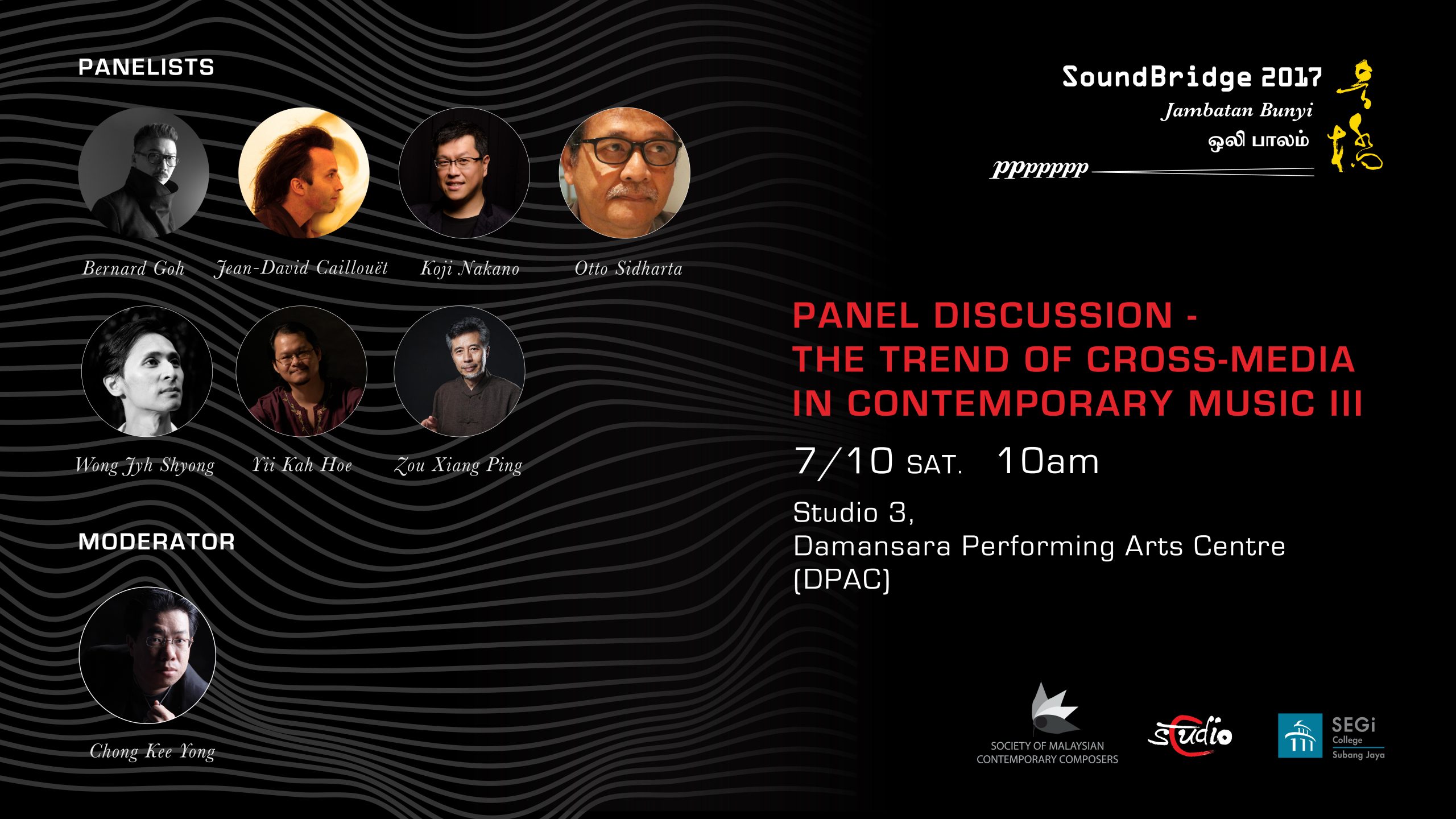 Panel Discussion – The Trend of Cross-Media in Contemporary Music III
The discussion will explore ways to promote cross-media collaboration with contemporary music. FREE admission by registration.
Panelists: Koji Nakano (Japan), Otto Sidharta (Indonesia), Jean-David Caillouët (France), Zou Xiang Ping (China), Yii Kah Hoe (Malaysia), Wong Jyh Shyong (Malaysia) and Bernard Goh (Malaysia).
Moderator: Chong Kee Yong (Malaysia)
音乐论坛: 《当代音乐创作的跨媒体趋势之三》
探讨如何推广现代音乐与跨媒体之间的互动和创作。
演讲嘉宾:Koji Nakano (日本)、Otto Sidharta (印尼)、Jean-David Caillouët (法国)、邹向平 (中国) 、余家和 (马来西亚)、黄志雄(马来西亚)及吴圣雄(马来西亚)
Date & Time: 7th October 2017 (Saturday), 10.00am
Venue: Studio 3, DPAC
Enquiry: +6017-382 8637
Free admission with registration.
Online registration form: https://goo.gl/forms/SAipHUqEcOmaDZOh1
Presented by Society of Malaysian Contemporary Composers (SMCC)
Co-organized by Studio C & SEGi University & Colleges
Executive Produced by Checkmate Creative
Supported by Goethe-Institut
99Speedmart
UiTM
DPAC
Graceful Piano
The Guitar Store
Composer Society of Singapore
Fele and Cat Handcrafted
Skate Strange Studio
Printing Supported by Modernsign & DBOX Innovation
#SoundBridge #SoundBridge2017 #ContemporaryMusicFestival #SMCC #SocietyofMalaysianContemporaryComposers #StudioC #SEGi #CheckmateCreative #GoetheInstitut #UITM #DPAC #GracefulPiano #THeGuitarStore #ComposerSocietyofSingapore #FeleandCat #SkateStrangeStudio #Modernsign #DBOXInnovation