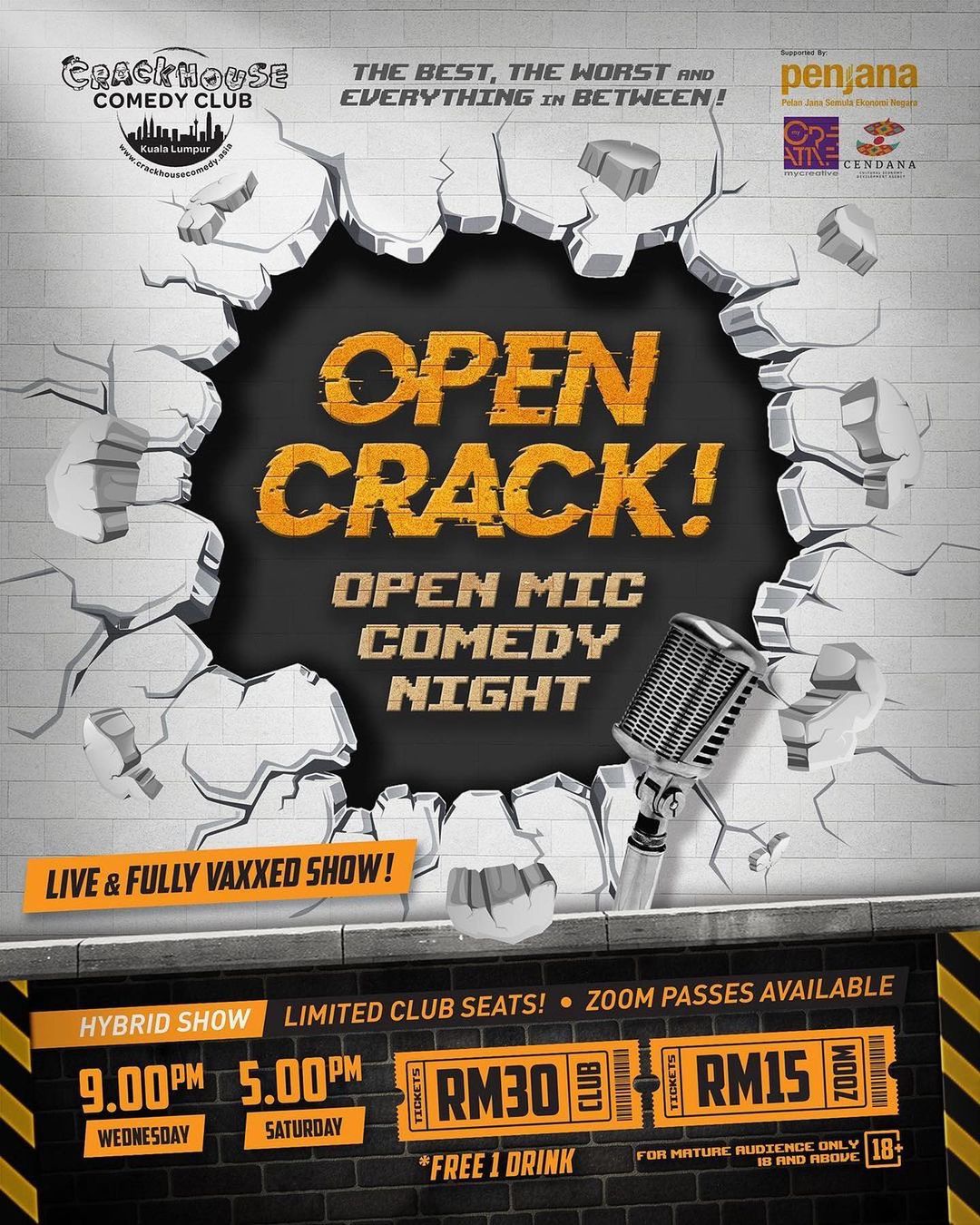 The purest form of comedy there is! It's Open Mic night – guaranteed to have a packed line up every week, catch veterans, first timers and the rising stars of the scene as they perform their hot new jokes! Or sign up and give it a go yourself! (You can DM them via Facebook or Instagram if you're interested and they'll get you a spot! – only 1 spot available for newbies per show)
Wednesday 9pm showtime:
Tickets (CLUB) : RM35 per person (Peatix)
Tickets (ZOOM) : RM15 per pass (1-screen only)
For your comfort, safety, and enjoyment, your entry is contingent on adherence to the following rules:
HOUSE RULES (CLUB SHOW)
1. Due to live events SOP, we can only admit fully vaccinated audience who have pre-booked tickets online. We will regrettably have to decline all walk in customers, and the club reserves the right to deny entry without refunds to customers who cannot produce proof of full vaccination status + ID at the door.
2. Show starts no later than 9pm. Please be on time.
3. Show attendees must arrive by latest 8.30pm. The club opens for seating/dine-in at 4pm onwards
4. All attendees must produce their full vaccination credentials at the door.
5. Masks are mandatory along with the usual temperature checks and mysejahtera scans.
6. The club will not accept requests for refunds.
7. The show is intended for a mature audience only.
8. Seating arrangements are kept at the clubs discretion but if you have a preference, let us know and we will try our best to accommodate. No guarantees.
Pro tip:
Arrive early for parking. Its FREE after 6pm.
For a better ZOOM experience, please adhere to the following suggestions;
1. Please log in using the same name used when booking. (Click on ZOOM logo, click "my account" to edit your name to make sure its correct)
2. Once you join, you will be in the waiting room. Please be patient as we will only allow everyone in the room just before the show starts.
3. The show starts at 9pm. Please be on time and log in at latest 20-mins prior to showtime.
4. Once you're in the room, please make sure your mic is on MUTE. Otherwise we will mute it for you.
5. Feel free to show some love in the chat room. Use 'W' to show applause and 'Y' for a standing ovation.
Thank you for supporting the grassroots of the Malaysian Comedy Scene.